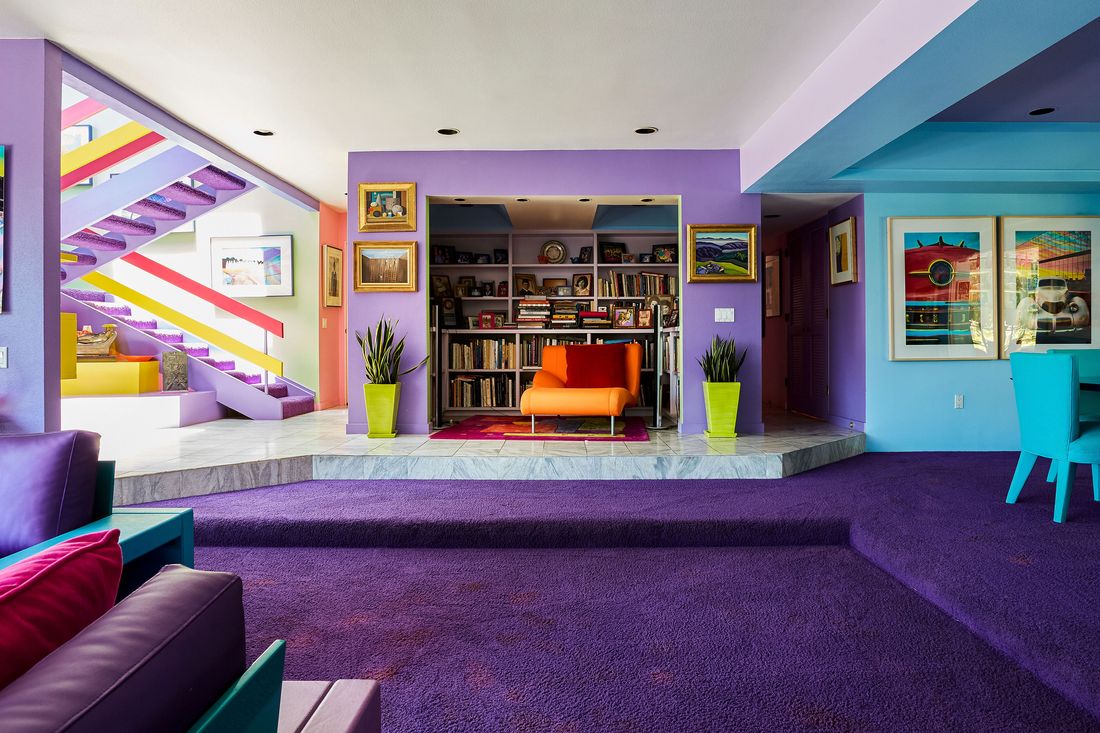 This story was originally published by Curbed before it joined New York Magazine. You can visit the Curbed archive at archive.curbed.com to read all stories published before October 2020.
Forty years ago, artist Jane Gottlieb traveled to Mexico's Yucatán peninsula, and encountered striking colors that led to lifelong inspiration, in both her work and her home.
"Everybody paints their houses bright colors [there]," says Gottlieb. She was so influenced by the experience, in fact, that as soon as she returned to Los Angeles, she did the same with her then-home, a California cottage.
"Everybody thought I was crazy," she says. "Every artist friend of mine thought I was crazy, but you know what? They'd walk in and they'd laugh. I've been doing it for 40 years, painting my houses bright colors."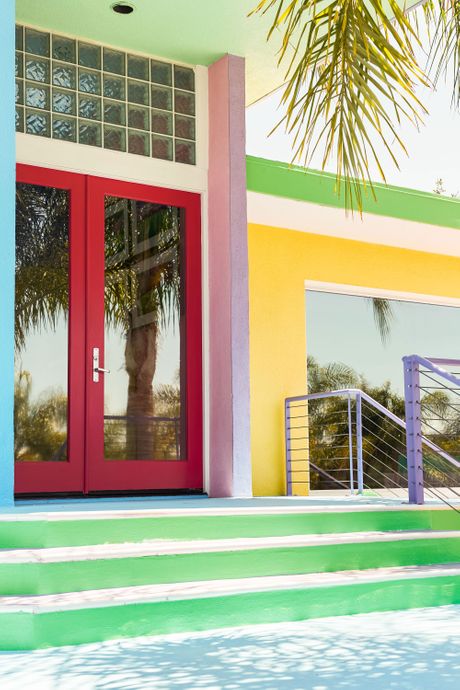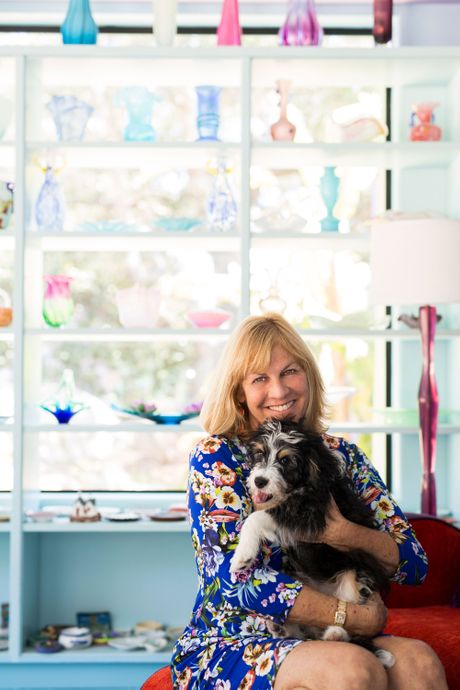 She's taken a similarly exuberant approach in the home she shares with her husband David Obst in Santa Barbara, where they've lived since 1997. Perched in the hills on an acre of land with a view to the ocean, their house — built circa-1977 and modern in style — was originally beige and brown and surrounded by cacti and rocks, quite different from what Gottlieb says other residents in the area were seeking at the time (structures that leaned into a Mediterranean look). Because of this, and some of the interior choices made by the previous owner, it sat on the market for a year.
"The guy added on for 10 years, and he did not like a straight line, so he did all kinds of strange things," says Gottlieb. The home was a bachelor pad: There were bubble skylights, aging wood bannisters, bizarre moldings, and three bars in the house.
Still, Gottlieb couldn't shake its magnetic pull on her; she loved the location and the view, and the home's privacy, which belied its central location. "I was turning 50 and I felt like it was time I should stop hustling as hard as an artist and move as close to L.A. as I could, but be in a whole new town," she explains.
Once she and Obst purchased the home, Gottlieb went about remedying the blandness of its exterior and interiors. After some renovations to turn the house into their haven — including incorporating new large windows throughout and adding a studio for Gottlieb to make work — they found that infusing the home with color was just what it needed. As she had with other homes, Gottlieb threw caution to the wind, and painted the exterior in a cacophony of shades, which she says she has to repaint periodically to keep things bright.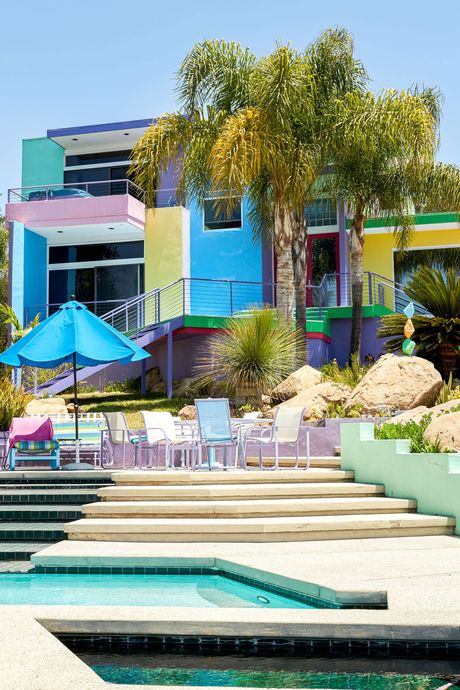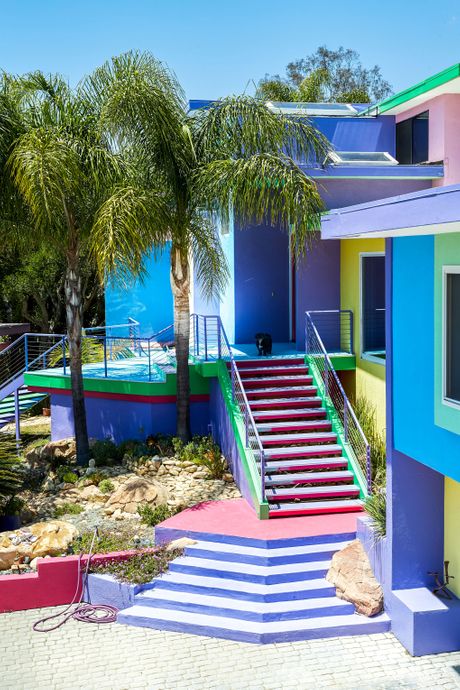 "If I'm not careful, I have to paint the whole thing, because I brighten up one wall and then everything looks shabby," she explains. "It's like the Golden Gate Bridge. When they finish painting it, they just turn around and start over."
When the couple purchased their first home together in L.A.'s Santa Monica canyon in 1990, they invested in a new full set of furniture that they've kept throughout the years, all lacquer, leather, and Naugahyde. Most of it comes from Saporiti Italia, an avant-garde furniture maker that has since the 1950s been known for sexy silhouettes.
"I love Italian modern furniture," says Gottlieb. "Saporiti let me choose all these bright colors. It's still beautiful, and a little bit more worn now. I didn't have the dogs in those days." (Now, she has four.)
Like the exterior, almost every inch of the interior is covered in shades of eggplant, citrus, bubblegum, and more, with ceilings splashed in sky blue, the faux fireplace in chartreuse, and the stairway in lavender. To conceive the color scheme, Gottlieb used graph paper to make a layout of the house and filled in each room with colored pencil, adding in different colors to detail areas that needed to be accentuated. A sun-dappled entryway greets guests before they step into the brilliantly polychromatic sunken living room; an emerald-green tiled tub is surrounded by Chinese and Japanese cloisonné vases and boxes; cotton-candy-blue chairs match the dining room walls.
Gottlieb's artwork — photos enhanced, painted, and collaged in Photoshop and printed on aluminum — hang throughout the house, and shelves full of Murano glass, collected over time, line the walls.
"I'm an artist, and my art looks a lot like my house — it's like a three dimensional-art piece," says Gottlieb. In some ways, the description brings to mind Salvador Dalí's Theatre-Museum in Figueres, Spain, which opened in 1974 and is often regarded as the largest Surrealist object in the world. Dalí, too, had few reservations about what others thought.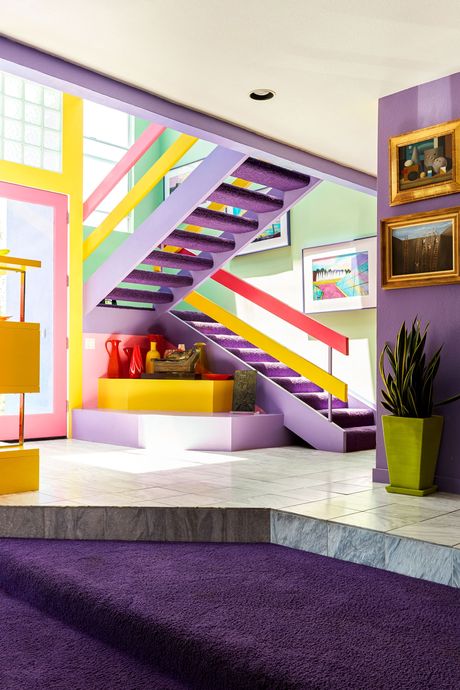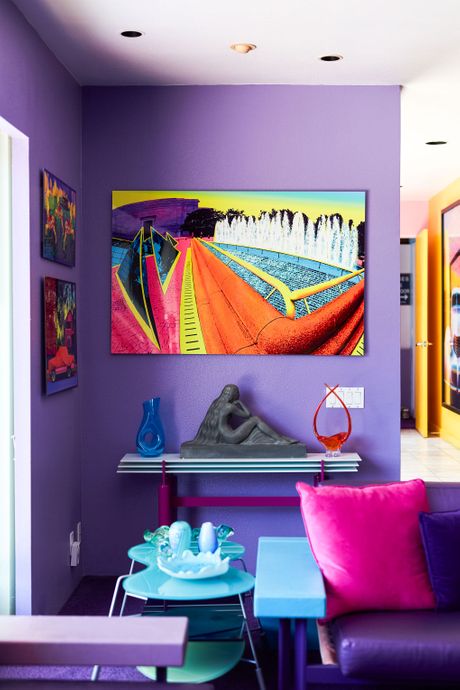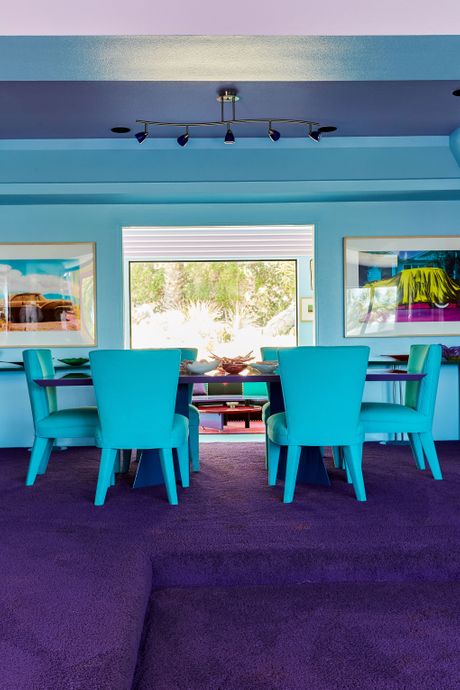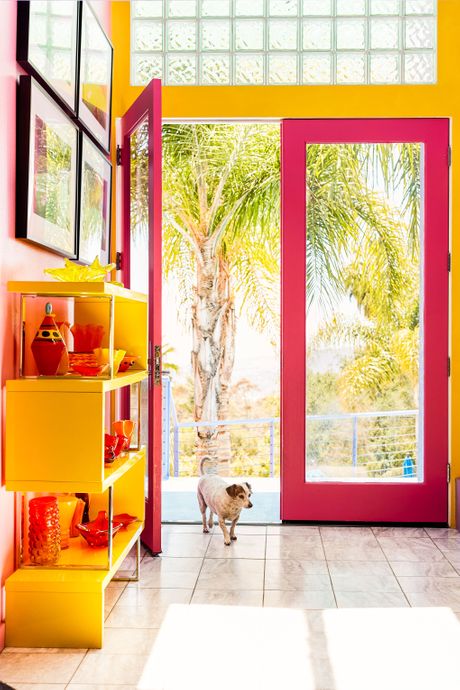 "I don't understand why people aren't braver with color. It doesn't really take courage," says Gottlieb. "Color is my addiction. It makes everything feel better."