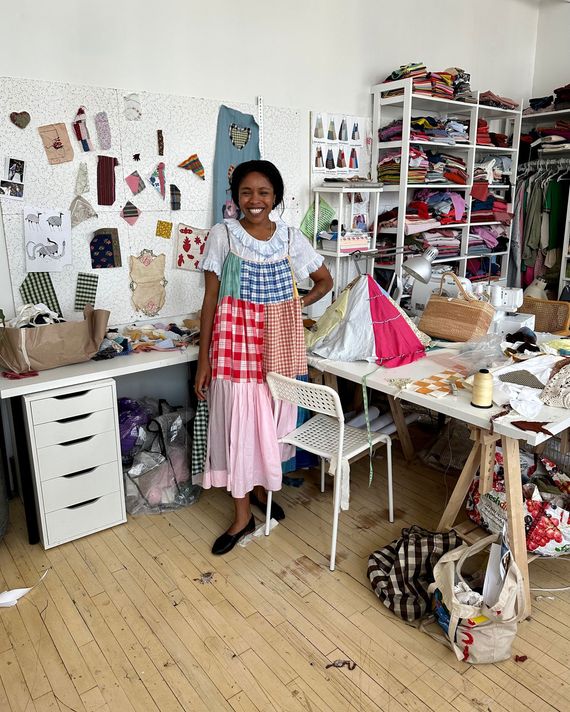 Sarah Nsikak in her studio.
Photo: Wendy Goodman
Growing up in Oklahoma City, where her parents had immigrated from Nigeria in the 1980s for college, Sarah Nsikak and her two siblings had certain expectations put on her to have a stable career, like in law or medicine. "They told me I couldn't study art," Nsikak says of her parents. She compromised and got her master's degree in art therapy but never practiced.
"I was 24 and thought, I am not a therapist!"
Instead, she started experimenting with upcycling in 2013. This was partly inspired by her grandmother, who taught her how to use a sewing machine when she was 9. "She was a top seamstress in Oyo, Nigeria, and came to live with our family in Oklahoma City," Nsikak says.
In 2015, Nsikak started an upcycle fashion line called Stone & Harper, which mostly sold online. That same year, she launched a subscription business, Nu Form Club, "where I'd send out questionnaires to people and, from their answers, I'd create pieces for them and send a box with four items," she says. "I felt excited that people were realizing the value of vintage to help them discover themselves, their style, and that was kind of my whole thing. I didn't know my style either, so it was informing me and teaching me and I am still learning."
In 2017, after going it alone with her businesses, she felt she needed to widen her horizons. "There were very few people that looked like me" in Oklahoma, she says, so she moved to New York for an internship at what seemed to be a sustainable fashion company working with African artisans — but neither of those things turned out to be true, exactly. Disappointed, she left.
She lived in various neighborhoods, including the Upper West Side, Bushwick, and Bedford-Stuyvesant, while jumping from one internship to the next before starting her own sustainable fashion brand, La Réunion, named for an island near Madagascar, in 2019. Each piece is custom designed with remnants from fashion houses and vintage pieces Nsikak finds upstate and at estate sales. She started out making one-off dresses; now she'll make deadstock-derived pieces in limited size runs.
"I do a lot of estate hunting and LiveAuctioneers auctions," Nsikak says, "but sometimes they are really expensive, which the customer doesn't understand: why one dress would cost more than another."
In 2021, Nsikak was expecting her first child, daughter Maleigha, whose pending arrival prompted the decision to move with her partner upstate to Kingston. "I wanted to be in nature, thinking I would want this bucolic life," she says. But she soon realized "it's very isolating. I kind of wish someone had said, 'You need to stay here with your community.'" She moved back to Bedford-Stuyvesant in March.
"I feel like New York is the kind of place you are embraced and loved and people pick up where you left off."
I first met Nsikak when she was part of the group of artists who were part of OStudios. Her space there was really small. After coming back from upstate, she found this studio at 56 Bogart street in Bushwick, a building humming with artists including Hiba Shahbaz.
We did this interview sitting at her worktable, where she was showing me pieces of an old nightgown. "It was definitely hurting me to cut it," she says, "and I remember what I was watching, when I did it, the documentary on Donyale Luna! She was her own moment and then she was gone."