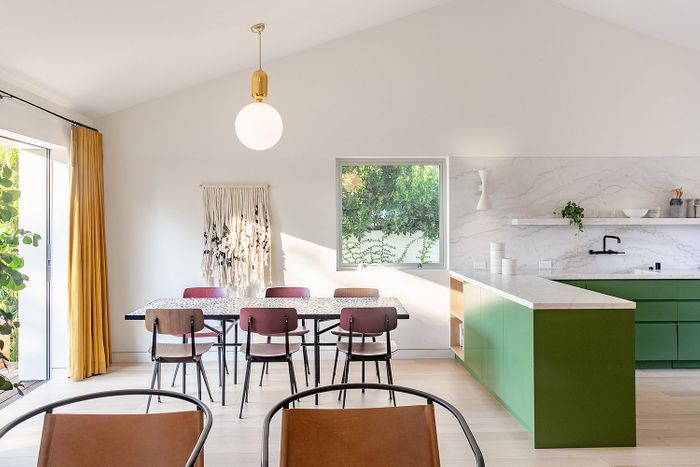 Photo: Photos by Cameron Carothers, courtesy of Bryony Atkinson and George Penner
Location: Silver Lake, Los Angeles
Year built: 2019
Architects: Annie Ritz and Daniel Rabin, And And And Studio
Specs: 3 beds, 3 baths, 2,257 square feet, 0.16 acres
Price: $2,750,000
Architects love to live and build in Silver Lake — everybody from John Lautner and Richard Neutra in the '30s and '40s to, decades later, Michael Rotondi and Barbara Bestor, has designed homes for themselves in the neighborhood's hills.
More recently, Annie Ritz and Daniel Rabin, XTEN Architecture and Bestor alums who founded their own firm, And And And Studio, in 2017, have worked on three different living spaces for themselves in Silver Lake. The husband-and-wife duo's latest and most extensive personal project, 1655 North Benton Way, is now on the market half a mile south of the Silver Lake Reservoir.
When the couple acquired the property in 2017, it contained a generic 1950s stucco box measuring just over 1,300 square feet. This was taken down to the studs and transformed into a board-and-batten-clad structure that wraps around its front courtyard in an L shape, with the longer section holding the bedrooms and bathrooms and the shorter section containing the kitchen, dining, and living areas. Oversize glass sliders connect the house with its courtyard and rear swimming pool while keeping the rooms suffused with natural sunlight.
Whereas their new work in Santa Monica Canyon (recently spotlighted in Sight Unseen) plays with arches, this project was all about circles — seen in the scalloped kitchen island, cutouts in the door and wall, as well as multiple mirrors and spherical light fixtures (included in the sale).
Speaking of lighting: "Some of our favorites include designs by Le Corbusier — the Lampe de Marseille and Applique de Marseille sold by Nemo," says Ritz. "Plus the Aballs wall lamp by Parachilna and the Bola Disc wall and Bola Disc pendant by Pablo."
Take a virtual tour here.