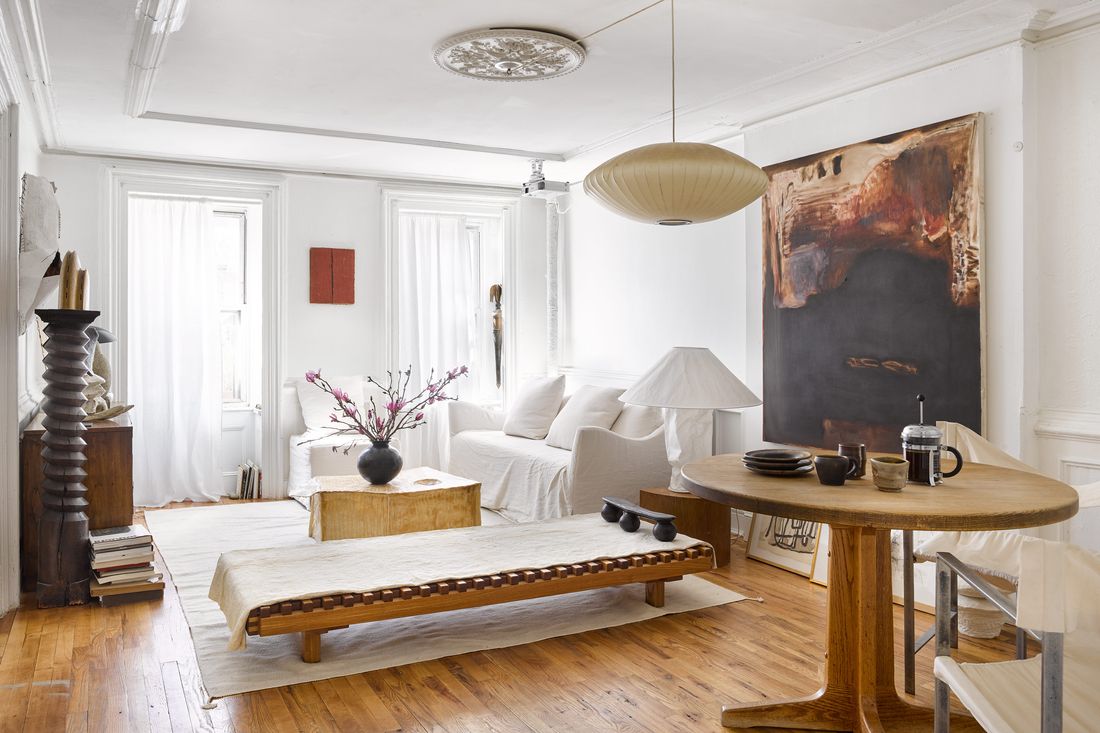 The Living Room:
The daybed is Pierre Chapo from Magan H. The headrest is by Minjae Kim. "I saw that painting" — at right, by her friend Liza Lacroix — "in a dilapidated ornate mansion in Mexico City." The couch is custom in collaboration with Olivia Stutz Design.
Photo: Annie Schlechter
It's the first time that I've lived by myself, and it was fun to be actually making all the choices of what was in the space," says the sculptor and ceramicist Simone Bodmer-Turner of her garden-level Bedford-Stuyvesant rental. She had originally moved in here with an ex. After they broke up, she took her time reimagining the apartment with her own things. "I wanted to slowly bring in pieces as I could afford them." Now, the furniture and art are mostly from artist and designer friends.
There's a Pierre Chapo daybed — "my first investment" — which she loves because "the smart design allows it to expand into a full bed for friends and family to stay while in town." The dining table belonged to her parents — "It was our kitchen table growing up" — and originally came from a long-gone mid-century shop in Cambridge, Massachusetts. She's especially proud of the kitchen. "When I moved in, there were all these Ikea cabinets and countertops," she says. Inspired by a Charlotte Perriand kitchen she'd seen in a book, she installed a "curvy cherry countertop and a floating table with a little cubby for sitting," she says, with a matching cherry backsplash.
Bodmer-Turner grew up in Berkeley, California, before her family moved east to Massachusetts. In school, she studied literature with a focus on travel writing and art. But it took a while for her to get back to the art part. That came after a taste of farming and cooking — "my other big love," she says. In 2013, she started working for the farm-to-table sustainable-food-delivery start-up Good Eggs. During her time at the start-up, Bodmer-Turner began taking classes in ceramics and worked at Choplet, Gasworks, and Sculpture Space before getting her own studio near the Navy Yard in 2018. Which turned into another career. This year, in her first solo show at Matter Projects, which ran from February through April, she exhibited 25 pieces, many of them quite large, that included furniture and lighting. "I built my studio around a design line I called the Permanent Collection" — which she describes as a "seasonless line of ceramic vases that draw on ancient ceremonial vessels and modern shapes" of architecture and design — "that is my bread-and-butter group of vessels."
That line fostered wholesale accounts that blossomed during the pandemic with people focused on their homes. The show at Matter was larger than what she had been making, and "the scale of the work was not something that made sense for such a small studio," so she discontinued wholesale and is now delivering pieces directly to her collectors. She is also focusing on her personal work of making sculpture and furniture pieces in the minimal space of her studio, keeping her home base filled with the things that inspire her.