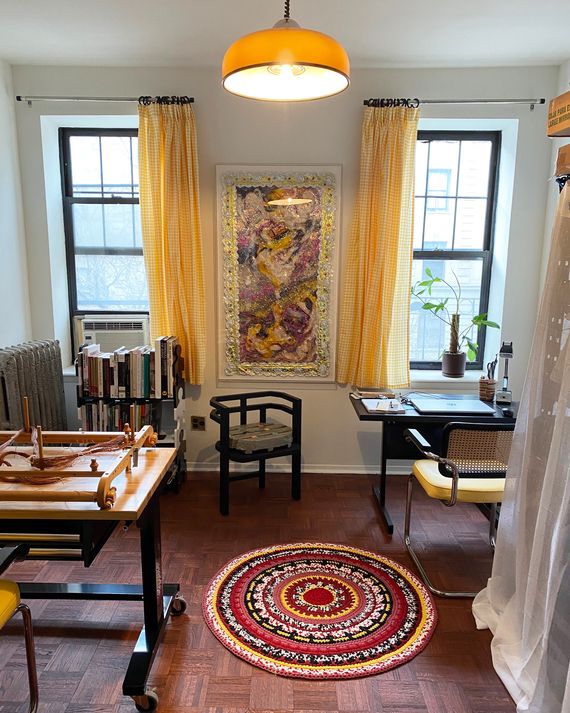 "This is where I do my weaving and computer rendering," Melake says. "The large artwork is by Thomas Lanigan-Schmidt. "I was at the right place at the right time; it was a serious epic score! I found it at Bonhams in 2021." The circular rug is from Etsy. "Someone from Alabama makes these; they are made out of recycled T-shirts. I love traditional American crafts."
Photo: Wendy Goodman
When I saw Luam Melake's show of colorful new furniture at R & Company Furnishing Feelings — there is a "Listening Chair" and an "Unwinding Chair" and a "Same Wavelength Chair," all made out of urethane and polyurethane foam — I became curious about what her home was like. Turns out she lives in a three-bedroom co-op in Harlem that she just moved into last year, and she uses two of those bedrooms as studios to create her work.
Melake was born and raised in San Diego; her father is Eritrean, her mother Ethiopian. "My dad was a park planner, and my mom a civil engineer who designed roads, so I sort of had that mentality that you should do things that benefit other people," she says.
She studied architecture and graduated from Berkeley in 2008. Out of school, she immersed herself in the design world working at William Stout Architectural Books in San Francisco. She was also making her own knitwear and studying Japanese wood joinery.
She moved to New York in 2011, worked for the Calder Foundation, then joined Demisch Danant as the gallery manager in 2013, going on to work for William Sofield sourcing materials. There was also a residency at the Museum of Art and Design in 2017 and again in 2022, which helped her develop her practice. Today she works at Parsons running the design materials library and in the Healthy Materials Lab.  She made a birdhouse for the 2022 Brooklyn Botanic Garden's group show "For the Birds" with her joinery skills.
Her apartment, entered through a long hallway with a main living area off the kitchen, is furnished with finds. "I am good at getting deals," she says. "I am willing to scroll through eBay for hours on a Sunday. I have had an eBay account since I was 13 years old. I got a job on the highway waving a sign so that I could have my own money and I would give my dad cash and he would use his PayPal account." There's a Verner Panton chair with the original fabric, pieces from Etsy and Ikea, a Ken Price print in the living room by the sofa, and finds from eBay like a set of '70s place mats and napkins from Cacharel, "$3 apiece," Melake notes.
She's still fixing the place up. "This was the worst room," Melake says of the kitchen. She replaced the floors, which had been "orange and plasticky," with sustainable "natural linoleum." The walls throughout the apartment are painted with mineral-based paint, and the non-kitchen floors are finished with plant-based oil.
The living room features the coffee table. "It is an early work by me. In the beginning of my career, I was trying to make affordable furniture that was accessible, but it wasn't accessible for me to make it. It was too expensive. I had no scale for production."
Then there is the "clean" studio — "my big kids' arts-and-crafts room where I do my weaving and computer renderings." There are pieces in here and in her bedroom by the East Village artist Thomas Lanigan-Schmidt. "They had a retrospective of his work at PS1 ten years ago; his work is everywhere: the Whitney and the Met."
Then the one where she experiments. "The sad room," Melake says. "It's super bare bones because it's just for making a mess in here. It's only for making chairs. The chairs made in this apartment had to be kept at around 27 inches wide at the smallest dimension to comfortably fit through the doorways and through the hall. It's kind of a good restraint because clients won't have to worry about getting it in their space if it can fit through mine."
She wants to fix up the next bathroom, where, Melake says, she's creating a tribute to Carlo Mollino.