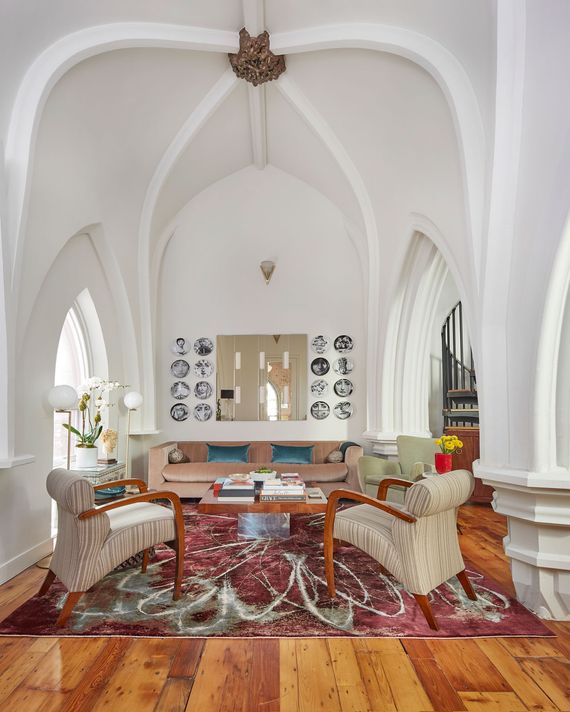 Paul Melo had his doubts when he heard about this condo for sale in the deconsecrated St. Boniface Church in Jersey City. "I already go to church. I'm not going to live in one," Melo remembers thinking. This was 2016, and Melo and his partner, Tom Walko, both designers, had decided to buy a place together — "We each lived in our respective apartments for over ten years. Neither was big enough to comfortably absorb the furnishings and accumulations of the other," says Melo — and had been searching fruitlessly all over Manhattan. They looked at more than two dozen two-bedroom apartments, from Harlem to Murray Hill to the Two Bridges area on the Lower East Side, but nothing felt like home. "I surprised Tom by suggesting we look at Jersey City," Melo says. That was their first leap of faith.
The 1866 church had been shuttered by the Archdiocese of Newark and sat vacant for years before being turned into nine loft units in 2015. And Melo instantly saw the light when he visited the condo. "I loved the history, age, and volume," he says. "Tom loved that it was a rare space."
The conversion split the church's interior volumes down the middle, and their duplex is in the upper western half. "Our condo floats above the area that was the nave and sits over what would have been part of the altar and choir," Melo explains.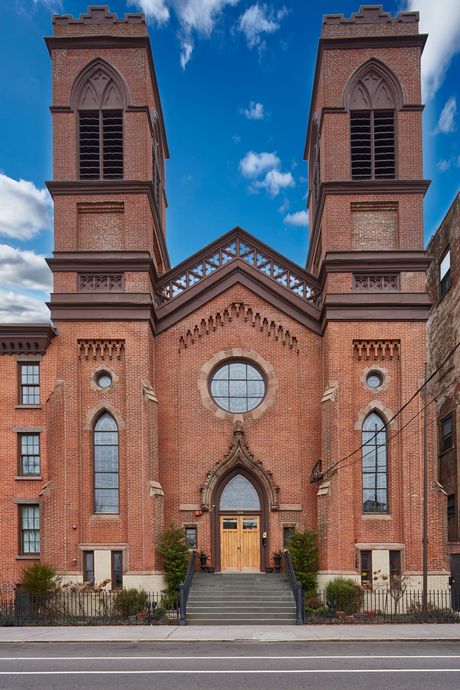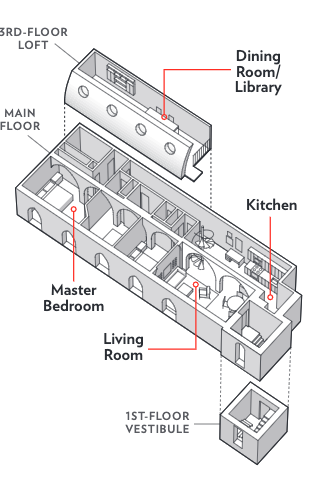 The renovation left much of the original Gothic architectural drama intact — the sorts of details usually seen from a distance if a parishioner happened to look heavenward — allowing Melo and Walko to enjoy 24-foot vaulted ceilings and grand arched doorways. And there was also lots of room for Melo's hand-knotted carpets (he is vice-president of the luxury carpet atelier Fort Street Studio) and space for his Paul Mathieu dining table, as well as for fashion designer Walko's collection of photography and Fornasetti plates. Along with tons and tons of books collected by both. Plus Walko loves to cook, and his previous apartments never gave him the room ("We totally removed the 'old' kitchen from 2015," says Melo).
The only quirk is that their dining room, so suitable for dinner parties, is up the spiral staircase from the kitchen. Which means "I am the human dumbwaiter, because I get to bring the food up on a tray when we entertain," Melo jokes.
"Because I am still cooking!" says Walko.
By the entrance are the religious icons Melo inherited from his late best friend, Greg Lugliani, an activist and one of the original members of act up, the aids organization. "He passed away in 2017," Melo says, "and he collected those icons over the years. They are from all over the world." And they look very much at home.
Melo and Walko do, too. "I think that it is a very positive and uplifting thing, because we live where people sang," Melo says.
*A version of this article appears in the July 6, 2020, issue of New York Magazine. Subscribe Now!