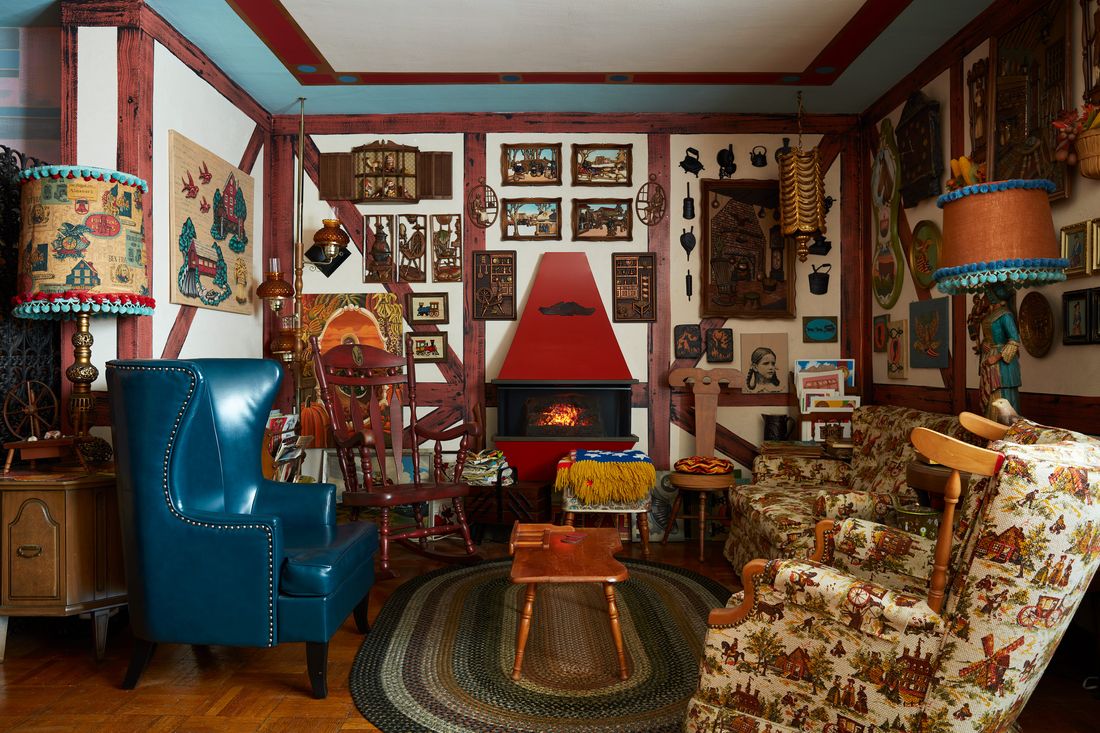 The Living Room:
Steven Hammel decorated in part with furniture from his building's trash room, including the fireplace.
Photo: Stephen Kent Johnson
I love kitschy '70s wall decorations," the artist and set designer Steven Hammel says, as we sit by the cozy imitation hearth in his living room with a view of the East River that people would pay a fortune for further uptown. It includes the Manhattan, Brooklyn, and Williamsburg bridges, and his bedroom overlooks a bend in the river called Corlears Hook. It somehow seems, despite its concrete-and-steel urbanity, like the country.
The sensible, solid high-rise Hammel lives in is among those built in the 1950s to replace the densely packed tenements in the neighborhood with light, air, and views. He's lived here for 22 years and created within it a pastiche throwback to his Minnesota farmland youth. There are painted timberlined walls, faux patio trellises, brick, plaid, and all manner of trompe-l'oeil confections. "Painting faux wood is easy," he explains. "An undercoat of paint of golds or pinks with a top wash of brown in strié fashion. It can be as simple or complex as one desires."
After studying graphic design and illustration in Minnesota, Hammel came to New York 34 years ago and lived in tenements in the East Village before finding this place. "The apartment was all white when I got it," Hammel notes. "It evolved over the years. The first thing I painted was the red-brick wall in the kitchen."
Seated in a rocker — which he once loaned to Heidi Klum for a party she gave — he explains that "the whole inspiration is kind of a midwestern ranchhouse family room in the basement." Much of his work is for theater, but his non-theatrical clients often hire him to paint residential projects around the country.
"The art on the living-room walls is a combination of Early American wall décor that I have collected and gifts from friends who see it in vintage shops. The three-dimensional plastic art was made by three companies in the 1950s through the '70s: Burwood, Syroco, and Sexton. Most I found on eBay. The artworks I painted on the wall just add to the Early American theme." In keeping with the overall feel, the bedroom "is not that dissimilar to the bedroom I grew up in as a kid; that red, white, and blue, it's comforting."
These days, he is working more as a color consultant and devoting his time to creating sets for nonprofit theater companies, including Wild Project, which is presenting a show of his paintings. The living room is also his studio, and when I visited, some of his pieces for that show were still there. The works share the delightfully off-kilter nostalgia themes that Hammel loves: parade floats, marching bands, recognizable fast-food architecture, '70s cookware in shades of harvest gold, avocado, red, and brown. There's also a corner of "saw art" — "something," Hammel says, "that is prevalent in rural areas, usually depicted with landscapes and farm themes." The Brancusi-like white sculptures on the floor are salt licks his father sent him from the farm 30 years ago.
When he was growing up on a cattle ranch 150 miles north of Minneapolis, his mother was in the gardening club and the homemakers club and won awards for her pickles. The cattle fences, he thinks, inspired his linear painting. Mostly the community spirit of his small town still animates his practice: "the whole do-it-yourself aesthetic." And he has definitely, delightfully, done this all himself.