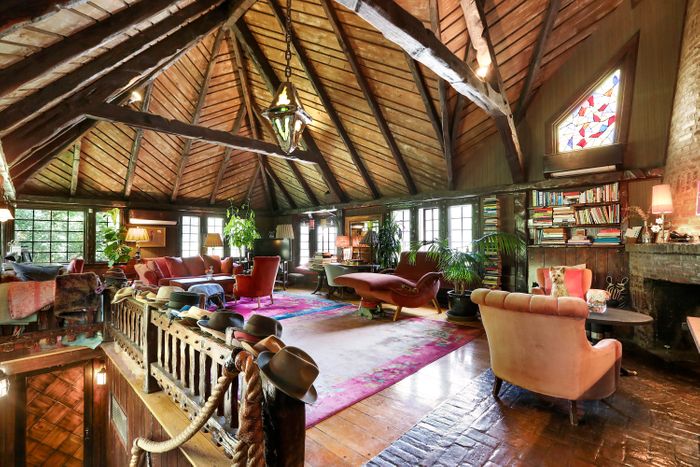 John Van Pelt designed one of the cottages for his wife, Myra, and incorporated her initials in the chandelier.
Photo: Charmaine David, courtesy of Patricia Ruben/Sotheby's International Realty
This story was originally published by Curbed before it joined New York Magazine. You can visit the Curbed archive at archive.curbed.com to read all stories published before October 2020.
In Time Capsules, Curbed unearths homes hitting the market for the first time in a long time — or maybe ever — in hopes of finding mint-condition bathrooms, vintage kitchens, and plenty of original architecture.
Location: Los Angeles, California
Years built: Early 1930s to mid-1940s
Last sold: 1975
Specs: 5 structures, 8 beds, 8 baths, 6,493 square feet, 2.54 acres
Notable changes: Updated plumbing and electrical systems
Price: $12,000,000
Materializing on the market this month like the L.A. version of Brigadoon is a rather extraordinary property known as the John A. Van Pelt Estate. A professor, conductor, and arranger of choral music, Van Pelt was also an early investor in L.A. real estate. In the 1920s, Van Pelt acquired a sizable swath of land in Los Feliz's Franklin Hills section and subdivided it into 71 parcels. Claiming the largest lot for himself, he set about creating a private, picturesque little village with five English storybook-style cottages.
Ranging in size from one to three bedrooms, the cottages were painstakingly handcrafted between the 1930s and '40s with mostly salvaged materials, including clinker bricks from the city's demolished cable-car system and lumber from old ships. Nautical elements abound — one home even incorporates the anchor, banister ropes, and oars from Jack London's boat, The Snark, along with porthole windows. Other notable architectural details include peg-and-groove hardwood floors, vaulted-beam ceilings, multiple brick fireplaces, diamond-pane windows, stained glass, and built-in bookcases, benches, and bars.
The lush, parklike grounds are filled with an abundance of banana and citrus trees, eight fountains, and meandering stone pathways studded with colorful geodes. The 2.5-acre estate's cloistered hilltop position helps keep everything (including a pool and pool house) hidden from outside view.
The quirky compound remained in the hands of the Van Pelt family until 1975. Its second owner, a "fiercely private" antiques collector, went to considerable lengths to preserve the property, employing a full-time live-in property manager and gardener. Maintenance upgrades over the years have included updated plumbing and electrical systems and new roofs.
With the second owner having recently passed away, the estate is now available for the first time in half a century. Take a video tour of it here.