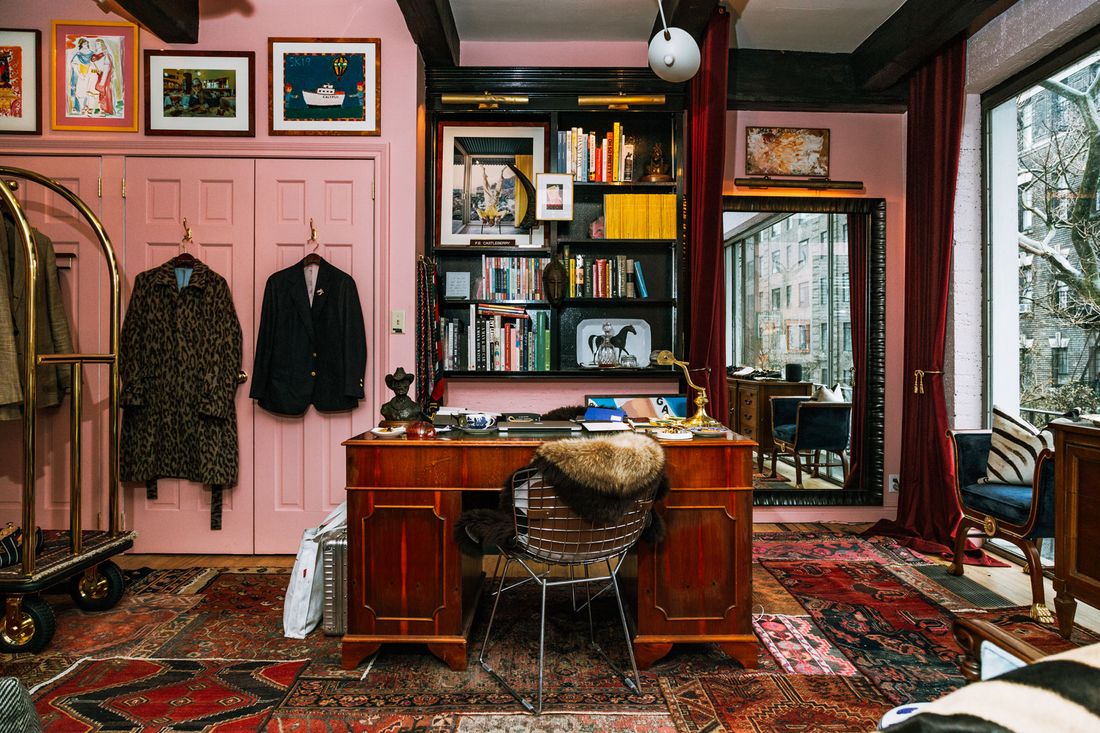 The office at F.E. Castleberry.
Photo: DeSean McClinton-Holland
The two blocks of Christopher Street that run west from Greenwich Avenue, past Gay Street to Waverly Place, are among the most charming in the city, dotted with small 19th-century buildings that now house a John Derian shop, a Diana Broussard boutique, shoe shops Leffot and Jeffery-West, the very French bistros Petite Boucherie and Delice & Sarrasin, and the flower shop and café Rosecrans across the street. This ecosystem will now be adding three bespoke tailoring shops, each with its own character, run by three friends. Visiting them is to remind us that there's a more elegant life to rejoin, after a year of sweats.
Jake Mueser arrived first, opening his shop in 2010. He also took an atelier across the street on two floors, one of which his friend Frederick Castleberry has occupied since last July. The latest to join this bespoke band of brothers is Angel Ramos, with a shop he opened in January. As similar as their businesses may appear, each man (coincidentally, each a father of two) brings his own particular style to the fore, with aesthetics that evolved from their very different paths to tailoring.
Angel Ramos, creative director
13 Christopher Street; eighteenthamendment.com
"When I first started my business," Ramos says, "I was really paying homage to my mother." Ramos grew up in Brooklyn. His mother "was a baker and a seamstress," he says. "She could make you a bespoke wedding dress but at the same time bake you the bespoke wedding cake."
"When I was young she would drag me to the Garment District to source and buy fabric, and I was bored out of my mind, but what she was doing, not even knowing it, was instilling it in me." His route to men's fashion started when he was working at a real-estate firm and picked up on how important clothing was to making an impression. In 2012, he started Angel Bespoke. "I did this on my own and ironically all the guys who used to make fun of me at the real-estate company are now my clients. I dress them all!" His style vision is Gianni Agnelli meets Jean-Michel Basquiat.
What he might recommend from one of the other two: "Jake has done an incredible job with tapping into his past of being in music and beautifully creating bespoke pieces for customers that allow them to create a look that pays homage to a vintage style of a specific iconic musician. If I had a customer who came in asking for us to custom design some rock-and-roll–inspired ensemble, we'd be taking a walk across the street for J. Mueser to beautifully realize that vision."
Jake Mueser, founder
19 Christopher Street; jmueser.com
"There is a magic to Christopher Street that feels timeless to me, and a historical resiliency that has been comforting, especially in the last year," Mueser says of his storefront, which he opened in 2010 after starting another men's haberdashery, Against Nature, in collaboration with other designers, on Chrystie Street. He spent his formative years in New Hampshire. There, sewing became part of his life when he was into punk rock. "DIY was a big part of my DNA," he says. "When I started to learn how to use a sewing machine, I was tailoring my trousers and doing my Johnny Rotten interpretations and stitching them up and putting safety pins in them and that kind of stuff." Taking a sharp turn from his love of science and math, and the career those passions would have utilized, he enrolled in F.I.T. to study tailoring and did an apprenticeship with rock-and-roll couturier Stella Zotis, That shed a light on what being your own boss, doing something you love, was all about. Mueser's shop also offers off-the-rack clothing and accessories for clients who "need suits for work, or are just truly passionate about classic tailoring, or are kind of eccentric." No matter the diversity of his clients, they all share what he describes as "discerning taste and love of handcrafted tailoring."
What he might recommend from one of the other two: "F.E. Castleberry hand-embroidered, British-made slippers are a truly unique product. I would happily recommend to any client in need."
Frederick Egan Castleberry, creative director, designer
14 Christopher Street; fecastleberry.com
"In July of 2020 I went for it," Castleberry says of opening his atelier, despite the pandemic and the recession. He grew up in Weatherford, Texas, a town of 18,000 where "nobody told me I could do this, right?" But it was in his blood: His mother's father was Taiwanese tailor, and his father's father was a Texan artist, "So I feel I am just a combination of these two men."
Castleberry grew up with very specific tastes in clothing, remembering that for his first day of fifth grade he had to have a pair of white Marithé Francois Girbaud stonewashed jeans. "Of course we were not in the position to spend a hundred dollars on kids' jeans, so we went to the equivalent of T.J. Maxx. So I went to school with pants that fit just above the ankle, where I wear my pants today, but back then it was not cool," he says.
He married at 19, fathered two sons, got divorced, left his banking job, and traveled the world as a wedding photographer, but he was always interested in fashion. In 2009, he started a style blog, going on to work at Ralph Lauren in 2012 in the since-shuttered rugby division, but the idea for his own bespoke business was always at the back of his mind, and finally launched out of his apartment in Park Slope, until his move here. He compares the camaraderie of his friends to being jazz musicians, "each with his own voice, his own point of view, but we're all playing the same music together."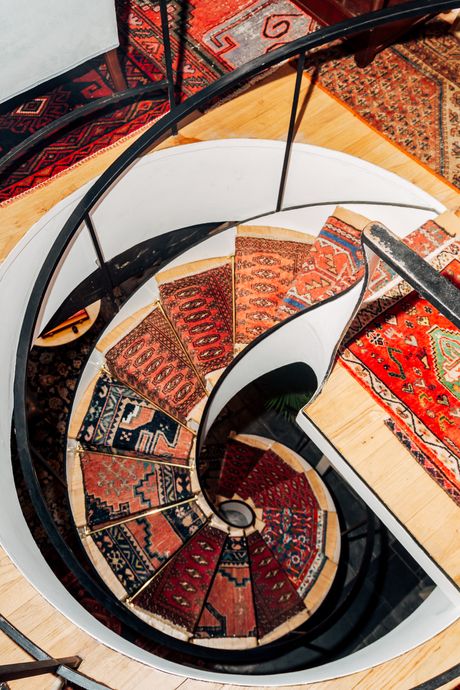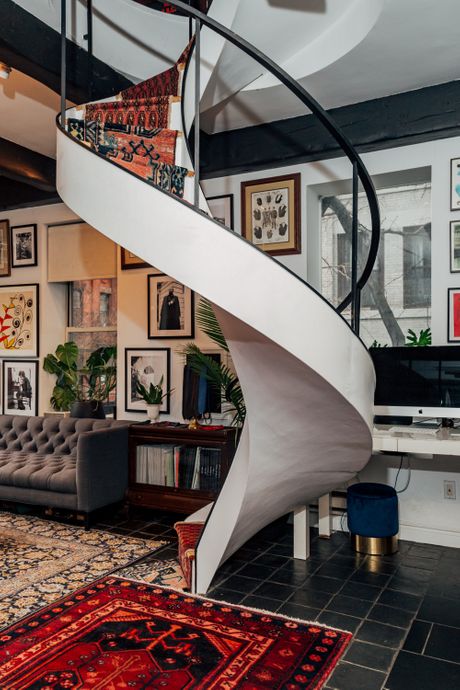 What he might recommend from one of the other two: "My own investor came to me and asked if I would make a finance-bro midtown uniform vest for his brokerage. I told him to get the hell out of my office. But go downstairs, Jake will do it beautifully."