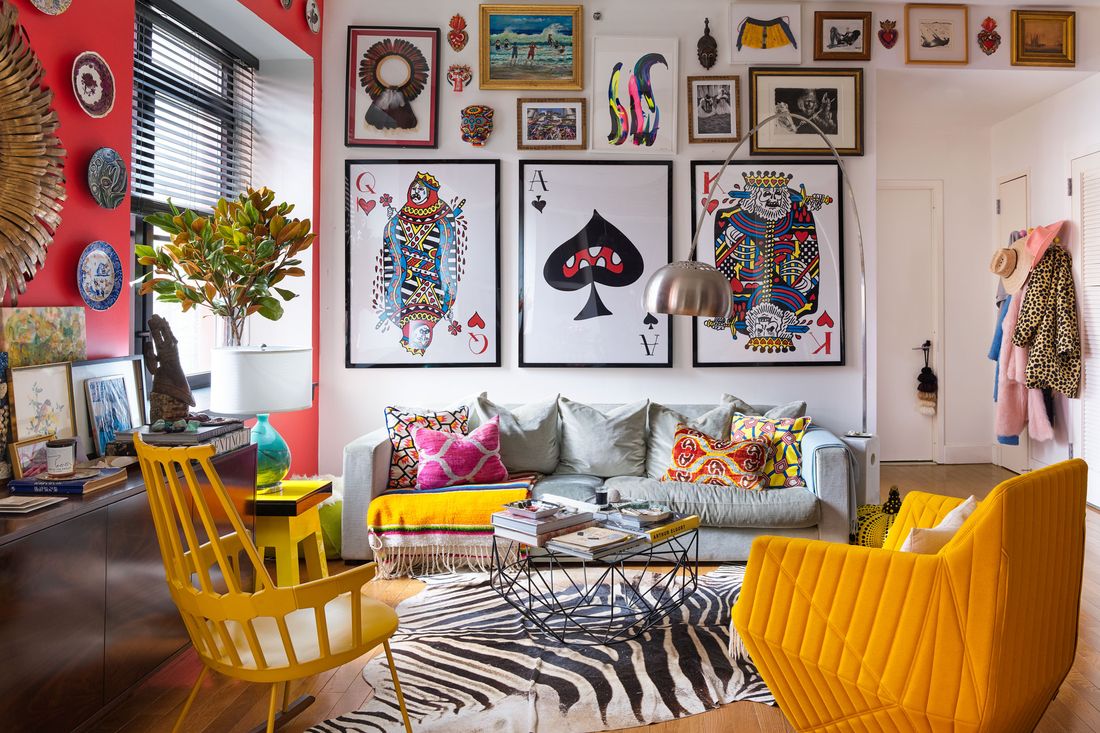 The living room.
Photo: Annie Schlechter
The hardest decision to land is the color of the wall," says Kiko Sih of the discussions that he and his fiancé, Taylor Angino, had about decorating their second apartment together, in a building in Williamsburg that once housed sweatshops. And everything follows from there. Take the red wall: Once they settled on the color, "we realized our apartment had the spirit of a Russian dacha," Angino says. "There was nothing but the feathered, gilded round mirror. We thought, Why not make it feel even more like a dacha? Let's cover it with plates! And so we did. Of every color and origin and corner of the planet." Sih, the global director of communications and brand events at Marc Jacobs, adds, "We finished the collection with four plates that we bought over the summer in Maine, including a pair of Crown Derby Dagonet, a reference to one of my favorite books, Edith Wharton's Age of Innocence."
Sih was born in São Paulo, and his career has taken him to China, where he produced operas and cultural events, to Italy, where he received his M.B.A., and to France, where he worked for Givenchy under Riccardo Tisci until moving back to New York to work for Marc Jacobs. Angino grew up in California, came east for school, and majored in art and costume history at Connecticut College. He got an internship at Vogue after graduation and went on to become an associate fashion editor (working with, as it happens, my sister, Tonne Goodman) before striking out on his own. He made the painting hanging in the hall, a riff on Raphael's ca. 1506 Portrait of Young Woman With Unicorn (not shown). "I was inspired by Renaissance portraiture, how it's not too dissimilar from today's Instagram culture," he says.
Everything in the apartment tells a story. Take the sofa Sih brought back from Paris: "The color is eau de Nil," he says. "According to my opera mentor from when I was living in Shanghai, Lady Linda Wong Davies, it was one of the most popular shades of velvet in the city during the Art Deco era." The medieval armored glove they bought at an antiques shop in Connecticut. "I found it so romantic," Angino says. "Twenty-four hours after I purchased this glove, I was proposed to. It was as if the universe was giving me little clues as to what was to come!" The playing cards were made for a Marc Jacobs event by Brian Stevenson. The Patricia Urquiola rocking chair was purchased "at the end of the Milan Furniture Fair for a steal" from a "tipsy" Urquiola herself, Kiko Sih adds. "This swivel chair is by the Bouroullec brothers. It's the comfiest armchair in the world."
"My favorite Brazilian saying translates to 'No fear of being happy,' " says Sih. Adds Angino, "We have tried to incorporate that into the decorating of our apartment — to just go for it. If it works, it works, and if it doesn't work, we'll take it down and try something else."
*This article appears in the January 18, 2021, issue of New York Magazine. Subscribe Now!