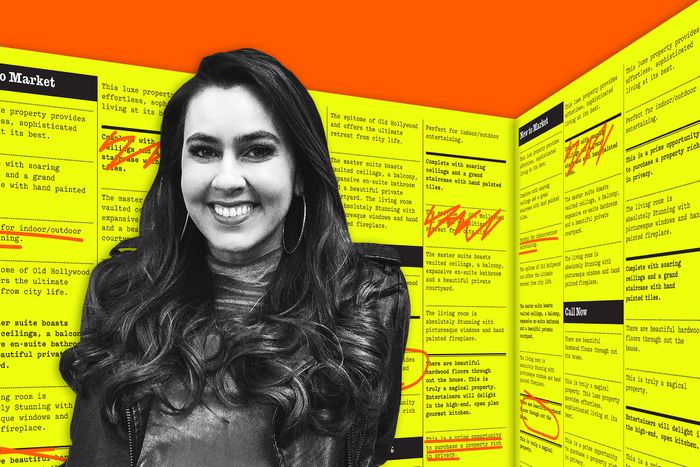 Photo-Illustration: Curbed, Photo: Courtesy of Taylor Lorenz
I've had the Zillow app for a while, but I wasn't really on it that much until this year, when quarantine kicked in. My Zillow usage is now outpacing my TikTok and Instagram usage. I'm on it for hours a week. When I was quarantined in my old apartment in Brooklyn, which was under 400 square feet, I would just fantasize about living in a bigger home. But it's kind of impossible for me to imagine living in a house that's over a million dollars. So I always set my Zillow filters to under $1 million, even under $500,000.
I dream of having a life with kids and a family in a suburb somewhere. Everyone who knows me knows I'm obsessed with Chagrin Falls, Ohio. I stayed there in 2016 while covering the Republican National Convention in Cleveland and got obsessed with it. Everyone I know from there is a solid person. They have a really good school district. If I lived there, my kids could walk to school. I look at the new houses hitting the market there all the time. I literally know every house in Chagrin Falls.
Another thing I do on Zillow is look at all the houses I grew up in. One house was for sale a couple of years ago, so the pictures were fresh. I also look up the houses of childhood friends and ex-boyfriends. There's actually a TikTok joke about that. I did a whole tweet thread of TikToks about kids going over to their crush's house and they're like, "Can I use the bathroom?," but they know exactly where it is because they've seen it all on Zillow.
The Ones She's Saved
This is my dream house. It was originally an architect's house. It's an A-frame but it's not like the traditional single A-frame cabin. The house is 3,600 square feet. It's a place where your whole family could live. The living room is giant and has incredibly high ceilings and really big windows. I love houses that have some natural stone detail and wood paneling. I love kitchens where the sink has a window looking out. In the house I grew up in, my mom would stand at the sink and look out the window and see the backyard, and I've always wanted a house where I could stand at the sink and wash dishes and look out at my kids playing in the yard. One of my friends from Chagrin Falls is planning to move back. We'll be best friends once I buy this house.
This listing had photos of downtown Downers Grove, Illinois, in the bottom, and I was like, Oh my God, this is a very charming area. Sometimes you see these beautiful modern houses but they're totally remote. They'd be in places you wouldn't actually want to live, but this seemed like somewhere I could live. I love the glass-house look and to basically feel like I'm living in a tree house or outside. The library is also so beautiful. I was just picturing myself working there, or writing in the other room that's kind of like a sunroom. They also have a hot tub outside. It would be so nice to be here in the winter and be surrounded by trees sitting in this hot tub. The only thing I didn't like was the spiral staircase because I'm so clumsy. I would 100 percent fall down that staircase. And the lime-green sink and lime-green toilet in the basement would have to go.
My favorite place in the whole world is Indian Head peak. It's a gorgeous hike in Keene Valley that I've done a million times, so I'm really familiar with the area. This listing says it's two bedrooms, but I know you could make it into three since it's almost 2,000 square feet. There's a giant deck and open ceiling beams. You would just wake up and feel like you're nestled in the mountains. Picture this place in the fall. I want to own it so badly. I would do anything to own this house. I would make it my primary home. The Keene Valley school actually has a nine out of ten rating. And it's not that far from Lake Placid, which has a really booming downtown.
This house is where I'm going to go if everything in my life doesn't work out. It's only one bedroom and one bath, but I think I could make it bigger somehow. I love Key West. I love the heat. This place is in Old Town, which is a great area of Key West. Key West High School — go Conchs — is a good school. It would be fun to live somewhere tropical year round. I could retire here.