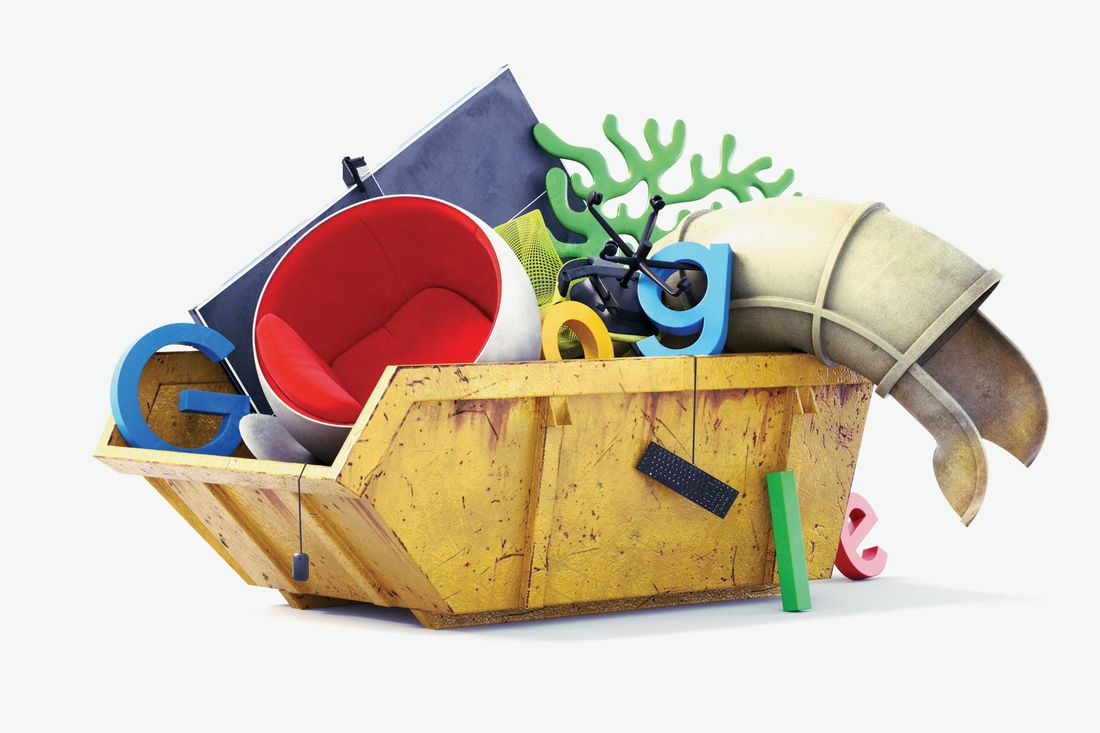 Illustration: Justin Metz
The Tech Offices That Are ...
Tech was going to save commercial real estate. At least it seemed that way, briefly, in 2020: Apple took more than 100,000 additional square feet at 11 Penn Plaza, TikTok leased seven floors in the former 4 Times Square, and Facebook signed the biggest lease of the year in the old post office across from Penn Station. Then, in 2022, thousands of tech workers across the U.S. were laid off and lower earnings delayed moving plans. Meanwhile, many workers who still had jobs refused to come back to their desks, making it hard to justify expensive leases. Still, it's not entirely doom and gloom — while some tech companies are off-loading hundreds of thousands of square feet in space, and a few big ones are hanging on for dear life, others are even expanding.
Yelp
After management told employees they could work remotely, data showed that workers were using only about 2 percent of Yelp's office space. The company acted on that last July, getting rid of all its 200,000 square feet across three floors at 11 Madison and leaving behind around 50,000 square feet at 200 Fifth Avenue.
Twitter
Even before the pandemic, Twitter was giving up space, subleasing a floor of its office at 245 West 17th Street to Lyft. When Elon Musk took over last year, he fired the janitors there and subleased the remaining office space, even while publicly speaking out against remote work.
Kickstarter
In 2011, the company used early seed money to buy and renovate a building in rapidly gentrifying Greenpoint (the price: $3.6 million). After going fully remote in 2021, Kickstarter put the building on the market with an asking price of $25 million.
Uber
In 2019, Uber signed a lease for seven floors at 175 Greenwich Street with plans to shut down its other offices in the city and push those workers into the 308,000 square feet of space. A year later, Uber put a quarter of what it had leased on the market for a sublease. These days, employees only need to come into the office half-time.
Meta
In August 2020, then-Facebook gobbled up 730,000 square feet at 390 Ninth Avenue, taking its New York footprint to 2 million square feet. As of this spring, it plans to give up 250,000 square feet across two Hudson Yards buildings as well as 200,000 square feet at 225 Park Avenue South.
Spotify
Spotify is one of the biggest tenants at 150 Greenwich Street, with 564,000 square feet, but right before layoffs in June, it announced it would leave five floors there and give up about 15 percent — 85,666 square feet — of that space.
Microsoft
In 2021, Microsoft signed a lease for half of 122 Fifth Avenue and moved in earlier this month. There's a private entrance flanked by columns and crowned with its logo, and the company has its own section of the building's roof garden as well as a 5,500-square-foot pavilion. Meanwhile, Microsoft is giving up older space; at 11 Times Square, it's now trying to sublease about a fifth of its offices, or 42,000 square feet.
Google
The company has more than 7 million square feet of New York office space, or about one percent of the entire office market. In 2021, it spent $2.1 billion on 1.3 million square feet across the St. John's Terminal building. A year later, it opened Pier 57, a 630,000-square-foot office with a public rooftop park.
Amazon
In March 2020, Jeff Bezos bought — bought, not leased — the former Lord & Taylor building at 424 Fifth Avenue for around $1 billion. "One day later they would have killed the deal," a source told the New York Post. It's set to open this summer with a dog run and a roof garden.
Indeed
In January 2020, Indeed signed a lease for a second office off Bryant Park at 1155 Sixth Avenue. As the country started hiring again, the company that posts jobs renewed and expanded its original lease to take 250,000 square feet at 1120 Sixth Avenue. It renovated some of its offices to fit a new hybrid work culture, adding movable walls.
Datadog
Datadog, which helps companies monitor databases, has a hybrid setup that lets some employees work remotely, but the company still took on extra office space. In July 2022, it renewed and expanded a lease at the New York Times Building at 620 Eighth Avenue.
Clear
Clear, the company creating a VIP lane at every airport, nearly tripled its Manhattan footprint in 2021 with a new headquarters: 120,000 square feet at 85 Tenth Avenue, near Chelsea Market.
Photo: Beth Dixson/Alamy Stock Photo (11 Madison Ave.); Michael Fitzsimmons/Alamy Stock Photo (175 Greenwich St.); rblfmr/Shutterstock (St. John's Terminal Building); Patti McConville/Alamy Stock Photo (620 Eighth Ave.); Bailey-Cooper Photography/Alamy Stock Photo (150 Greenwich St.); Google Maps (remaining)
More on the office apocalypse
See All