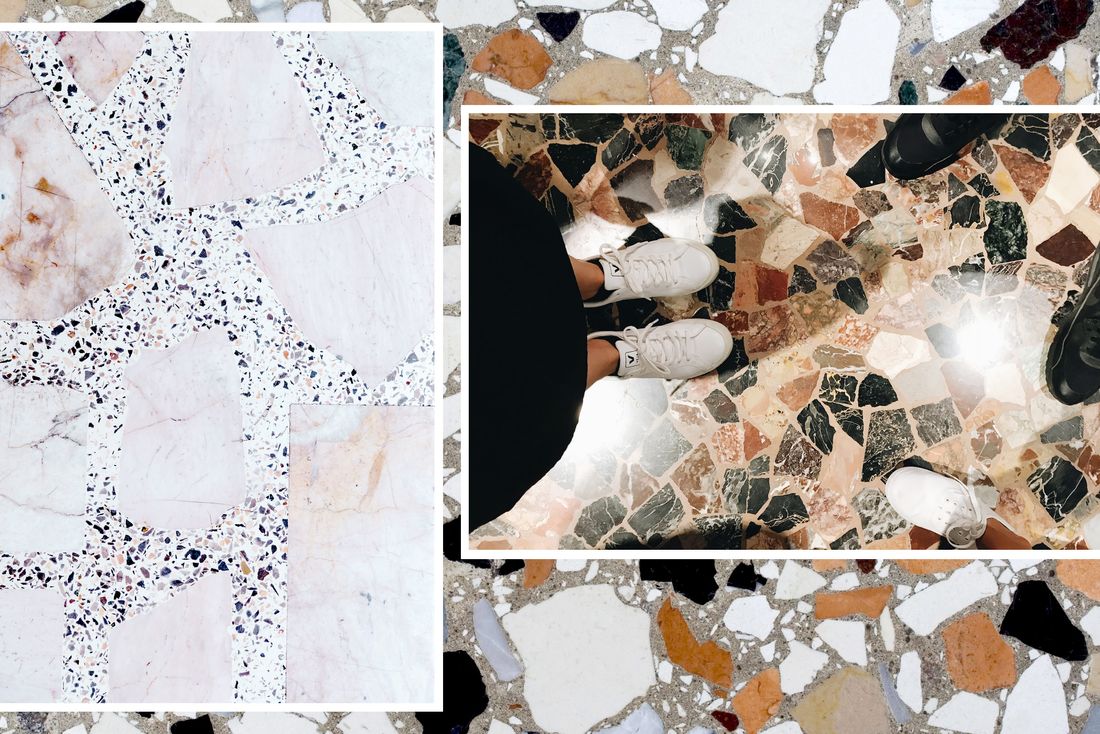 Photo-Illustration: Alamy; Getty Images; Kelsey Keith
Once you start seeing terrazzo, you won't believe you didn't notice it before. If you're out in a city, it rarely takes more than a minute before terrazzo — marble chips in concrete — shows up on a shop floor, on the stairs leading down to the subway, or in an office building. It was also the material of choice for airports, schools, or any public building built during the mid-20th century, when terrazzo had its defining moment.
And over the past few years, terrazzo has staged an incredible comeback. It's increasingly used by architects and designers kitting out trendy bars, restaurants, and hotels all over the world. Terrazzo, in brighter and bolder shades than in the past, is the floor at the Ace Hotel New Orleans; it's the bar at Soho House in Barcelona; it's the counters at Kava Cafe in New York's Meatpacking District; and it's the tables at the Wing coworking space in that city's Flatiron District.
Now that I'm aware of it, it feels odd that I never registered terrazzo before, the way it might if I'd never noticed brick or concrete. But it turns out my experience isn't unusual — I've realized as I've slowly fallen in love with terrazzo that most people don't even know what it is.
While those who are familiar with terrazzo associate it with modernist design, the material can be traced back to the mosaics tradition of ancient Egypt. Terrazzo as we know it has its roots in 15th-century Italy. Terrazzo — the word means terrace, or place of encounter — was allegedly developed when mosaics craftspeople realized that marble chips became a resilient surface when trodden into the ground. "Terrazzo is a traditional material from the Venetian area. It became a popular flooring material in the palaces [during the Republic of Venice]," says Elisabetta Rizzato, a Venice-based interior designer. "It was easier and cheaper to lay down than mosaics." Terrazzo was known as the "battuto veneziano" (literally "beaten Venetian"), and it looked a lot rougher than the terrazzo we know today.
In the U.S., terrazzo's heyday arrived between 1930 and 1970, when designers embraced the polished and distinctive visual texture for everything from Art Deco buildings to midcentury modern interiors. The resulting surge in terrazzo use has ensured that the era defines the material in our imaginations. New Yorkers have access to a truly spectacular display from these terrazzo glory days: the white floors of the Guggenheim museum, where Frank Lloyd Wright insisted on terrazzo after becoming enamored with the material in Italy. "When I walked on the floor of the airport in Rome, I said—this is it, the ideal floor for our ramp. It is not unduly expensive or they would not have been using it for acres of floor in an Italian airport," Wright wrote in a 1957 letter to the Euclid Contracting Corporation. "The name of the compound is Acmetyle Terrazzo … I will accept no sub not familiar with this product."
Black terrazzo covers the Hollywood Walk of Fame, and the masterful floor of the Hoover Dam is also terrazzo. Grey terrazzo covers the floors of the London Underground, and in the Barcelona Metro it covers the red-brown walls, too. The main branch of the New York Public Library in Midtown is flush with terrazzo, which is why the material has been chosen for the $200 refurbishment of the Mid-Manhattan branch of the New York Public Library. In one way, terrazzo is distinctly retro, but at the same time it's undeniably elegant, making it timeless. How else could it have become so ubiquitous?
Ahead of my visit to Diespeker & Co. in South London, I'm warned to dress down — terrazzo-making is very messy and dusty. "Traditionally, terrazzo is marble chippings in cement," says John Krause, managing director of Diespeker, which was founded in 1881 and still makes terrazzo using traditional hand-casting methods where stones or other items can be manually placed for a bespoke look. Diespeker's factory, located in an industrial part of Bermondsey, is full of terrazzo slabs at various stages of completion.
I accidentally put my hand on a slab of bubblegum pink that's still sticky, but it's okay, Krause tells me; it will get polished down later. When wet, terrazzo is a cottage cheese-like paste that has to cure before someone polishes it down to a smooth surface — a specialist craft.
"Our product is very much the 'in' thing to have these days, it seems," says Krause, proud yet slightly bemused at the thought of terrazzo being trendy again. While terrazzo was a popular choice in the 1960s, it had fallen from grace by the '90s. It didn't help that the market flooded with laminate and linoleum — gussied up to resemble terrazzo patterning — thanks to the burgeoning Memphis and postmodernism movements. Later still, terrazzo was overtaken by marble, granite, and engineered stone such as quartz. But as demand for terrazzo has returned, Diespeker found itself in demand as one of the few remaining places in the U.K. that knows how to fabricate it.
The beauty of terrazzo is that it can look like anything — the Diespeker showroom has walls of beautiful terrazzo tiles looking nothing like what you'll find on a train station floor. Aggregates (the specks) range from tiny to huge, and the composite materials (the background) are anything from subtle white to bright green. "That one has pieces of glass in it," says Krause, pointing to the terrazzo stool I'm sitting on. "That's resin terrazzo," he adds — the modern version. Adding resin to the mix makes the terrazzo less prone to cracking, and easier to mold into items other than flooring. Krause hands me a piece of concrete terrazzo for comparison — the resin feels a little waxier to the touch, maybe? Resin terrazzo can't be used outdoors, though, says Krause—that's why large floors still tend to be concrete-based, and have brass inlays that create breathing space to prevent crazing and cracking.
Diespeker now takes orders from London designers, fancy Soho restaurants, artists, and celebrities. "It's seen on par with a nice marble now, and that hasn't been happening in the past 30 years," says Krause. "Now we're seeing it in posh buildings in the city, where the more bespoke terrazzo is being used, as well as the classics."
Dan Brunn, principal at Dan Brunn Architecture in Los Angeles, is the architect behind Coffee for Sasquatch, a new coffee shop on Melrose in LA where finely speckled white terrazzo covers the floors, seats, and counter to create a stunningly flowing, seamless surface. "We couldn't have done that with any other material," says Brunn, who likens terrazzo installation to frosting a cake. "I think people appreciate it because it has that handmade look to it. You can really see the love that's gone into it."
Brunn has been using terrazzo extensively in his buildings since setting up his practice 12 years ago. "I grew up in Tel Aviv, where the White City is a UNESCO World Heritage Site [because of all the] Bauhaus [buildings]," he says. "My parents' and grandparents' houses had terrazzo floors. For me it felt like a natural material, so when I started my own practice I went back to my roots." It wasn't always easy: "At first, clients would exclaim, 'But I saw that in LAX! How is that going to be a residential material?'" Brunn laughs. "Terrazzo has become a staple of my work, and it's in 90 percent of what we do."
The flexibility of the material is certainly one of the reasons why terrazzo has suddenly seen such a powerful revival. Krause thinks it's also in part due to the uniqueness of the material — nothing else looks like it. The midcentury design boom is another reason, as is the fact that terrazzo has excellent sustainability credentials as a hard-wearing material that will last the life of the building. Terrazzo is often cited as being a good value, but custom jobs can actually run at the same price as marble, and the labor costs involved with pouring terrazzo on site will quickly eat up any savings.
The nostalgic appeal of a lovably uncool 1970s thing might be another factor. "There's been a negative association with terrazzo [in recent years]," says Brunn. "It became associated with an outdated look, instead of the heritage of what it is." Of course, to dismiss the terrazzo revival as nostalgic curiosity is doing it a disservice — 1970s architecture and interiors have soared in popularity lately. After years of obsession with midcentury modern and restrained 1960s design darlings — Danish Modern, the Eames classics, corporate modernism — we're now waking up to a renewed appreciation of texture, color, and tackiness, as perfectly embodied by terrazzo.
A defining moment in the terrazzo revival was the Valentino flagship store in New York, which the British architect David Chipperfield decked out in head-to-toe terrazzo in 2014. The result is monolithic and overwhelming, with large and small aggregates mixed across floors, walls, and staircases. A fellow Brit, industrial designer Max Lamb, is also namechecked in the great terrazzo revival. The engineered marble called marmoreal that he designed with London architectural company Dzek has spread like wildfire across Instagram since its introduction in 2014.
Lamb's version of terrazzo is oversized and transmits a lot of personality — curious, considering how overwhelmingly irresistible it is to almost everyone. Marmoreal slabs are piled high in the Camden offices of Dzek, and they are surprisingly heavy, far denser to the touch than regular terrazzo. Marmoreal means "marble-like," and even the composite material is marble, so it's not technically terrazzo. The large-scale aggregate is what makes marmoreal unique, as these aren't broken-down pieces but larger rocks. Each slab looks different, and the result is a product that seems more organic than terrazzo — more of an asteroid field than a starburst. Though, of course, it's far too bold to look quite natural.
"Marmoreal isn't man trying to create disorder — it's naturally disordered," says Brent Dzekciorius, the director and founder of Dzek. Dzekciorius isn't sure what came first — the terrazzo revival or marmoreal — but he started talking to Lamb in 2012, two years before the product launch. "Max was keen to communicate that this is stone. This is made from marble, [and] it has an honesty and straightforwardness to it," he says.
Architecture writer Vicky Richardson has described marmoreal as "the rebellious, artistic child of the terrazzo family," as it captures some of the joyful spirit of the Memphis Group, the Italian collective known for its bold, colorful design pieces. Currently, Dzekciorius says, there are no plans to expand marmoreal beyond the current two colorways, black ground and white ground, as they don't want to flood the market. "We're very much about the story, and being true to the designers," he says.
Collaborating with designers has been key to pushing terrazzo into the future for Huguet, a manufacturer of terrazzo and encaustic tiles that has maintained the traditional craft on the Mediterranean island of Mallorca. The company knows the value of self-promotion — it was Huguet's innovative take on terrazzo that whet my appetite for the material in the first place, when I came across the company on Instagram. The post that caught my eye was just a soft pink-and-white terrazzo tile alongside a black-and-yellow one, and one that looked like torrone, the nutty Italian nougat. I was amazed to discover that this was actually the same material that I walked across every day on the London Underground.
General manager Biel Huguet tells me that his grandfather founded the company in 1933, and it still operates in the same village. The company experienced the same rise and fall in terrazzo demand as Diespeker, and Huguet says it had almost stopped making it when the interest started up again, at first with refurbishment projects before the material's revival gained steam about four years ago. "Companies were still producing industrial terrazzo, the kind you find in train stations and airports, but it's not handmade," he says. "We started focusing on handmade bespoke terrazzo again in 1997."
At first, Huguet made traditional-looking terrazzo, with mellow colors and small-scale aggregate. But soon, people were asking for more contemporary styles — wilder colors and bolder patterns. Huguet says it's been collaborating with designers for the past 15 years: "We have produced terrazzo for David Chipperfield, Lievore, and Alfredo Häberli," he says. "We have produced bathtubs for Tomás Alonso, and basins for Herzog & de Meuron. We're working with the new Soho House in White City in London — they're using terrazzo for table tops and bars."
These cutting-edge design projects are certainly raising the profile of terrazzo — this modern flavor means the material is far less likely to go unnoticed than in its previous iteration. But will terrazzo's dizzying new direction stand the test of time? Dan Brunn says there's a lot of terrazzo being made right now that's far from timeless, as is bound to be the case with any interior trend that burns hot.
But terrazzo has the appeal of being a proven material with lots of options for customization, and that should mean the material as a whole will survive the iterations that exhibit a strong look. "Terrazzo has been working for ages. It's a good material when you treat it properly, and it ages very well," says Huguet. "Right now people might be interested in pink, and in a few years it might be black, I don't know. It will be bigger aggregate, and then it will be smaller. We talk to a lot of great architects and they always want to go beyond, go further. Terrazzo offers that possibility."
Maybe this opportunity for unique expression is key to terrazzo's appeal—it's subtle, but it's a bit wacky at the same time. It's also distinctively manmade. "In this technological era, people will always be searching for something handmade, something bespoke," says Huguet. But at the same time, it looks organic, appealing to the brain with its logical disorder, a bit like Gego's wire sculptures.
Maybe terrazzo is the perfect wild geometry — it's just a bunch of rock and cement, stirred up and poured out. Yet without any deliberate human direction at all, the pieces organize themselves in a pleasing, harmonious way. Maybe that's how terrazzo manages to fly under the radar for so many people, despite its recent surge in use. Just think how perfect something has to be in order to be invisible.
Jessica Furseth is a freelance journalist living in London, U.K. She writes about urbanism, belonging, and the culture of technology. More of her work is on jessicafurseth.com and on Twitter @jessicafurseth.
Editor: Sara Polsky