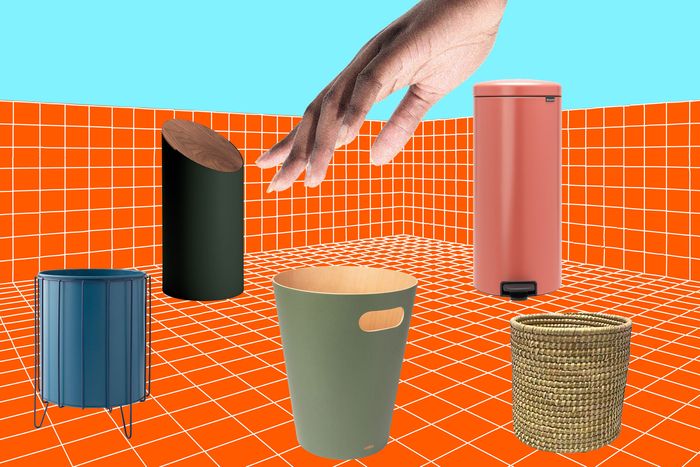 Photo-Illustration: Curbed; Photos by Getty Image and Retailers
In the new series "Curbed Catalogue," we will highlight especially excellent, well-designed products across a variety of price points — from a rose-colored lamp unearthed at Target to raw-silk pillows made by a pair of architects.
When an architect wraps up a project and it's time for a photo shoot, the first thing we do is move all the unsightly clutter of real life out of frame — the piles of mail, the dog's bowl, and, usually, the trash can. Over the years, though, we've honed a list of favorite trash cans that are beautiful enough to be part of the interior design for a home. The best trash cans are either profoundly simple and elegant, stripped down to pure shapes, or utilitarian and classic, designed like no-nonsense machines.
Here is a list of my favorites, ranging from open-top bins for the bedroom to semi-closed wastebaskets for the bath to tall cans for the kitchen. A word of advice: Before you buy, make sure to carefully study the product dimensions to make sure it fits your space. Bathroom cans come in sizes ranging from generous to teeny-tiny, and kitchen cans should be a proper size to suit your cooking habits.
Open Decorative Cans
Yamazaki is my go-to recommendation for all kinds of household organization products, from paper-towel holders to dish-drying racks. Everything from the Japanese brand is thoughtful, spare, and the right balance between understated and design-forward. This waste bin, constructed of polypropylene and ash wood, is available in a range of gorgeous hues from pale terra cotta to mint. It's such a steal at $20, and it's my new go-to housewarming gift (who has the energy to buy themselves a nice trash can after a big move??).
Size: 7.7" L x 9.4" W x 12.6" H
My business partner recommends this trash can to everyone. It's at home under her desk at the office and in bedrooms throughout her incredible white-and-glass '80s modern home. She's a brilliant engineer and a talented architect, and I think she's drawn to its simple utilitarian shape as well as its inspired material choices. These two-tone cans are a matte natural wood on the inside and a fun stained finish on the outside. It comes in minimalist black-and-white as well as a range of eye-catching colors.
Size: 11" H x 9.05" W x 9.05"
This little can is right at home alongside your Wiggle Room table and all the other carefully curated whimsy you added to your apartment last year. Made of a pliable recycled rubber/polypropylene blend, it can be used indoors and outdoors, and has a petite footprint.
Size: 3.5" L x 8" W x 8" H
I've never seen a trash can quite like this one. Reminiscent of a mid-century plant stand, it's an elevated take on the utilitarian object. Powdered coated steel in contrasting matte and glossy finishes, it has the feel of a repurposed treasure from a vintage shop.
Size: 14"dia x 11" H
Semi-Closed Cans
This little bathroom bin is just closed enough to hide unsightly rubbish, but just open enough for a hands-free toss into the top hole. Constructed of bamboo fiber, it has a beautiful matte finish and comes in a perfect neutral greige.
Size: 7.5"dia x 9.5" H
This beautiful Japanese trash can frequently sells out from domestic vendors, so at the moment it has to be ordered from abroad. The bin is constructed of forms distilled down to the essences of function: a simple cylindrical polymer vessel and a swinging wood-veneer top. It's 17-inches tall, which makes it useful in the bathroom and beyond.
Size: 8.5"dia x 17" H
The classic, go-to trash can for bathrooms across America. All the big box stores have their imitations, but this one is still the sturdiest and longest-lasting.
Size: 10"dia x 12" H
Closed Kitchen Cans
Elevated on slim legs, this Belgian black-steel container looks like it could be a vintage icebox or a mysterious piece of stereo equipment. The bin looks stylish in a kitchen, and has two inner containers for waste and recycling. The lid opens with a soft-touch mechanism and has a hold-open feature.
Size: 21.3"W x 26.8"H
Oscar the Grouch but make it design-y. This can has the fluting and ribbing of the classic metal trash cans of our childhood, but updated with a matte green-gray paint and a step-pedal opener. It's also available (though temporarily out of stock) in a traditional silver on Amazon.
Size: 10.24"dia x 20.47" H
Brabantia is the easy choice on every project. It's anonymous, well-built, and comes in a range of colors. I like getting them in different colors for trash and recycling (pine, cinnamon, watermelon), making a rainbow of hues out of an otherwise mundane function.
Size: 13"dia x 29" H