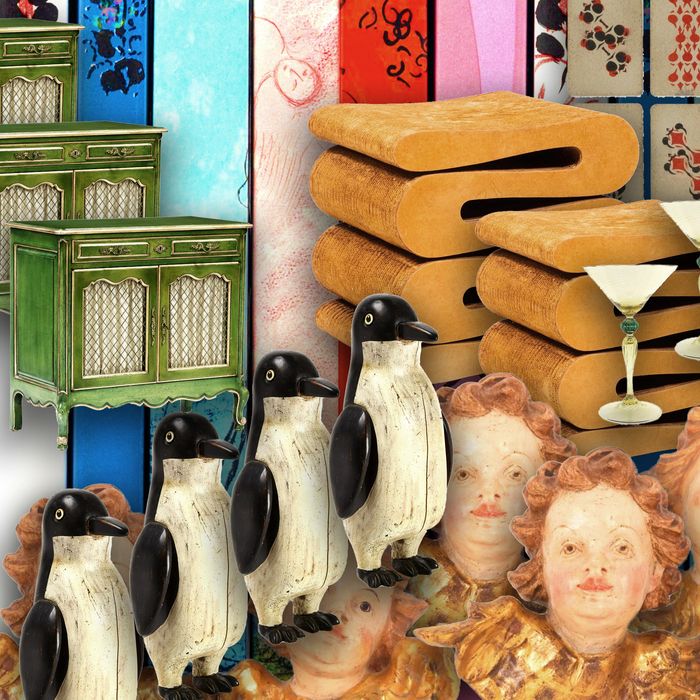 Photo-Illustration: Curbed; Photos: Live Auctioneers
I was sitting in a Brooklyn sublet that had no air-conditioning or curtains, my cursor hovering over a pair of French satinwood armchairs, made ca. 1910. They looked delicate and uncomfortable, lightly worn with beautiful wood detailing. The starting price was $400. I considered whether this was reasonable. What could possibly be considered reasonable for a pair of French satinwood armchairs, something I had never previously considered buying and would have no real use for if I did? Only there wasn't much time to think because bidding began. Something resembling a speech bubble emerged in the interface: "$550: Competing bid."
I came across these chairs because of another item I wanted but didn't need and couldn't buy: a four-piece suite of Art Deco furniture. They were part of the same auction, run by Hindman, "Chicago Collections Day I," which was being broadcast on LiveAuctioneers, a sprawling platform that aggregates around 100 auctions per day from more than 6,000 auction houses globally. Because of LiveAuctioneers, I have become the kind of person who wonders whether I should bid on four-piece suites and French satinwood armchairs. In theory, this makes no sense: I am in the middle of a transatlantic move, trying and failing to shed my accumulated things, and I have only an imagined apartment in which to put them. But once you've fallen down the rabbit hole — once you've spent an hour scrolling through an auction run by Seized Assets Auctioneers, where (seized) sapphire rings and Rolexes and Birkin bags sell within seconds for thousands of dollars, an 1823 printing of the Declaration of Independence, moments before it sells for $4.42 million — clicking BUY on a pair of under-$1,000 slipper chairs starts to seem downright reasonable.
The price of the armchairs climbed to $600, $650. A yellow bubble emerged in the LiveAuctioneers console: "Fair warning," which is auctionspeak for "Bid now or forever hold your peace." I hovered briefly on the BID button; it is perversely tantalizing to be the click of a button away from spending more money than you have ever spent on an object at once. The chairs sold for $750 to another internet bidder. I found myself mourning something I never knew I wanted: the ability to gesture toward a pair of French armchairs and say, "I bought these at auction, and they were a steal."
LiveAuctioneers was founded in 2002, though it's really a digital aggregation of something that has existed for much longer: actual, in-real-life auction houses. Most of these smaller (non-Christie's, non-Sotheby's) houses are family owned and take place in person; the scene can feel something like a rodeo or a particularly rowdy baseball game. "Auctions have always been a form of entertainment," said Mark Millea of the New Jersey–based auction house Millea Bros., which he runs with his brother, Michael. "Like, 'Let's go down to Joe Blow's auction, and we'll have a hot dog and we'll watch them sell stuff, and maybe we'll buy something.'"
LiveAuctioneers is one of the first platforms to merge the chaos of a live auction with e-commerce. And when it first started, there was some resistance from the mom-and-pop auction houses. "The founder actually hit the road in his car to convince auction houses that they would be able to increase their audiences by selling online," said Phil Michaelson, current CEO of LiveAuctioneers.
Though there are now over 5,000 auction houses on LiveAuctioneers, there are still challenges when it comes to convincing old-school, occasionally fusty auction houses to modernize. For instance: LiveAuctioneers is still working to convince some houses to take credit cards and not to send paper catalogues out for their digital auctions.
Then there's the actual buying process, which involves decoding auction jargon like "buyer's premium" (which translates to "Everything you buy is going to be much more expensive than you think it will be;" indeed, most prices in this piece exclude the buyer's premium, which is not usually visible on Live Auctioneers), monitoring auction calendars, figuring out where auctions are taking place, and often arranging for your own third-party shipping once you've bought something. "You know what an auction isn't?" Mark Millea said. "Amazon Prime."
Because of this, it has long been something of a trade secret, used most by people in the know in design-related industries (set decorators, interior designers) and hard-core treasure-hunters. But during the pandemic, as in-person shopping shut down and global lockdowns left people stuck at home, bizarre things began happening in the market for collectibles. Pokémon cards became so popular that Target stopped selling them for safety reasons. The Milleas have both noticed upticks in certain kinds of goods that have been hard to come by due to supply-chain crunches, like sofas and outdoor furniture, many of which are back-ordered for months. (Conversely, others have already begun to attempt to get rid of pandemic purchases and are doing so at auction; Michael Millea said he saw a six-month-old Peloton bike sell for $1,400.)
All of which is to say: More and more regular people — people like me — found their way to the site. There are now more than 5 million registered users, up by approximately 70% since 2019. "There's something funny happening where people don't want to tell other people about it anymore," Michaelson said. "I'll hear that someone told their friend and then, without realizing it, their friend outbid them on something, so now they're not telling friends anymore."
Former Instagram sellers, too, are making their way onto the platform, such as the artist and antique dealer Eric Oglander. After a few years of selling objects — a wooden box used for transporting queen bees to their hives; an antique dog collar; two old leather softballs, one described as "very wonky" — mostly via DM on his account @tihngs, he, along with collector and dealer Avi Kovacevich, launched a new auction house called Catalog Sale. The auction house describes itself as being focused on "unusual works of art, craft, and design" — which functionally means it trades in no particular kind of object or time period. Instead, Oglander says, they look for "stuff that doesn't have a name attached to it — mysterious paintings, drawings and sculptures, or things made out of necessity that just have a pure aesthetic value." The auctions themselves happen on LiveAuctioneers.
The pair are longtime LiveAuctioneers obsessives, they say, and both have memories of steals and misses on the site: a set of cards Oglander meant to only spend $1,100 on but ended up bidding $2,000 and reselling for three times that price; a cocktail shaker, made in the 1920s by an important modernist designer, that Kovacevich noticed in a blurry photograph and watched for weeks — until it sold to someone for about $10,000; a large handmade book made by a barber in the 1920s, filled with comics, autographs, poetry, and other scraps, which Oglander bought for $500 and later sold to Columbia University for $13,000. ("That's why I scroll through everything," Oglander said.)
They have dozens of keyword alerts, and saved searches, and specific auction houses they like, but the best finds are often anonymous. They both lament the growing popularity of the platform. "We have a joke where we find something that we think is hidden or amazing, and I'll send it to Avi and be like, 'I'm already depressed,'" Oglander said. Their first two Catalog Sale auctions were successes: things ranging from a Fiorucci day planner to a kinetic necklace sold, often in heated bidding wars. They're holding their third one on December 5, and in the meantime, they'll start teasing some of their stock on their Instagram account, @catalogsale, where their fans — a distinctively younger crowd than you might see over on the Sotheby's page — comment fire emoji on a set of mid-20th-century Russian playing cards.
To use LiveAuctioneers is not always to experience the childlike exhilaration of a treasure hunt. A live auction, even a digital one, is an uncontrolled environment. One may find oneself in an auction for rare coins and banknotes, as I did, suddenly confronted with a lot titled "$5 Indian Chief Silver Certificate," replete with a Buffalo Bill–like caricature of a Native man. Items labeled "black Americana" frequently include racist, dehumanizing depictions and caricatures of Black people; there are dozens of these dolls, cookie jars, piggy banks, doorstops, and paper ephemera on LiveAuctioneers at any given moment.
This reflects a wider, large market in the antique and memorabilia sphere. "There's so much of it out there," said Chico Colvard, a professor at MassArt and the director of the documentary Black Memorabilia. "It's like pornography. There are so many people who are consuming this material culture. There are a lot of white people consuming this stuff and denying it." In his 2018 film, one antiques dealer says that the market for "Black history" is "probably the hottest collectible going." Despite more widespread recognition that these objects are derogatory, Colvard said they continue to proliferate, sometimes under new, slightly sanitized labels.
Oglander said he had encountered racist objects frequently at antique fairs, though he hopes the market will begin to stagnate with a new generation of more socially conscious dealers. They are thinking carefully about the sources of their objects; in Catalog Sale's first auctions, they are donating all the proceeds on several items, including some shivs confiscated by a California prison guard. Oglander said they'll donate proceeds from things that are "either ethically questionable or material that relates to a struggle of some kind — like, the "Soul Revolution" banner was probably a Black Power protest banner used in Memphis."
There are many things one is not allowed to sell on LiveAuctioneers, including Persian rugs from certain eras, firearms, Nazi memorabilia, ivory, products derived from various reptiles, and overtly graphic nudity — though "artfully represented nudity of an antique nature (100 years old or older) may be permitted." But there are limits to these prohibitions. Proponents of antiques like to emphasize their reflection of the broader mainstream culture; one Chicago Tribune writer called antique malls "the Museum of Ordinary Folks." LiveAuctioneers, in promotional material, called antiques "the original recyclables." But as such, antique stores and auction houses are also where the flotsam and jetsam of the worst aspects of material culture wash up — and continue to proliferate, even appreciating in value. I watched bids climb on the "$5 Indian Chief Silver Certificate" until it sold for $1,000.
Spending more and more time on LiveAuctioneers, I am overwhelmed not only by the sheer volume of stuff but the ways in which it can be categorized. Often, you see a single person's life being liquidated — the rosary beads of a woman who has died, estimated sales price of $5, alongside her bone brooch. There are auctions organized around "spring dolls" and cycling. Christie's is selling high-end handbags and luxury watches. (Rolexes, no matter how ugly, always seem to exceed their sales estimates.) There is "Railroadiana" and "Breweriana," a category I did not know existed but which led me to text my friends to stop me from buying a "Miller Beer Electric Light-Up Clock" (sold for $375, not to me).
One reason, perhaps, that auctions are appealing, is that even though they sprawl in terms of number, they promise a certain kind of order. "When we put our sales together, it's really a representation of our own experience of what's been happening for the last X number of months," Michael Millea said. "It almost becomes the narrative of that experience. It has a flavor and a story about it that gets lost if you see a single item rather than a sale that's been put together." The same might be said of the items Kovacevich and Oglander assembled for their first auction. Disparate as they were, they formed a collection built around two particular, discerning tastes — one that was about to be disassembled.
When I entered the first Catalog Sale auction on June 26, I had a plan. There was one thing I wanted: a deck of playing cards believed to be hand-drawn in a Russian prison. There were 32 of them, totally impractical and beautiful. I was not prepared to spend more than $200, and I knew that would almost certainly be too low. But maybe no one else would be there, I thought hopefully, since it was their first auction?
Things did start slowly; many absentee bids went uncontested. Some lots — a seashell-encrusted box, a Shaker hearth brush — passed with no bids at all. About 200 other people were watching, then 250, then nearly 300. It's hard to pinpoint exactly when the momentum began to shift, but it might have been the bidding war on a painting by an artist listed as "self-taught." There it was: the sight of two people who both wanted one thing, quantifying that desire competitively in the online chat. The pace changed, and with it the prices: $400 for the anthropomorphic table, $800 for a chair whose sales estimate had been $400 to $600, and $2,400 for a bronze Will Horwitt sculpture.
The appeal of watching and participating in a live auction is not unlike that of gambling. It is both about the possibility of winning and also a certain kind of voyeurism; it is simply amazing to watch two people go back and forth, bidding on beautiful erotic drawings. ("Last orgy of the day!" popped up in yellow on the screen as three users fought over them.) You can see how much someone wants something and how much they're willing to pay. And as I did partway into this auction, you can watch someone spend $6,000 on a set of flatware and simply marvel at that reality.
But unlike in poker, there are different kinds of value at stake: sentimental, aesthetic, practical. There is, above all else, the promise of possession, which is related to, but distinct from, the prospect of financial gain. There are all those possible lives in which you own something, flashing by you. I began to bid almost compulsively, first on a beautiful Soviet scrapbook, then, bizarrely, $300 on a pair of candlesticks shaped like alligators that I was very relieved to lose. I bid half-heartedly on a few drawings by the artist Robert Rosenwald, though in retrospect, I wish I had bid more. The cards I wanted went for $700; I didn't even get a chance to bid before being priced out. I kept losing, and watching, writing increasingly crazed notes: "Should I bid for the bullhorn?? But then I would have a bullhorn??"
A small biomorphic sculpture appeared on the console; it was white plaster and amebic, the photograph slightly blurry. I hadn't noticed it before. I didn't have a sense even of its dimensions. But I liked something about it, instinctively, and the bidding was low, at $100. Anonymous artist, though signed "Schackernan, 1982." Could it be a steal? I clicked BID, $125. I waited, suddenly nervous, as no one else matched it and it became clear that I was going to win. A message flashed across the screen: "Fair warning."