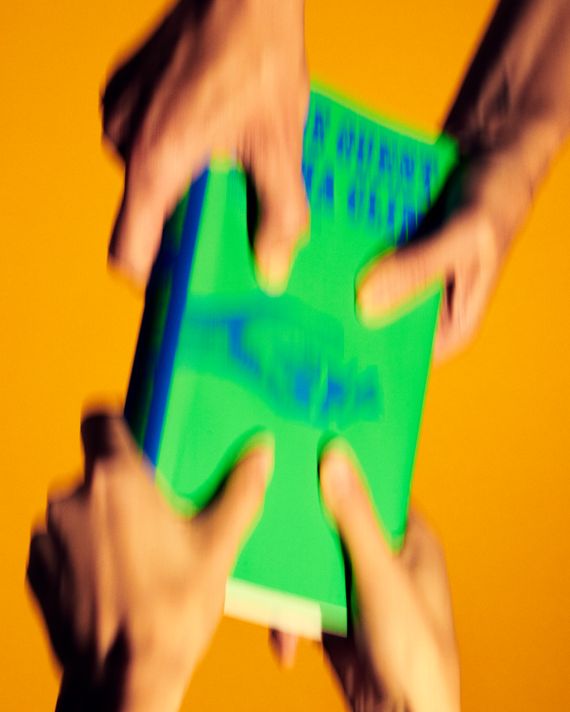 I can spot it a mile away out here," says Vivian, who has spent her summers in the Hamptons for decades. "I noticed the grift when I was a kid working in Westhampton. These kids come in from the city, drink a lot, befriend someone, and stay for the night — then a week." She saw it again this summer at a pop-up in East Hampton: The woman was "acting a little strange, chatting everyone up." Soon enough, they were talking about Vivian's house. Then came the ask: Just a night, won't be a bother.
Vivian isn't the only one who can recognize the type — which is maybe why it seems like everyone in the Hamptons is reading The Guest, Emma Cline's new novel about a young woman named Alex who drifts from house to house, party to party, after being kicked out by her boyfriend, Simon, a bland business type in his 50s who can't so much as tolerate it when Alex corrects his swim stroke. The book has been a weekly best seller at BookHampton in East Hampton for the past month and a half. You can see its electric-green cover resting beside $200 Sunflow beach chairs. People scour the pages to catch a glimpse of a version of their neighbors, their wealth, and maybe themselves.
While Cline never actually places Alex anywhere specific — she's "out east," coolly excavating medicine cabinets and wallets as she moves from place to place — the book screams "Hamptons rich" with searing accuracy: the ceaseless talk about the light, "the famous light," as Alex describes it on the first page. (Gwyneth Paltrow, recently to Hamptons magazine: "There's something so special about the light.") The uncannily similar faces Alex observes — a woman "professionally blasted into the face of a bland 30-year-old" — the same ones you'll see at Le Bilboquet in Sag Harbor or Nick & Toni's in East Hampton. The strange juxtaposition of the old-money Bentley and the new-money Defender parked next to each other outside Round Swamp Farm. "She covered everything, including this easy way people flow in and out of existence here," says Carly, another summer-only Hamptonsite. "You talk on the beach and then suddenly you're my best friend. I think loneliness drives that." Carly, like Vivian, didn't want to be named. No one did. Everybody wants to gossip; nobody wants to be seen gossiping. The book gets that right, too.
Early on, Alex is shocked by the "bags unattended on towels," the wallets and shoes left out while their owners go for a swim. One woman I spoke to, who describes herself as a "Hamptons newbie," used to worry about whether she should lock her bike up in town until it started to seem absurd: "People here steal companies and sometimes wives," she says, "not bikes." Lily, whom I met in yoga class and who has a house in Amagansett and another in Nassau County, once left the keys to her Mercedes in the car, and it did get stolen — by accident by someone who had nearly the exact same model and had left her keys in her car too. Go to any beach that requires a triple-digit parking permit, and it looks like everyone was vaporized all at once, only their Tkees and Golden Goose sneakers left behind. There are iPhones abandoned in the sand while their owners swim. "A system that existed only because everyone believed they were among people like themselves," as Alex describes it.
It's obvious when foreigners enter this system: I recently watched three young people drop one shared overstuffed Trader Joe's bag — the lack of a Yeti cooler caught my eye — on the sand near me on Wiborg Beach. They moved to take a swim but suddenly appeared hesitant. Could they really leave all their belongings like that? A normal reaction, but the Hamptons is designed to be alien to outsiders. Even something as simple as walking is rendered strange here — in the book, after Simon takes away her car privileges, Alex walks and walks. (Carly told me that one time, a group of people asked her how to get to the beach on foot. She told them, "You don't.")
No one I talked to identified with Alex or Simon, but everyone recognized the character. "Simon is every wealthy middle-aged man I know," says Lily. Izzy, whose family has for many years split their time between East Hampton and Malibu, says she lives next door to a Simon, a Master of the Universe. Large, newly acquired art collections. Opinions about how their girlfriends dress, eat, act. "They're very common here," she says. "They think they're the most important thing." (When I tell Izzy that she has the same floors as Simon, she corrects me: "His are concrete," she says. "Mine are Alabama limestone.")
Everyone knew some version of an Alex, too. There are the drunk influencers, the pop-up networkers. But Jan, a longtime resident, says she sees another type she calls the "This was your life, but it's not anymore" hanger-on. They're the people who kept their six-figure annual private-club memberships even after losing the Hamptons house in a divorce or after a bad few years at the firm. "There's one couple that take only day trips and spend all their time at their club." Another woman, left broke from a divorce, continues to casually ask about places to stay. "She's living a life she can't afford," Jan says. "It's time to leave." A friend once dated a male version of Alex but said she wouldn't sleep with him until after Labor Day — she was certain he was just with her for a place to stay. (She never heard from him again when the summer ended.)
Cline manages to capture the contradictions of a place like this: Hyper-vigilance about who belongs and who does not lives alongside a dim permissiveness. Alex's ability to disappear or coax her way into these spaces of extreme wealth and privilege might seem unrealistic to people who don't live here, but things can get quite loose when there's so much money floating around. Gate codes are distributed widely and left unchanged for years. Izzy, whose house is near the ocean, says everyone has her gate code (including me from a party six years ago) and knows where the spare key is. Million-dollar homes sit empty. "I live in a doorman co-op in the city and grew up in Westchester. The Hamptons is the only place I leave my door unlocked — house and car — leave my bag on the table at a restaurant or party, and assume everyone already knows everyone by at most one or two degrees of separation," one friend tells me. "That is, of course, ridiculous." I once watched a woman on the jitney hand a stranger, who said he had forgotten his wallet, a wad of cash and a scrap of paper with her address on it. "Mail me a check when you get back," she said with zero hesitation.
Throughout the book, Alex worries she'll be found out, but that tension never leads anywhere. No one is ever looking that hard.