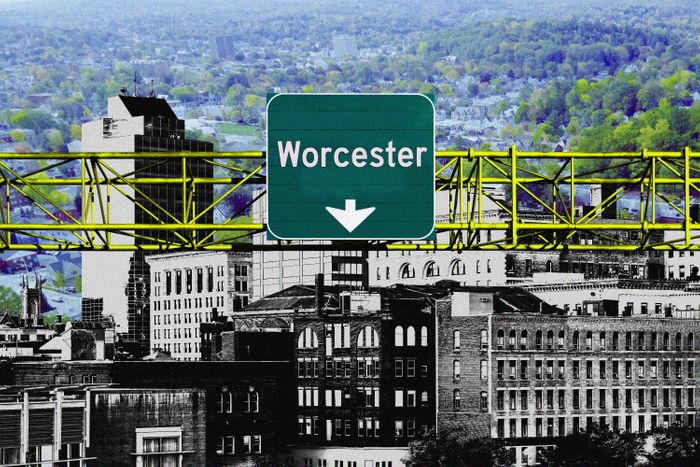 Photo-Illustration: Curbed; Photos: Shutterstock
In this biweekly series, Realtor Diaries, we hear from the people at the center of a wilder-than-ever market. Today, an hour-by-hour glimpse into the working world of Scott, 45, a broker in Worcester, Massachusetts.
7 a.m. I take the dog for a walk and enjoy walking up and down my pretty little tree-lined, residential street in Tatnuck Square. I've been in Worcester for ten years; I bought this house from a family member a few years ago and because there's a backyard for my dog, and it's near a nice public school and my wife and I want kids soon. I don't plan on leaving.
I started my real-estate career in New York. I worked for shady people who suggested we post fake photos of fake properties just to lure customers in. Like, they wanted us to find some villa in Barcelona and pretend it's in the East Village, then tell renters, "Sorry, I actually just rented that, but let's talk about what you're looking for …" I'd be covered in sweat from riding my shitty bike from appointment to appointment, doing their dirty work, and after only a month, I was like, "This is fucked."
I'm from Boston, but I had a few relatives in Worcester, so I landed here to do some flips with an uncle.  That turned into getting my license and here we are ten years later.
9 a.m. I start calling back clients and diving into work. Worcester is getting a lot of hype right now. Do you know it's the second biggest city in New England? Second only to Boston. That always shocks people. Anyway, lately, it's always written up as one of the top ten cities; coming up on all these "where to live and be happy" lists. People are eating that up. The Chamber of Commerce has paid someone well. Worcester's publicist is doing one hell of a job. It's so funny to me because I'm from Massachusetts and I'm still like, "Really?" Growing up we would say Pittsfield was the armpit of America; but people in Pittsfield probably said Worcester was. People looked down on it for years. The tides are changing.
10 a.m. I show a younger couple a loft that just came on the market in Downtown Worcester. Downtown Worcester used to be a little sketchy and a little unsafe — not wicked dangerous or anything. Mostly, it was just … nothing. It was kind of cool-looking in that gritty, industrial, mill-town way but there was zero vibe. These clients are young and committed to making Worcester "cool." They went to school here (we have Holy Cross, Clark, etc.). The college kids used to leave but now they stay. Because of them, there are more jobs. Biotech jobs, hospital jobs — the city is keeping a lot of high talent. So, with that comes better schools, better restaurants, the whole thing.
The two-bedroom loft costs $275,000 but it has a high condo fee. My clients want to offer full price. I tell them it's going to go for at least $25,000 over full price and suggest they up their offer. They aren't open to that. Sometimes clients need to get burned a few times to know how to play the game. I'm not saying I want that to happen to them. I'm praying that it works out for them. But you gotta get burned a few times before it becomes emotional and you become as aggressive as you need to be.
11 a.m. I have a call with another young couple. They graduated from Mass College of Pharmacy — you come out of there and make some good money. These are the next generation of Worcester people. They're sophisticated and savvy and they value diversity and they have good taste.
Plus, let's be real: It's too damn expensive to buy anywhere else.
The median price here is like $375,000-ish. Are there million-dollar houses? Not tons of them but they're around. There are some big old houses, like 5,000-square-feet, turn-of-the-century mansions that probably belonged to mill owners. Those have secret staircases for the staff.
12 p.m. I'm working on a sale with a family who came this way from Boston. They're buying a big house in a pretty, somewhat suburban-feeling area in Westwood Hills, off Salisbury Street. That's about as fancy as it gets in Worcester. They even have special street signs, brown and made out of wood, probably hand-painted by someone, who knows. The same house in Newton would be $3 million. Here it's somewhere under $1 million. People who can't compete in those kinds of suburbs are looking at Worcester as — not a last resort — but possibly a better opportunity.
1 p.m. I have lunch with my uncle, also in the business. We've had the craziest two years work-wise and we're always looking at each other like, "What the fuck is happening here?" For one, every property I'm showing these days easily would have been 100 grand less pre-COVID. But even more than that, I thought COVID would end my career as I knew it. When the world shut down in March 2020, I was worried I'd have to find another job. I just assumed no one would go out looking at houses, and no one was going to make a move one way or another. I thought we would all just stay frozen out of fear and I'd have no income. Within a month or two, things just went crazy.
2 p.m. I show a boring house. Midlevel. On for 300-something. I recently showed a property like this that went for $40,000 over asking … in 55 hours.
People are freaking out that the interest rates are going way up. Everyone is trying to get a house now, like right fucking now.
All of us realtors are just waiting for more inventory to pop up. Hopefully older people are warming to the idea of selling their homes now that COVID is nearing the end. They didn't want people coming to their house, and coughing on their door knobs, but they're more relaxed now. Hopefully April will bring more homes. But then again, we're done with COVID, but now there's Putin.
3 p.m. I get a call from someone who wants to sell their house. That's medicine to my ears. I'll take sellers all day. You put a house on the market on Wednesday, you sell it by Monday, and get paid a few weeks later.
They found me from word of mouth, which is still the best marketing. You do a good job for humans and you hope they tell people.
4 p.m. I have a call with a friend who's in total disbelief that Worcester is "hot." I know where he's coming from but he's naïve. Worcester used to have this weird inferiority complex, but that's over now. People are even proud of the Worcester accent.
I tell him that in terms of real estate, there's everything here. Three-, four-bedroom family homes, post-wars, tudors, colonial, capes. There are these really interesting three "deckahs" (deckers), which were built for factory mill workers in the early 1900s, for families who wanted everyone to have their own apartment within the same construct (grandma, auntie, etc.) — a lot of immigrants lived like that. They used to sell for $200,000 to $300,000 and now it's like $600,000 to $700,000 for the whole building. They're great for student rentals, and there are a lot clustered around the colleges. Everyone's kicking themselves for not buying these years ago. There are converted factories with cool lofts. The properties are usually older, and have a little grit and a little soul to them. There are a few newer luxury buildings, which could be cool, but that's all just happening right now. They have nice granite, stainless-steel appliances, exposed-brick walls — those go for $200,000 to $300,000. There are not a lot of condos in Worcester so they're somewhat in demand.
The restaurant scene is legit too. There's a hospitality company trying to rebrand Downtown Worcester as "the Grid." There is a trendy ramen shop called Chashu and it's a whole scene with a young energy. There's a lot of money flowing through here. We'll see if "the Grid" moves the needle in any significant way, but that's a sign of real change. Worcester's getting sexy!
5 p.m. A client calls to vent. He bought a small little house for $400,000 recently and someone got in his head that he overpaid. This happens a lot. Being a realtor is like being a psychiatrist. Talking people off ledges all day. Everyone gets paranoid that they overpaid. I always say, "Look, you got the house … You did what you had to do. Get over it and enjoy your house." Also, in Worcester, if you're going to own it for over five or ten years, you can't lose.
7 p.m. Relaxing with my wife. I was just telling her that one thing that really frustrates me is these part-time agents that have other jobs. They'll help a friend sell a house, which you can do in a weekend, and they get the commission for doing nothing really. Us full-time agents really want them to leave. They're taking up space.
10 p.m. I usually stop taking calls and doing emails around now. Everyone is always stressed out in real estate, but I stay pretty level. I've done over a hundred deals. Everyone huffs and puffs but it almost always works out. That's what I tell all my clients, "It will all work out."