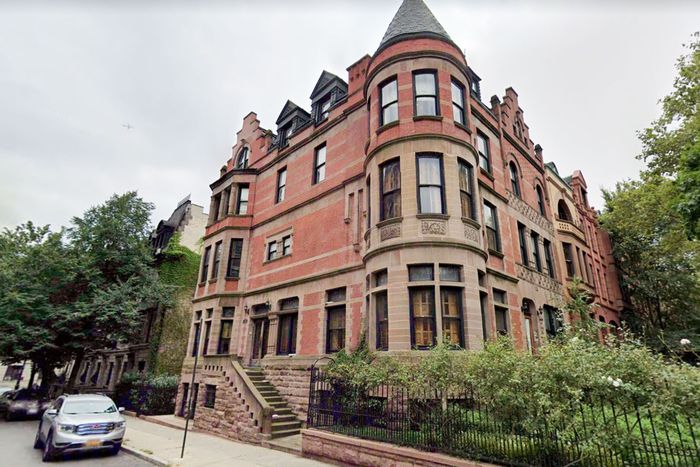 The mansion in The Royal Tenenbaums, Wes Anderson's only film shot in New York City, is on the market for the first time since 1999.
Set on the fictional Archer Avenue (real address: 339 Convent Avenue in Hamilton Heights), the 1899-built Flemish-meets-Romanesque-Revival house was built by Jacob D. Butler (who's also behind the Neo-Romanesque Lincoln Building in Union Square). It's roughly 100 feet wide (on the side facing West 144th Street), with large bay windows on one end and a turret on the other. Inside: 6,000 square feet cover five levels (the bottom three of which have elevator access), with six bedrooms, six gas fireplaces, and over 50 windows. Plus an inordinate amount of original character: antechambers, stained-glass transoms, closets with skylights, and ornate mantelpieces carved with urns and flowers. It's renting furnished for $20,000 a month.
Back when he was shooting the film, Anderson rented the house — which he spotted driving around the city with a friend — for six months, using it for both interior and exterior scenes (all three of the children's bedrooms were apparently in the turret — the top floor Richie's, then Chas's, then Margot's). The current interiors mix lots of original woodwork (the staircase, plus all of the wall paneling and window casings) with some updates (the kitchen has all-black cabinetry and the bathrooms are renovated in white and gray). But a few rooms still feel vaguely Wes Anderson-esque, like the dining room, which is plastered in red-and-gold wallpaper, and the powder-blue living room.