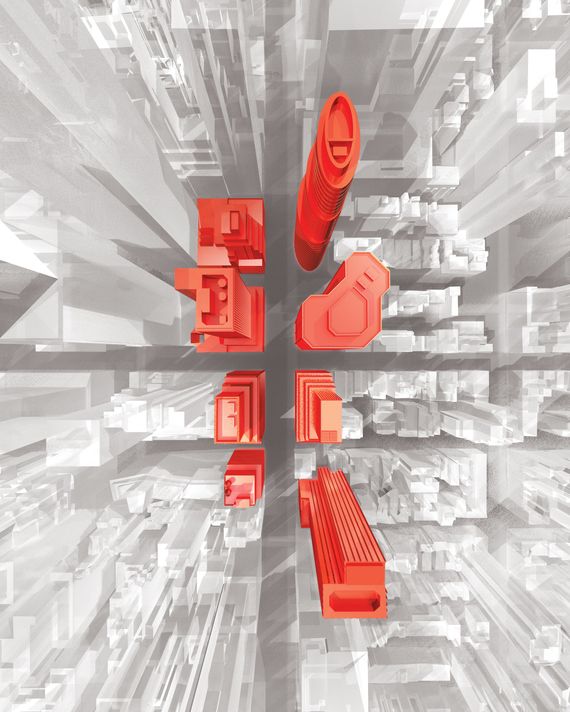 Graphic: Violet Frances for Bryan Christie Designs
From afar, the office corridor on Third Avenue in midtown might look headed for complete disaster. The real estate, mostly boxy glass buildings with no discernible character, was built as standard-issue office space for white-collar workers starting in the '50s. The strip lacks the glamour of Madison or Park, with its trophy towers Lever House and the Seagram Building, and many of the buildings are in need of major upgrades. And while it's by no means inaccessible, it is more of a schlep than the buildings right next to Grand Central. Even before the pandemic, tenants were deserting it for newer towers on the West Side and lower Manhattan. The office availability rate on Third between 42nd and 59th Streets is nearly 10 percent higher than in the rest of Manhattan, and on one three-block stretch, from 50th to 53rd Street, it has hit 43 percent. And many of the leases are expiring this year — 23 percent of all leased space, according to CompStak.* But zoom in closer and a more complicated picture emerges.
1.

880 Third
This 1960s office building, which had a major renovation in 2009, is doing better than most on the strip at 88.5 percent leased (WeWork took several floors before the pandemic hit).
2.

163–165 East 52nd
This office building is full but not because of the demand for office space. Instead, a 312-room Courtyard by Marriott hotel and Memorial Sloan Kettering Cancer Center take up floors three to 31.
3.

850 Third
"They haven't gotten their shit together. It's not leasable in its current condition," says Nick Farmakis, vice-chairman at real-estate firm Savills. Its woes are documented here.
4.

830 Third
The former headquarters of Girl Scouts of the USA, this class-B building sat 40 percent vacant for a while before being sold to Empire Capital Holdings and Namdar Realty Group for $72 million last year. These days, Empire and Namdar are two of the few investors on an office-buying spree, snapping up distressed buildings at bargain prices.
5.

825 Third
The Durst Organization is finishing up a $150 million renovation of this 1969 Emery Roth & Sons–designed building. The Durst family's bet: Tenants will come back for an environmentally friendly office with a wraparound communal terrace and a full-amenities floor. The building is 34 percent full with the Child Mind Institute just having signed a lease for 81,810 square feet.
6.

845 Third
"It needs an upgrade. A 1960s office building that just screams at you, 'I don't care,'" according to a broker. The building is only 66 percent leased, and two major tenants have leases expiring this year. One of them, K2 Intelligence, moved to 730 Third. (According to the broker, the landlord, who has owned the building for decades, can offer deals.)
7.

875 Third
This tower signed a 27,000-square-foot lease last year with a large Manhattan law firm that was downsizing from 48,000 square feet in the Financial District — a win for this stretch but a loss for the office market overall.
8.

885 Third
The site where Bernie Madoff once ran his Ponzi scheme, the red-granite tower known as the Lipstick Building has long served as a counterpoint to the blandness of the rest of Third Avenue. Law firm Latham & Watkins, the anchor tenant for more than a decade, moved to a new office on Sixth Avenue last year. The building won't sit empty, though: Memorial Sloan Kettering is buying more than half of it to use for its admin­istrative and research staff; in a grim market, medical offices are one of the few bright spots.
Compiled using leasing data from CoStar and CompStak.
*This article has been updated to reflect the percentage of leases that expire in 2023 on Third Avenue between 50th and 53rd Streets.
More on the office apocalypse
See All