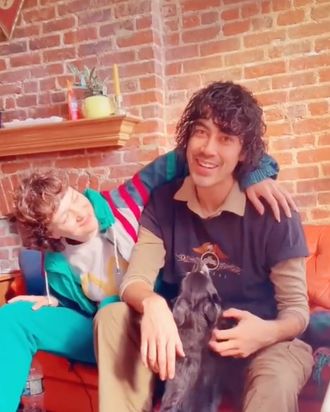 Photo: @darendarendaren/TikTok
For New Yorkers, the honorific of actually being a "New Yorker" is something of constant dispute. For every person that tells you you have to be born in New York to be a New Yorker, there are a gaggle of others saying "Actually, you need to live here for ten years," or maybe it's five years, or maybe it's not until you've cried on the subway or been attacked by a jumbo-size rat or some other ridiculous hardship that residents collectively believe to be a prerequisite for true city citizenship. Despite the varying opinions, one thing is for certain: It's not a title bestowed immediately.
Perhaps that's why a young couple on TikTok, posting videos under the username @darendarendaren, went viral last month when they began to document their first 30 days of "being New Yorkers" (though they now say "being in New York" to appease the critics).
Despite recently moving from Los Angeles, the couple, whose real names are Ava Gordy, 27, and Daren Girdner, 30, look like they'd fit right in in any Bushwick bar, with their vaguely androgynous, carefully layered thriftwear. After dreaming of moving to New York for years, they finally decided to do so in 2020 because of the dropping pandemic rent prices. In the very first TikTok they posted about life in the city, the duo, a dancer and a video editor, respectively, introduce their new empty apartment before heading out for a very earnest, very intentionally New York–ish first day in New York: eating bacon, egg, and cheeses from a deli, shopping for secondhand furniture, riding the subway, and dancing around on their unfinished rooftop.
Overnight, the video — which, Gordy says over Zoom, simply chronicled how the couple would have spent their first day in New York even had they not been filming themselves — went viral, quickly hitting 1 million views. A month later, it's been seen 3.3 million times, and they've continued to post a new 60-second snapshot of their new New York life almost every day since, reaching a combined total of 8 million viewers. The videos — each overlaid with a gentle voice-over from Girdner ("I know it's cliché, but this is my favorite place in the world," he says of Central Park) and his original indie-rock-music mixes — show them bopping around enthusiastically from touristy location to touristy location. On day 20, they travel to Dumbo and dub it "the spot"; on another, they visit Chelsea and call the neighborhood "No. 1 for best architecture" — which they highlight by turning their camera to show the Hudson Yards Vessel. They're scared of their fire escape. They play "Empire State of Mind." They make a Sex and the City–themed "episode." They complain about ConEd. The whole thing feels ready made to be mocked, which it has been, extensively, across platforms.
On TikTok: "Idk why their enthusiasm for life is so funny. Maybe it's because I know three months in this city and they will be depressed just like the rest of us." On Twitter: "i dont wanna go back to nyc, what if i see that annoying tiktok couple."
Still: Once you get past the cloying teen-romance vibes (day seven, over music that sounds like it was borrowed from Netflix's Dash & Lily: "This is day seven of being a New Yorker … and it's low-key starting to feel like home"), there is a specific sort of pleasure in watching the pair sell the city with the enthusiasm of 1,000 Compass agents, especially after a year in which some 3 million people abandoned ship. And besides, for New Yorkers who weren't born here, their shameless naïveté can be embarrassingly, but kind of charmingly, recognizable. On day 19, Girdner struggles to use the MTA. On day 22, he shares that his depression is beginning to creep in. Not long after, he confides: "I can't believe I have to find friends. I'm just trying to figure out where I fit in. You know?"
And even if everything seems a little ripe for the camera, Gordy insists their enthusiasm for the city is not feigned. "People are always commenting, wishing despair for us," she says. "They're like, Quit being happy all the time. But what's the problem? I know that's, like, so cheesy, but there's so much to do here. Every single day you can find something new. It's just simple to find the beauty here." Asked about their favorite experiences in New York so far, Gordy says, without hesitation, the Bethesda Fountain. (More specifically: "I turned a corner, and it was like, What the f — Oh my God, it's beautiful.") Girdner can't name one. "I don't know if I have a favorite, because it's all been my favorite," he says. "Every day is a new adventure."