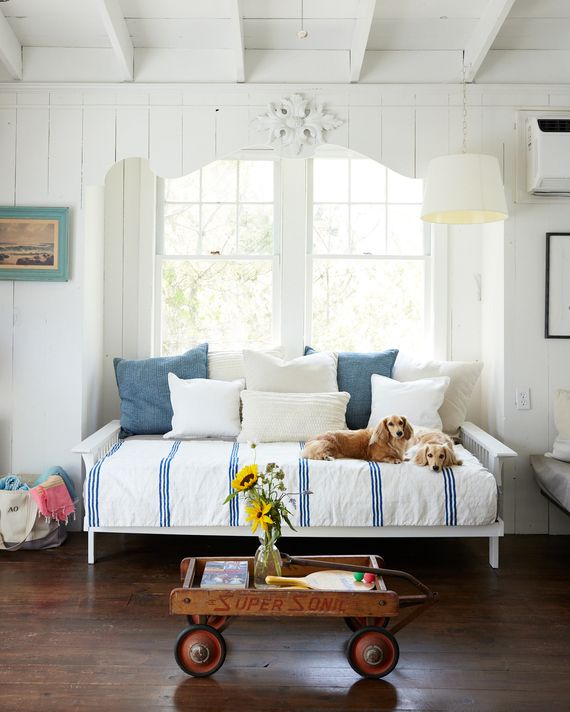 Here, their dachshunds, Louie and Teddy (they have their own
Instagram
), enjoy their perch on the day bed. The curved valence is a trait of the décor of John Eberhardt, who designed this cottage as one of four attached units in the '60s. The vintage wagon was found in Brooklyn; there are no cars in Cherry Grove, so you need them for transporting groceries and other goods. The seascape painting is an Esty find.
Photo: David Land
Back in 2012, photographer Allison Michael Orenstein and her wife, salon owner Simone Saint Laurent, were worried about taking over the lease of a 350-square-foot summer rental cottage on their own after the couple they'd shared it with for a couple of years broke up and backed out. "A wise Cherry Grover told us we would never regret it," Saint Laurent says. "And it has turned out to be one of the best decisions we have ever made."
The house was one of those built by John Eberhardt (who really let his imagination go wild with the Belvedere "Guest House for Men" nearby). "There are many fanciful doors, windows, and cupolas in these houses. It's a true beach cottage with no insulation," Orenstein says. This is one of four identical ones that are attached and known as Tradewinds — "our house is called East."
They rent from May through October and have made the place completely their own over the years. The curvy valences and decorative details are an Eberhardt design signature, along with many of the pieces in the cottage.
"This is our 13th season," says Orenstein, who has made many portraits of their neighbors. "So, we have all of our things here and did a lot of the details ourselves."
"This is a barrier island," Saint Laurent notes, "so to bring things over costs time and money. Anything someone doesn't want they put in front of their house and someone else usually finds it to be a treasure." They have repurposed discards into their own treasures — "If it is found here, it needs to stay here," she adds — and embellished pieces left in the house.
"We repainted and restored all of the walls and all the sloped vaulted beamed ceiling," Saint Laurent says. "When in doubt, paint it white."