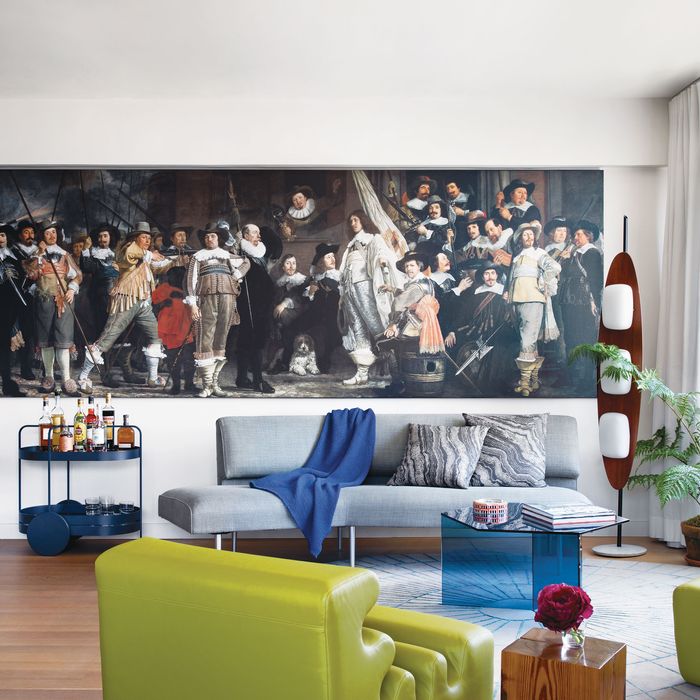 Basically, I was staring at a brick wall for seven years," architect Alexander Gorlin says of the Upper East Side rental he'd moved into after his divorce — a refuge he thought would be temporary until inertia set in. Finally, a year and a half ago, he set out to shake that off and find a place to buy, preferably one from which he could walk to work and ideally — though he was pretty sure he couldn't afford it — in the West Village.
He found this "hidden jewel," an apartment that hadn't been touched in 30 years, back when it had been victim of an ill-conceived renovation. "It was not only a wreck," Gorlin recalls, "but the owner had encroached onto the view with closets and a Murphy bed and dropped ceilings so that it was extremely off-putting. Unless you were an architect who could see past the excrescence."
But there was a wraparound terrace with a view clear south to One World Trade as well as the Village's architectural treasures, from the 1877 Jefferson Market Courthouse, now a library, to the 1846 First Presbyterian Church on 12th Street, to Joseph Urban's 1930 New School. At night, there was a view of twinkling stars and planets, "especially Jupiter and Saturn," unblocked by high-rises.
Once he demolished the previous renovation, Gorlin surveyed his approximately 700-square-foot aerie and decided to enlist a friend, the interior decorator Bachman Brown, to help. One of Gorlin's inspirations was designer Eileen Gray's merger of public and private space in her cliffside Villa E-1027, completed in 1929 in Roquebrune-Cap-Martin on the Côte d'Azur. "Even though she had a separate bedroom," Gorlin says, "there's clearly a sleeping area that was part of the living room, so it could be either for sleeping or entertaining."
"I wanted this space to feel like one big lounge," Brown says. Working with Brown was both "a collaboration and an exploration of what it's like to work with an interior designer, which I must say I had always slightly disparaged," Gorlin says, laughing.
The studio also serves as barracks for the 30 members (and one dog) who populate Militia Company of District VIII Under the Command of Captain Roelof Bicker, by Bartholomeus van der Helst, ca. 1643, which Gorlin had digitally reprinted from the Rijksmuseum in Amsterdam, which has made scans of its collection available for free download. The cost came from Duggal Visual Solutions' doing the print — about $2,300. "I wanted one big piece that would stand up to the view," he says. "A friend of mine said, 'How can you do this? Those soldiers are always staring at you.' You know, you find out so many things about people when you do something that has a concept to it."
*This article appears in the November 23, 2020, issue of New York Magazine. Subscribe Now!