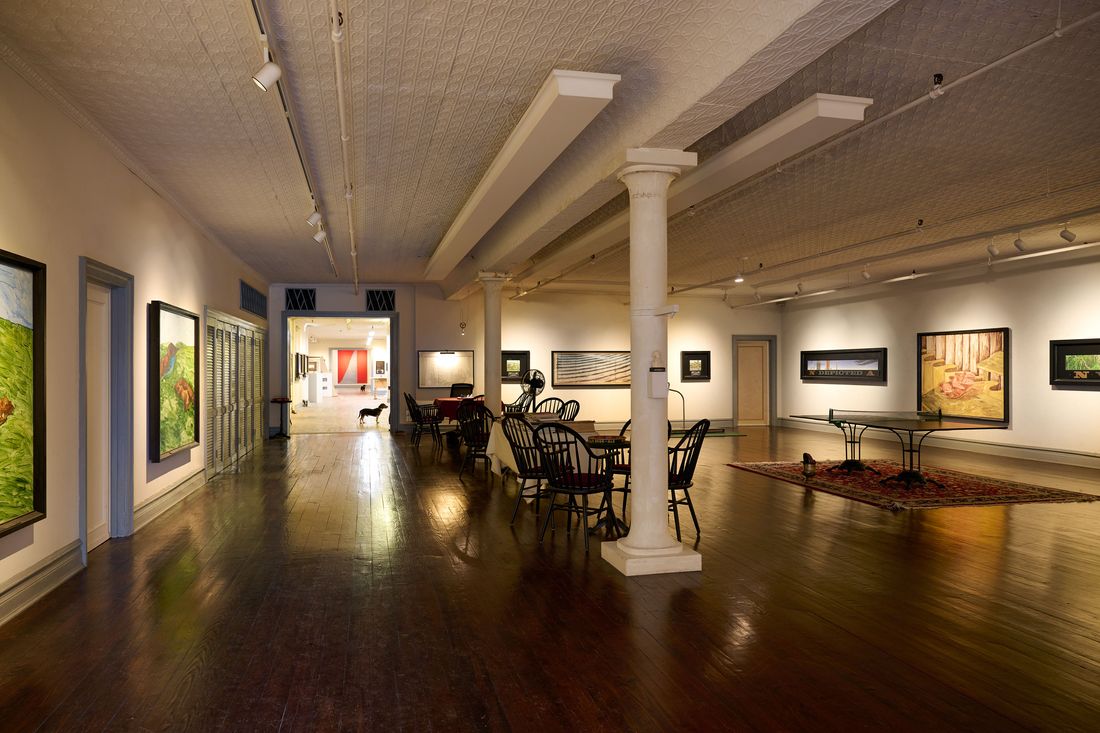 The Studio:
The art exhibited in Neil Jenney's studio includes his "Bad Paintings," his "Good Paintings," his "Atmosphere Paintings," and the work of artists he admires, including Robert Lobe, Kathleen Gilje, and Ki-young Sung.
Photo: Jason Schmidt
You see, I have this problem," Neil Jenney tells me when I meet him at the Wooster Street end of his 11,000-square-foot full-floor Soho loft. "I have a landline telephone, and I tell people, 'Let it ring because I have to run down the block to answer the phone.' " That phone is located in what Jenney calls his "everything" room, which is at the West Broadway end of the space that he bought for $36,000 in 1973.
Jenney, 77, got into Soho and the art world when the two were entirely intertwined and full of possibility. He grew up in Westfield, Massachusetts, around chickens and tobacco farms, where he worked in the summers. To this day, wearing V-neck denim overalls of his own design, he still looks a bit like he could be heading out to do some chores.
He moved to New York in 1967, a year out of the Massachusetts College of Art, and found an apartment with a tub in the kitchen on East 6th Street between Avenues C and D for $35 a month. There were no brunch options in the neighborhood in those days, and the invasion of the high-spending finance bros was decades off. There was room to experiment.
At the time, as he recalls it, "the whole scene was infected with photorealism, which was basically second-generation Pop. It was a stale idea done pretty." So he decided to make the opposite: what curator Marcia Tucker (she later founded the New Museum) called his "Bad Paintings." He describes them as "a good idea done as fast as I could get the message across." They were not for everyone, but Ivan Karp, then co-director of Leo Castelli's gallery, bought one. "I was a made man after that."
Karp opened a gallery of his own, OK Harris, on West Broadway in 1969. A few years later, the gallerist put together a group to buy this building, which had been slated for demolition to make way for Robert Moses's proposed lower-Manhattan expressway. There was also, for a time, a plan to tear the building down for a high-rise, Jenney claims. But then the formerly doomed Soho became a landmarked neighborhood of now-appreciated-by-the-culture historic cast-iron buildings, many of which, like this one, hadn't been very well maintained.
Jenney joined the Karp collective and purchased the fourth floor, although he wasn't able to move in until 1975, when the lease for the artificial-fruit factory that had been there ended. "The loft was completely unlivable at that point, of course," notes the artist's daughter, Emma Jenney, "with holes in the ceiling and rats and roaches. It took 15 years for my dad to get it anywhere close to what it is today."
After the "Bad Paintings," Jenney went on to make what he calls his "Good Paintings," as well as various sculptural works, while also making frames for his paintings and for Picasso reproductions he commissioned from the late Ki-young Sung, whom he discovered selling art in a subway arcade. Hung on his walls are works of other artist friends, including Mercer Tullis, Kathleen Gilje, and Robert Lobe. Jenney has his own West Broadway gallery space within his studio, where he exhibits their work, along with that of others, by appointment. He shows with Larry Gagosian, who is "basically my biggest collector," Jenney says. "He's got the best 'Bad Paintings.'"