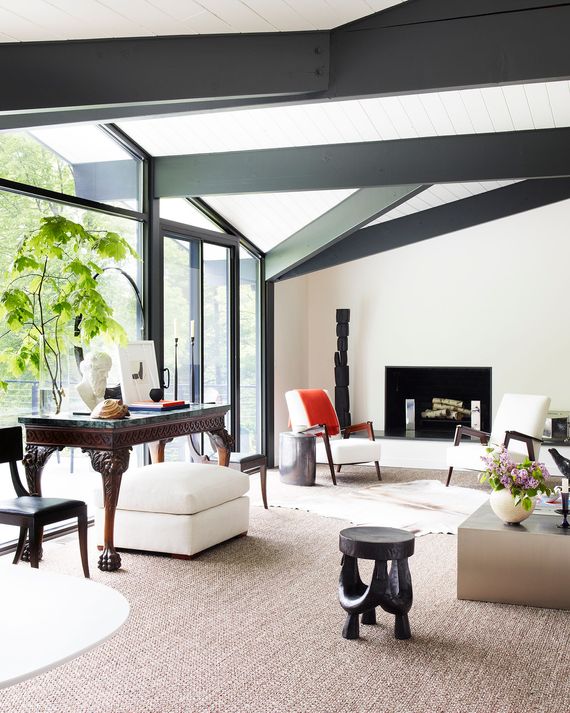 The living room.
Photo: Simon Upton
Over the many years of our friendship, I've covered dozens of Matthew Patrick Smyth's interior-design projects. And the one thing I've found is consistent in his work is the sense of comfort and ease that he integrates into everything he touches. In his new book, Through a Designer's Eye, published by the Monacelli Press (with a forward written by yours truly), Smyth not only brings the reader into many of the homes he has decorated but also features his own photographs taken on trips all over the world (if he ever quits his day job, a career as a photographer lies in wait). The house I particularly love is his own, the living room of which is shown above. Smyth entirely reimagined this once-rundown '70s ranch house in Salisbury, Connecticut, that he and his husband, the writer Jean Vallier, purchased in 2015 (previously, they'd lived in a 1790 Colonial in the neighboring town of Sharon for nearly a decade). The project entailed a lot of work, but Smyth says, "I wanted the challenge." The 19th-century Irish console was purchased for Smyth's very first client, who offered it back to him as a housewarming gift when she downsized. The 1960s Italian armchairs echo the geometry of the original wood beams.
"The house was built in 1976 by a much-beloved Pan Am airline pilot whose nickname was King," Smyth says. "It had all the bells and whistles: a sauna, an outdoor hot tub, an eight-foot-long bar, and shag carpet, which I'm sure looked great in the '70s but by 2015 needed to be swapped out." Today, the open living-dining room holds treasures the couple has collected over the years, including a carved 18th-century Regency mirror (on the far wall), which was restored by Smyth and master gilder Tanja McGivney, who devised a silvery gilding for the frame and a verdigris glaze for the mythical dragon and sea creatures adorning it.
The prefabricated deck house was built by Acorn Deck House, a company still in business today. These houses typically have wood ceilings, exposed joists, and lots of wood paneling (as seen below, before Smyth got down to the work of renovating). Note what a difference a paint job makes with the ceiling.