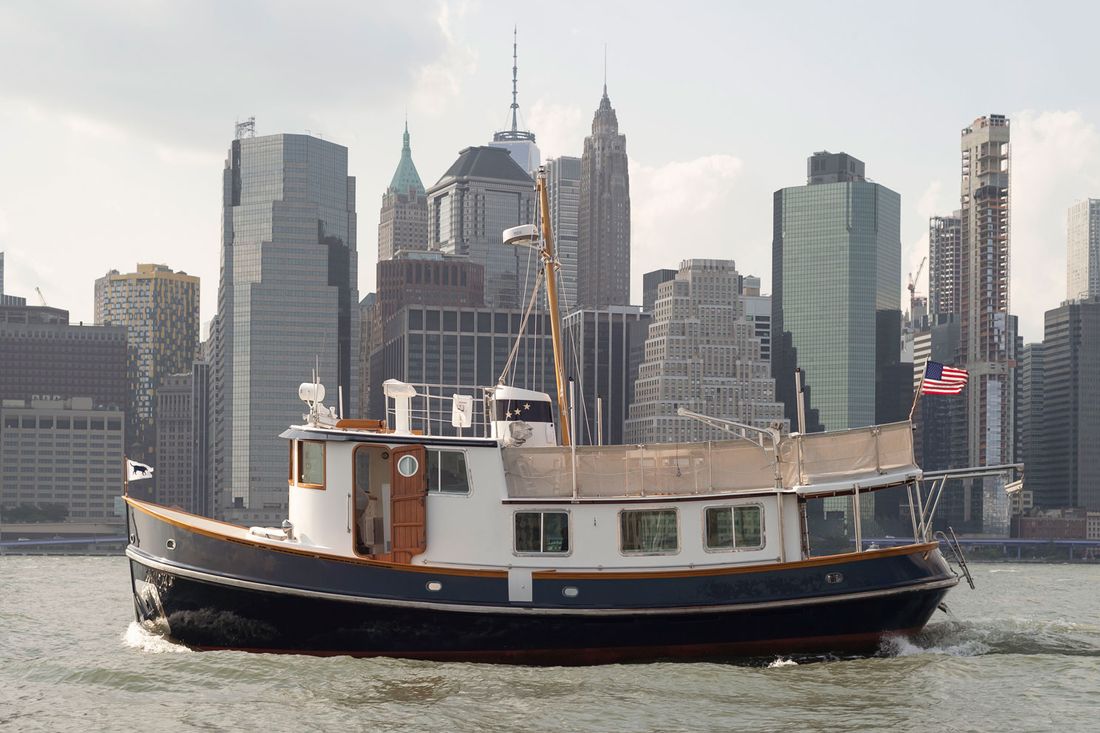 Lucy at Sea in New York Harbor:
The boat had been undergoing repairs in Florida when the pandemic hit and has just recently made her way home to a berth on the East River in time for summer.
Photo: Matthew Williams
Blisters all over her. She smelled like the end of the world," recalls Lyndsay Caleo Karol of the tugboat languishing in dry dock in Stonington, Maine. "It was like perfect, perfect, perfect for us!" Not everyone would jump at this opportunity, but Caleo and her husband, Fitzhugh Karol, knew their way around projects that might intimidate others: They founded the Brooklyn Home Company in 2007 with a cadre of artisans and family members to build and renovate houses.
Lucy is a 49-foot recreational motor yacht (the class is called Lord Nelson Victory Tug) built in the late 1980s in Taiwan and designed to evoke the romance of the classic tugboat. Caleo and Karol are the vessel's fourth owners, and they renamed her after Caleo's late dog, who loved the water. The boat had been up on blocks four years when they sought her out, inspired by seeing another Lord Nelson Victory Tug on Canandaigua Lake in Upstate New York. "We live in Brooklyn" — specifically in a Park Slope brownstone that the couple had renovated to feel like the country in the city — "It made no logical sense to get a boat," she admits. Nonetheless, her impulse was, "I'll move on it. This is it. This is what I want to do." Fortunately, Karol liked the idea: He grew up kayaking on the Connecticut River, and his grandfather had a sailboat on Cape Cod.
Refitting Lucy "was a totally different universe" from their landlubber work on houses, Karol says. "Everything needs to have more than one function. We wanted to have creature comforts, but they had to fit in a certain size, so there was a lot of problem-solving." Although the couple found the original interiors mostly intact, they needed to reupholster and add paneling and some finishes and accessories in the kitchen. Also: Now the captain's bench converts to a queen-size bed. The reworking of the electrical system was only possible after filling three 30-gallon trash cans with old wiring that had to be ripped out. The kitchen stools were found at a vintage shop outside West Palm Beach, Florida.
To pay for it all, they took in family members as partners. And when they were finished, in 2017, they got married on it. Today, they have a 2-year-old and an 11-month-old, and Lucy sleeps eight. "Sleeping on Lucy is our peak happy place. It's our own peaceful, fun, cozy little world," says Caleo. The kids love it: "The boat puts them right to sleep." It's also ideal for hide-and-seek. The longest they ever spent on her was 15 days off the coast of Maine.
Lucy is berthed at the ONE°15 Brooklyn Marina in Brooklyn Bridge Park. "She is just like a Labrador retriever," says Caleo. "She is friendly, solid, happy, and fun."
*A version of this article appears in the July 20, 2020, issue of New York Magazine. Subscribe Now!