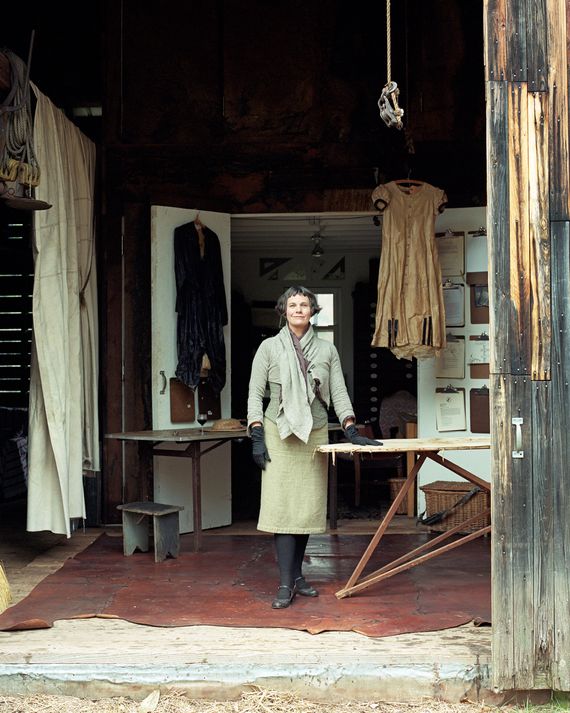 "The barn is our lyceum," J. Morgan Puett says, "for lectures and workshops at Mildred's Lane."
Photo: Courtesy of Simon Upton for Vendome Press
I first met J. Morgan Puett in 1994 in the store she then ran in Soho. It didn't look like any place I'd ever seen before. It was industrial-chic before that became a thing: The changing rooms were suspended tents, and pulleys were used to hang Puett's handmade dresses and accessories. Morgan looked like a heroine out of a Willa Cather novel and lived in a converted chicken coop on her brother's land in Pennsylvania with her dog, Sister, and her cat, Roadkill. We of course became friends.
Puett grew up in Hahira, Georgia, where her father was a third-generation beekeeper who shipped bees around the globe. She studied painting, sculpture, and film at the School of the Art Institute of Chicago and made her own hand-dyed, washed linen clothing. She started a mail-order business in the late 1980s, years before everyone began buying everything online. At the time, "everyone was buying Alaïa!" and she was marching to her own drummer, making clothing that was completely "friendly, honest, and comfortable."
I did many stories on Puett over the years, so I was thrilled to see her home and art residency, Mildred's Lane, featured in photographer Simon Upton's stunning new book, New York Interiors (Vendome Press). Puett and her then-partner, artist Mark Dion, along with friends, purchased the Pennsylvania property in 1997. It is now a 94-acre installation with 11 outbuildings. "They're structures I have been collecting over the years as art projects that were transported from other locations; I have just been collecting small buildings for 35 years." Puett says.
"I don't think of Mildred's Lane as a getaway but more as a destination," Puett writes in the book. "During the summer months it is definitely so. Mildred's Lane is an art residency, a school, a retreat, and my home. I organize events, workshops, and lectures each year; in collaboration with my friends and colleagues, we create landscape projects, installations, and events, questioning concepts around the environment, relationships, labor, dwelling, and creative domesticating."
Photo: Courtesy of Vendome Press