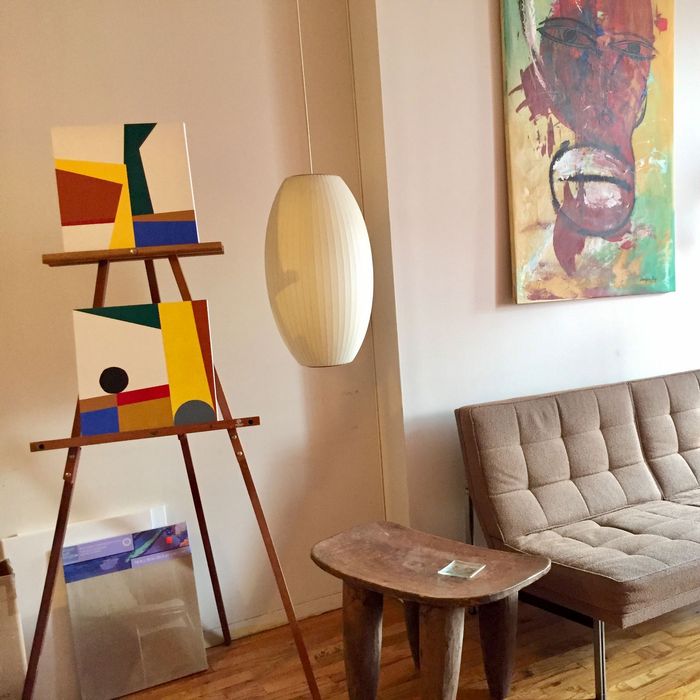 "I've taught myself how to frame," Bentley says, " I especially love to find mid-century frames at the flea market. The largest piece of art that I have above the sofa is by an artist from Tulum, Mexico, named Enrique Diaz."
Photo: Courtesy of Larry Bentley
I first got to know Larry Bentley in the late 1990s, when he was the manager and maître d' of the members dining room room at the Metropolitan Museum of Art, but I hadn't known he was an artist himself until recently. To be fair, he hadn't known either: He knew he could draw, but he had never tried to paint — "not even paint by numbers," he tells me, laughing, after I ask him to send photographs of the central-Harlem one-bedroom apartment where he has lived for 20 years.
Bentley grew up in Jacksonville, Florida, where he played the violin and wanted a life in the arts. He studied architecture at Ohio State University before moving to New York City, where he lived in the East Village before Harlem.
Bentley was working at Sotheby's as a client-services representative when the pandemic hit. "I knew that I was going to be furloughed," he recalls. He decided to use his time off to teach himself to paint. "I just thought I would go to Michaels and Blick Art and get supplies after going online and researching the best canvas and acrylic paints and brushes. I figured if I messed up, no one would know because I didn't tell anyone what I was going to be doing: If I mess up, I'll just keep trying." He's back at Sotheby's now.
If his color-block abstractions have a 1950s feel, that's because he has a fascination with that era. "The inspiration for my work," Bentley says, "comes from my love of all things mid-century modern and the great artists of that period."
That extends to his décor as well. "Most of my furniture is mid-century," he says. "My first main purchase when I moved into the apartment was the Barcelona chair and ottoman. I've always wanted one for as long as I can remember."
Now, usually, his dining table is groaning under his paint supplies — as he says, "My dining table hasn't seen a dinner party in over a year." But he did recently host an open-studio event at his apartment, where he sold seven of his paintings. He is also selling his work on consignment at Belkind Bigi in Tarrytown.