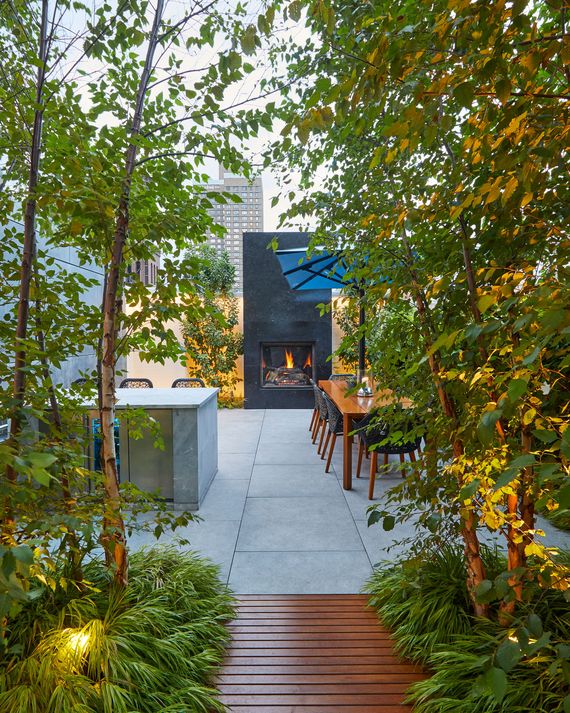 A path takes you through birch trees and wild grasses to the dining and kitchen area, complete with a fireplace. A screen for vines and flowers to grow around the perimeter means "you feel you are in a true garden," says Nosanchuk.
Photo: Anastassios Mentis
"Every detail of the roof was like a fine piece of furniture with no sign of utility," says designer David Nosanchuk, as we wander along the teak decking and porcelain pavers through the mini-forest of birches on the Nomad rooftop he designed (with much input) for his client, tech investment banker Tom O'Shea.
It's been a long-gestating project. "Working with Tom was a new experience for me," says Nosanchuk, "the opposite of hands-off. He wanted to know why I was making every design and material choice and asked why it couldn't be different."
The two met through a real-estate broker back in 2013 when O'Shea was looking for a place with outdoor space. When O'Shea found a top-floor apartment in Nomad with a generic roof deck, they met again to discuss the possibilities. But it was going to be a real collaboration: O'Shea would always, always have questions.
"It was a tutorial of sorts," Nosanchuk says, "and a constant battle which I always won after explaining why I was making the decisions from a design and use standpoint."
First, they concentrated on the renovation downstairs, reworking the layout, all the while debating about materials, including zinc, basalt, marble, walnut, and oak. "By the time we had selected all the details and materials, Tom started to gain more trust as we embarked on the roof."
Nosanchuk studied at the Cranbrook Academy, got his master's at Southern California Institute of Architecture, and is a master woodworker. He launched his first collection of furniture and lighting at the International Contemporary Furniture Fair in New York in 2000. The task of completely redoing the rooftop into an oasis took 18 months, which included refining the design for six months and constructing a 40-inch-deep spa pool, and then a year of building it out along with time for the clump birches, apple trees, and wild grasses to grow in and define the different outdoor rooms under the sun and stars.
"By raising the roof deck 30 inches and installing the planters flush with the deck, you no longer feel you are on a Manhattan rooftop," Nosanchuk says.