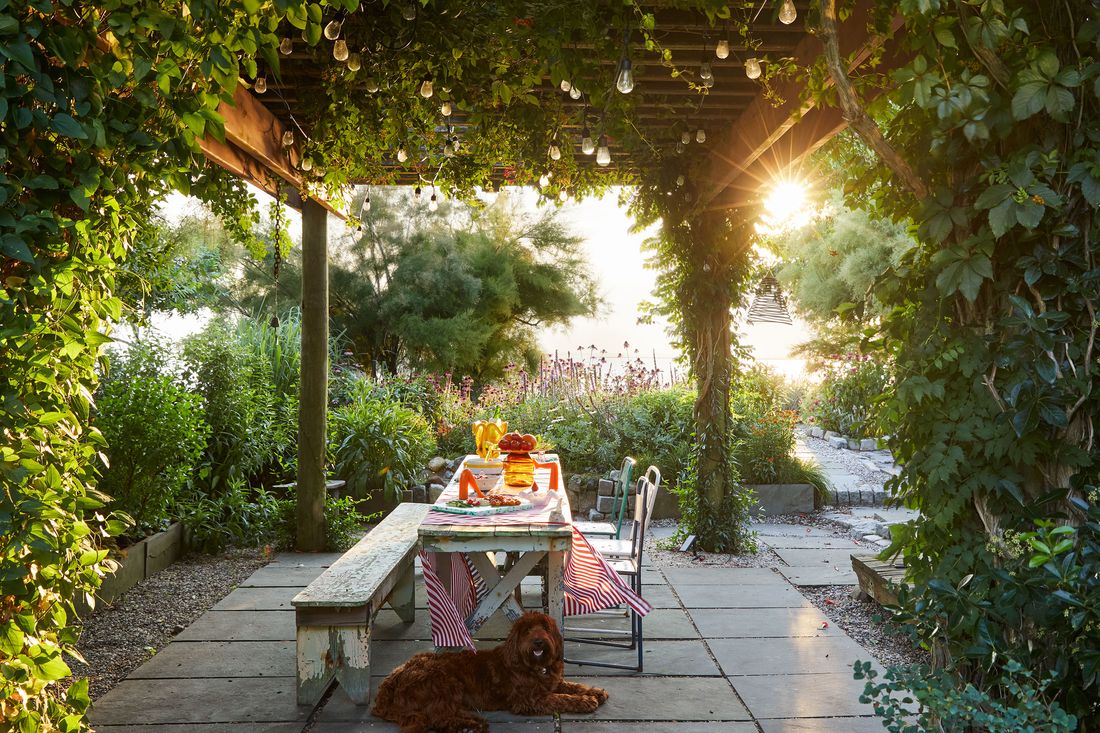 Under the Pergola:
The table is set for dinner with a cloth from Gohar World. Fabiana Faria and Helena Barquet's dog, Rafa, has run of the house and garden.
Photo: Annie Schlechter
Toward the beginning of the pandemic, Fabiana Faria and her wife, Helena Barquet, got in their car almost every weekend and headed out to Far Rockaway. "We were just looking for a little bungalow, something to fix up and maybe sell," says Faria. After a couple months of unsuccessful visits to fixer-uppers in various states of disrepair, their friend and real-estate broker called them with an idea. She had an unusual property, she said, in Broad Channel — a small island in Jamaica, Queens, where many houses once stood on stilts. It was the former location of the neighborhood's swim club, meaning it was right on Jamaica Bay with a large beach that had been transformed into a lush garden by its previous owners. "It looked like nothing like we'd seen," Faria says.
Faria and Barquet's history has become downtown lore: They met while working at a Chelsea gallery in 2011, fell in love, and, ten years ago this fall, opened their much-imitated, much-obsessed-over design store, Coming Soon, on Orchard Street. (It's since moved half a block down to Canal.) They didn't make a business plan, and neither had any retail experience. But they had a gift for discovering emerging talent and reintroducing the public to well-known designers like Gaetano Pesce, whose wobbly resin pieces fit right in with Cold Picnic's colorful geometric rugs and Third Drawer Down's Giant Corn Stool.
Their house has the same quirky ebullience as the shop. Since Faria and Barquet moved in, they've put a Concrete Cat sink in the guest bathroom and painted the closed-in porch chartreuse. From that porch, one can look directly onto the water, where their sailboat, which came with the house, rests on a hoist that lowers it into the water. The porch also overlooks the garden.
The previous owners had planted dozens of trees and laid down winding stone paths and walls. Faria and Barquet — who didn't have much gardening experience — shored up the stone and then, over the seasons, added hundreds and hundreds of plants, including black-eyed Susans, monardas, and echinacea. "Arugula somehow happened all by itself, as did the apple tree," says Faria. "Then we planted ginger, mint, and tomatoes" (a mulberry tree was already there). They've taken pleasure in figuring out which native plants work best with the nearby salty marsh and what attracts the area's many birds, bees, and butterflies.
Dinner is almost always outside, under the vine-dripping pergola, served on a beat-up painted wood dining table they found in the basement (which one of their neighbors recalls doing arts and crafts on in childhood as a swim-club member). "The garden was the reason we bought the house," Faria says, "and we knew we had to take care of it." Which doesn't mean reining it in.
"I don't feel the need to make a vegetable plot, for instance," says Faria. "We want to keep it as more of a foraging situation."