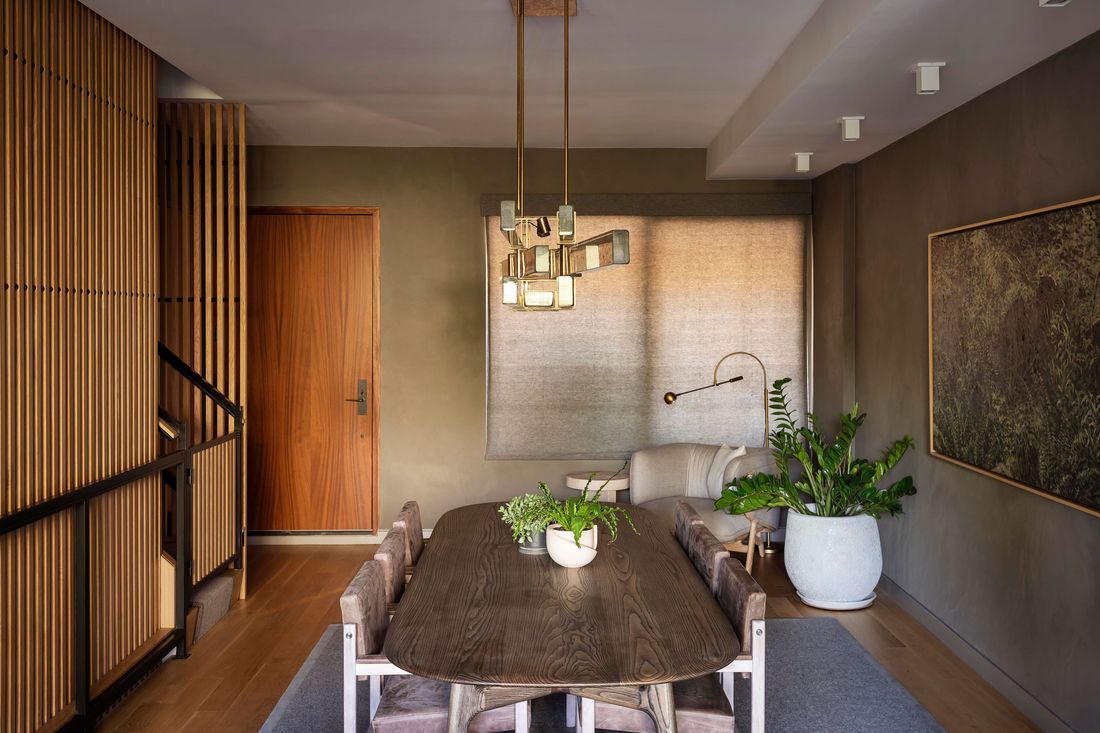 The dining-room walls were plastered and painted in a deep-mushroom earth tone.
Photo: Matthew Williams
An East Village couple who were expecting their first child had bought a newly built townhouse near Domino Park in Williamsburg — nicely laid out but developer-lackluster in its finishes — and were trying to decide what they wanted to do with it. They were fans of the 1 Hotel Brooklyn Bridge, and decided to look up its architect.
"It was a little bit of a cold call," says architect Adam Rolston, one of three founding principals at INC Architecture & Design, the firm behind the 1 Hotel. "They were going there all the time, and they loved the feeling of it. That was the starting point." They wanted to make it a healthy place for their kid to grow up, he says, and were attracted to INC, with its experience in biophilic aesthetics: lots of indoor plants and green walls. One of the tenets of biophilia is the use of all natural materials like 100 percent wood and cotton, and another is elevating biomorphic, tactile surfaces. So the developer's Sheetrock was going to go.
First up was the staircase: "She was pregnant at the time and very nervous about raising kids running up and down those stairs and the potential danger," so they partially enclosed it with vertical slats that continue up the stairwell.. The slats also became a design device for dividing the family room from the living room, while allowing light and  transparency.
"We had this idea that the townhouse would get lighter and lighter as you went up the floors, so you'll see that the ground floor is very rich and dark and then it gets lighter each floor and then the top floor is all bright and fresh," Rolston says.
The couple work from home, so "there are a bunch of different perches scattered around so you don't have to run to your desk," he notes.
They also enlisted landscape designer Brook Klausing to do all the outdoor planting. "Having greenery inside and out is one of the tenets of biophilia," Rolston says.