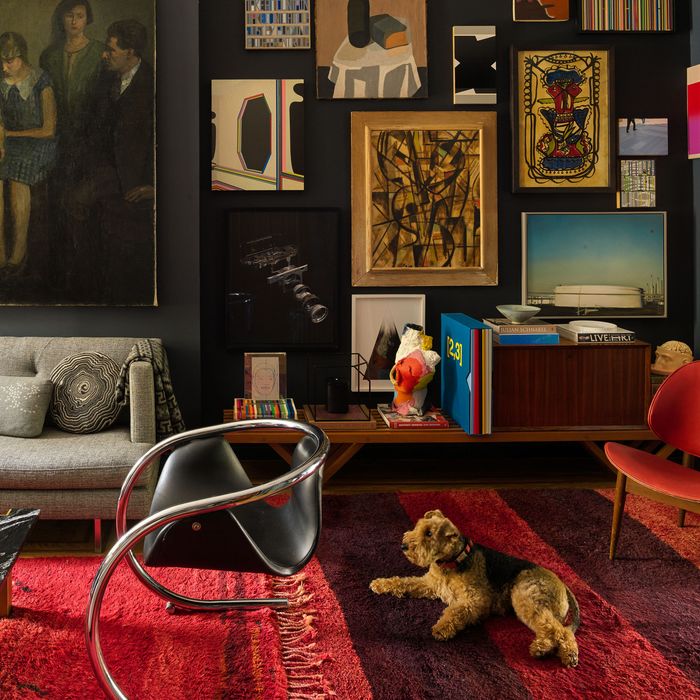 The Living Room:
Garcia-Lavin decided on four major paint colors for the entirety of the house, and here in the living room he used Sherwin-Williams' Inkwell on one wall. The blazing-red carpets were found on a trip to Morocco and the large painting over the sofa is by French artist Constant Clety, from 1929. Garcia-Lavin got it years ago on a job for Marshall Fields in Chicago. "It hung in the showroom there and the buyers hated it, and I loved it, so finally I was able to buy it."
Photo: Annie Schlechter
When still life and interior stylist Juan Carlos Garcia-Lavin (known as JC) and George Fesser, a broker with Brown Harris Stevens, decided to sell their co-op in a white box NoMad building, they initially thought they would go all out and find a dilapidated fixer-upper, full of crumbling decorative details that they could restore and revitalize. But once they started looking around and understood the budget and time involved in such a plan, they reconsidered. "We thought maybe somebody else should do it first," Garcia-Lavin says, laughing, "and then we could tweak all the things they did wrong."
After a long search and many houses later, they found a handsome 1895 five-story townhouse in Stuyvesant Heights that happily didn't have many things wrong with it, and even had a lot of the original woodwork intact. All it needed was a little TLC, plus some ingenuity — like putting a Pier mirror in the entrance hall that looks like it might have been there when the house was first built.
The couple's combined knowledge (Garcia-Lavin's expertise in interior design and color, and Fesser's intimacy with the ins and outs of a townhouse renovation), led them to one of their most important guiding principles: "Live in the house first, feel it out," Fesser says. "One of the things I tell my clients is to let the house tell you what it needs and learn how to use the space before you start making any changes."