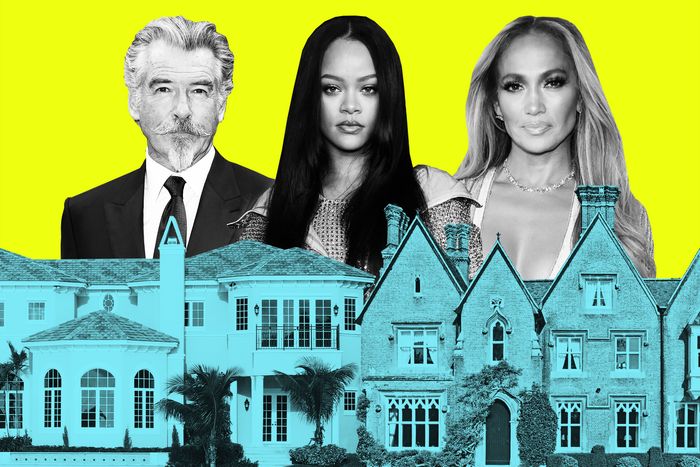 Photo-Illustration: Curbed; Photos: Getty Images
In a housing market where even a fixer-upper with asbestos and serious water damage can't seem to stay on the market for more than a few days (per a recent Redfin report, a third of homes that went under contract in the past month had an accepted offer within one week of being listed), some notoriously unsellable celebrity homes have finally found buyers. Joe Pesci's $6.5 million Jersey Shore home, for instance, sold earlier this month after two years on the market. Rosie O'Donnell's Saddle River mansion sold in the spring, five years after first being listed (that one is being demolished and turned into affordable-housing units).
Still, a handful of languishing celebrity homes have continued to … well, languish. We took it upon ourselves to figure out why.
Tom Girardi and Erika Jayne's $8.9M Pasadena Mansion
First listed: May 2021  
Price cuts: 3 (in June, July, and August)
The listing describes this mansion as having "old world opulence" — which translates into dark-wood paneling (used liberally, even in the bathrooms) and some highly prominent coffered ceilings. Meanwhile, recent sales of similarly priced Pasadena properties skew light and bright, with lighter, sleeker wall treatments and more updated kitchens. Then there's the legal baggage. Girardi's law firm is being sued for allegedly embezzling settlement funds intended for victims of the Lion Air Flight 610 crash and for using the couple's divorce as a ploy to hide their assets. Even three deep price cuts haven't helped this off the market.
Serena Williams's $7.5M Beverly Hills House
First listed: March 2021
Price cuts:  0
This house is a perfectly fine 6,000-square-foot newish Spanish-style construction, but it's, in our estimation, almost too normal for almost $8 million. There's simply not a there there — it's all white walls, pale-wood floors, and steel-framed windows. The outdoor space is also a bit underwhelming. There are just a couple of relatively shallow balconies and a narrow backyard and pool squeezed into one corner of the triangle-shaped lot. Compare this to a slightly cheaper house down the block, where you can get a bigger pool (plus an actually massive gazebo), a turreted staircase, and tons of moldings.
The Rock's $7.5M Equestrian Estate Outside of Atlanta
First listed: January 2021
Price cuts: 0
The 45-acre property is singular in terms of size, price point (the average asking price in Powder Springs, Georgia, is around $396K), and horse accommodations in the area (it includes a 12-stall barn and a riding arena with a viewing deck). Who else is going to buy it besides an actor who films a lot in Georgia?
Pierce Brosnan's $100M Malibu Beach House
First listed: September 2020
Price cuts:  0 (currently off the market)
The 13,000-square-foot mansion was designed with a Southeast Asian aesthetic (lots of exterior wood columns and beams), apparently inspired by Brosnan's experience filming Tomorrow Never Dies in Thailand. So it's a bit more of a specific taste among the plentiful modern glass boxes and Spanish-style mansions in the area. The price tag also feels kind of like a stunt. L.A. did get a couple of $100 million–plus sales last year (to Jeff Bezos and WhatsApp founder Jan Koum), but those properties were true estates (both in Beverly Hills) with at least six acres (compared to just over an acre at Brosnan's).
Mary J. Blige's $3M New Jersey House
First listed: August 2019 
Price cuts: 0 (in fact, there have been two price increases)
It's never a good sign when the listing doesn't come with any interior photos. The listing mentions a gym, an office, and three fireplaces, but leaves them all up to the imagination. (An earlier listing did include a photo of a massive rear deck opening onto a sort of bean-shaped pool with a grim-looking puddle). Anyway, anyone looking for a comparable home (at least five beds and five baths on nearly an acre) has half a dozen other options, with plenty of images showing grand staircases, kitchen islands, wood-paneled ceilings, and more.
Kid Rock's $2.2M Colonial on the Detroit River
First listed: July 2019
Price cuts: 0
There are only four single-family homes asking more than $1 million in Detroit right now, so the pool of potential buyers is pretty small. And if they don't love a peak-Colonial-style home with three dormers and a serious colonnade, then forget it. The admittedly very nice private boathouse (with a large roof deck and Jet Ski lifts) means the buyer has to be aquatically inclined too.
Matt Lauer's $44M Sag Harbor Estate 
First listed: June 2019
Price cuts: 1 (September 2019)
It's just so expensive. The next-most expensive property for sale currently in Sag Harbor is less than half the ask at $21M. Then there's Lauer's tainted reputation over his sexual-harassment allegations.
Rihanna's $7.3M Hollywood Hills House
First listed: December 2018
Price cuts: 1 (October 2021, a month after listing it a second time for $300K more than the initial ask)
This gated property is one of the priciest in the Mount Olympus neighborhood, and at 7,130 square feet and 0.44 acres, it's also one of the largest. The aesthetics here, though, are just too all over the place. Fixtures and finishes look new but already dated, like the dark-brown kitchen cabinets with brown-streaked countertops (same on the backsplash). The striated herringbone-tile floors in the bathroom are chaotic. The frosted glass railings throughout the exterior do not look very expensive.
Jennifer Lopez's $25M NoMad Penthouse 
First listed: October 2017 for $27M
Price cuts: 1 (March 2019; currently off the market)
The Whitman is near the corner East 26th Street and Madison Avenue, right above Madison Square Park, which may be too high-traffic of an area for privacy-seeking rich people (per the New York Post, which cited an insider, this was the very reason Lopez listed the property). And while the unit is indeed a penthouse, the building is only six stories, the shortest on the whole block, and is sandwiched between much taller buildings). Perhaps that's just not enough of a "high up there" feeling for billionaires? Most listings in this price range since the pandemic are either for palatial penthouses (or townhouses) near Central Park or in Tribeca.
Shakira's $15.9M Miami Beach House
First listed: December 2013
Price cuts: 1 (between two price increases; currently off the market)
It's not immediately clear why this property would not sell. It's priced fairly reasonably for the area and has all the things one would expect (at least six bedrooms, a pool, 100 feet of water frontage with a dock). The interior is plain in that all-white, minimal way, but that's nothing surprising in Miami. Perhaps the design, comprising a series of low-slung, hip-roofed structures, is too modest for people dropping millions in Miami these days.
Michael Jordan's $14.9M Mansion in Illinois
First listed: February 2012   
Price cuts: 3
Jordan's nearly 33,000-square-foot home (with a regulation-size basketball court and a huge "23" on the entrance gate) remains the most expensive listing by far in the Chicago suburb of Highland Park, where even the priciest sales lately were well under $3 million (including Scottie Pippen's mansion, which finally sold for $1.8 million this month after four years on the market). The listing doesn't seem to be trying particularly hard at this point — it has a paltry six images and mentions Jordan before anything else in the description.
Sonja Morgan's $8.8M Upper East Side Townhouse 
First listed: 2008
Price cuts: At least 3 (between a couple of price increases; currently off the market)
Morgan's townhouse (which was taken off the market again in August) is a pretty normal one on its own (huge chandeliers, five or so fireplaces, a backyard garden plus another terrace or two), but the location is just not very charming. It's a few steps from an F/G-train entrance, which would usually be a plus but perhaps isn't for potential townhouse buyers. It's also right next to a 20-story, 157-unit condo building—more specifically, the townhouse immediately abuts the apartment complex's two-car-wide parking-garage entrance, which puts up a sign with the half-hour-parking rate right next to Morgan's front door.