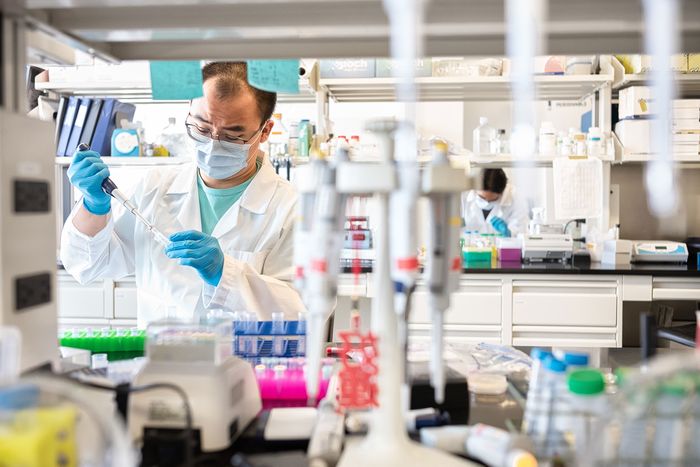 Photo: Misha Friedman/Getty Images
Should you be terrified when a blood lab opens in your neighborhood? The New York Blood Center, long headquartered on East 67th Street, is looking to expand its four-story building and reconstruct it into a nearly 600,000-square-foot life-sciences campus. With the new space, the center would expand its blood bank and research facilities across the five lower levels, and then the developer, Longfellow, would lease the remaining stories above to other research tenants. The neighbors don't want a big new glass tower on their street, and the usual dreary NIMBY fight has begun. But this time, there's a twist: They're expressing concerns that the revamped Blood Center brings a risk that pathogens will escape into the Upper East Side.
The preemptive lab-leak hypothesis is being driven by preservationists and elected officials who are raising red flags over the new Biosafety Level 3 (BSL-3) laboratories the project would build for the Blood Center, which study pathogens that can cause lethal infection. They point to reports that, should there be a breach, these labs could endanger residents. "I hate to think of what they're cooking up in there," City Councilmember Ben Kallos rather ominously told the New York Post. (As the local Councilmember, he would likely have a make-or-break vote in the project's land-use review process.) Manhattan borough president Gale Brewer used similarly foreboding language in a letter to the city, writing, "The fact that the proposed facility is in a residential neighborhood raises serious questions about the adequacy of safeguards and the potential impact of such a laboratory."
The thing is, the Blood Center already has BSL-3 facilities. They're used for the research and development of new antivirals and vaccines for viruses like hepatitis and HIV — and there are others scattered across the Upper East Side, too. Weill Cornell Medical College's Belfer Research Building, not three blocks from the development site, has three levels of BSL-3 laboratories in its 18-story building (which opened with little fuss in 2014); Rockefeller University, also a short walk away, has its own BSL-3 lab. The difference is that local preservationists have decided this new development is an existential threat to the 30-year-old zoning that has mostly kept taller buildings from rising on their side streets.
Height concerns about the new Blood Center building are to be expected. (You can't build in any well-off residential neighborhood in New York without pushback.) But with this kind of fearmongering approach, opponents might as well be saying the new building would attract new vampire residents to the neighborhood — which would be only somewhat more untrue.