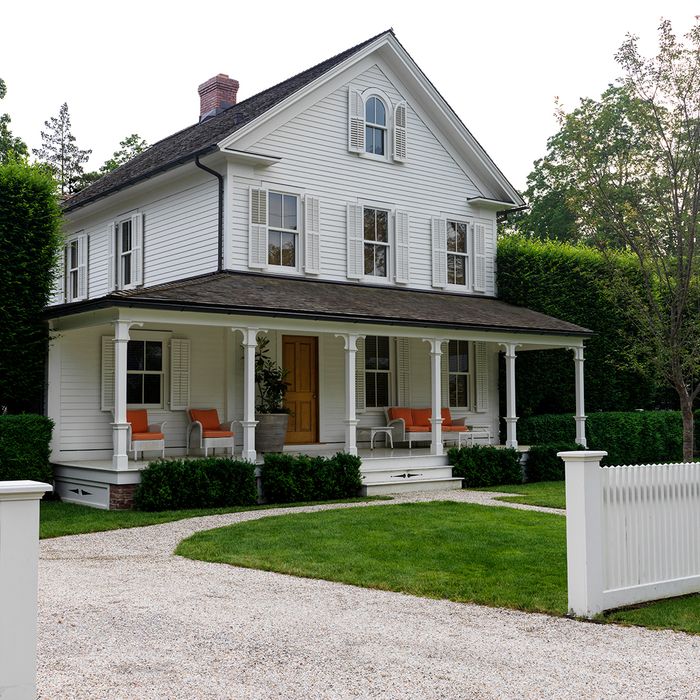 "The house was known in the neighborhood for the vibrant front porch," Justin Capuco says. The bright-orange cushions for the front-porch furniture kept the tradition going.
Photo: Chris Mottalini
The couple, partners in business and in life, were longtime clients of architects Brittney Hart and Justin Capuco, who are also married with children, and who call their firm Husband Wife. When it came time for them to buy a country retreat, they knew they wanted anything but a fixer-upper but felt they'd like to infuse it with the sense of modern glamour that Hart and Capuco had instilled in their city place and Dumbo showroom.
"It was for the most part original and refinished by the prior owner," Hart says, "but we added a lot of subtle details, and then in a lot of places we amplified the existing details." They also made it a mission to hire local artisans and were lucky to find the contractor who had worked with the previous owner. "Our clients wanted to have a certain type of sophistication that was comfortable for them," Capuco says. "They wanted a fresh, pop-infused space that didn't feel too divorced from their New York life. We decided to look at this home like a 'resort' collection in fashion. A comfortable but elevated feel that embraces a bit of juxtaposition and whimsy."
Their design moves played off the existing architecture in myriad ways, without undue reverence for it.
"This is our third project with them," Hart says. "It's funny: They own their own business as well — it started in Dumbo, but now it's global — they have four kids; their last kids were twins, and we have twins. So we have a lot of weird synergy."