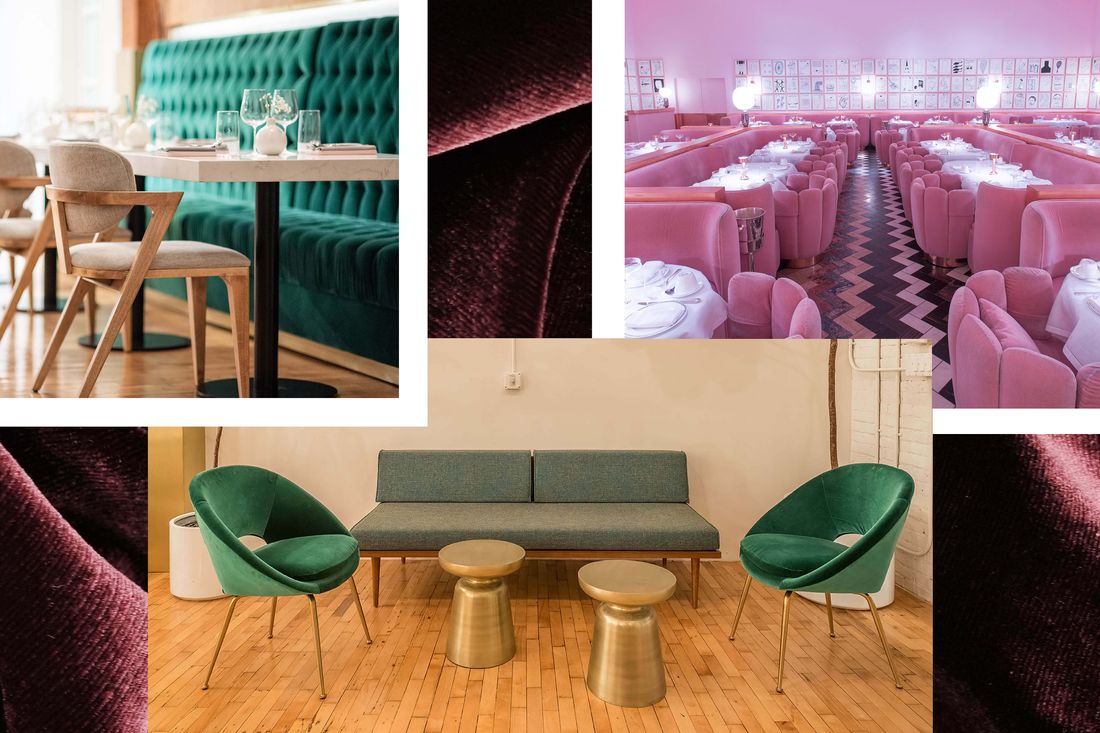 Photo: Wonho Frank Lee (2); Getty Images
This story was originally published by Curbed before it joined New York Magazine. You can visit the Curbed archive at archive.curbed.com to read all stories published before October 2020.
Most of the things we touch in a day are hard and smooth, metal or plastic. The keyboard or phone screen you have your hands on right now. Steel water bottles, ballpoint pens, toothbrushes. Even among squishy products, we like things flat and compact: consider Uniqlo's ultra-light down jackets or densely packed RXBars.
Perhaps as a form of resistance to this material steamrolling, texture has become increasingly prominent, at least when it comes to marketing. For textiles that sit close to skin, coziness is a virtue. "Supersoft" T-shirts, stretchy denim, sumptuously smooth sheets. When we shop online with only images to guide us, we rely on adjectives like these to tell us how a product will feel.
As comfort has become a key design principle, velvet has become a key ingredient. You can see it on the couches at the Wing's coworking spaces, the stools at Michelin-starred sushi bar Noda, the seats at Nightshade in Los Angeles, the accent pillows at Trellis, New York's first "fertility studio." You can buy velvet bedding at Anthropologie, seating at CB2, headboards at Target. It's rich, malleable stuff that needs no introduction. Everyone knows what velvet is and what it feels like, even if they don't know what it's made of.
The term "velvet" describes a weave rather than a specific material — a thick, soft pile of individual threads (looped or cut) gives the fabric its pleasant furriness, regardless of fiber. Costly silk, wool, or mohair; inexpensive polyester; or midrange cotton can all be woven into velvet, but any type of velvet connotes luxury. It makes one think of European royalty, the Victorian era, the opulent '70s. Inviting a piece of velvet furniture into your living room is a way of giving yourself a daily indulgence.
In his 1983 book Class: A Guide Through the American Status System, Paul Fussell writes, "Materials are classier the more they consist of anything that was once alive. That means wool, leather, silk, cotton and fur. Only. All synthetic fibers are prole, partly because they're cheaper than natural ones and partly because they're not archaic, and partly because they're entirely uniform and hence boring — you'll never find a bit of straw or sheep excrement woven into an acrylic sweater."
Velvet has become a rare exception to the supposed superiority of natural fibers: What it's made of is less important than how it looks and feels. Today's polyester velvet works just as well as silk velvet, and besides, it's easier to clean. Most of the velvet couches and chairs now available at West Elm, Crate and Barrel, and Pottery Barn are 100 percent polyester. But unlike gold, leather, or wood, velvet is not defined by its composition. You can buy a pair of velvet chairs on Amazon for under a hundred dollars because you know that they won't be itchy, and they'll look more expensive than they are. In this way, velvet toes the line between authentic and imitation. It's almost more of an idea than a material.
Velvet makes you aware of your environment in a way that few other materials can. It's nearly impossible to sit on a velvet surface and not register the way the fabric nuzzles against your hand. The feel of velvet pulls you into a room. In a constant stream of visual, digital stimuli designed to distract, velvet gives you something tactile to pay attention to.
To understand how velvet earned its allure, I spoke with Melinda Watt, chair and curator of textiles at the Art Institute of Chicago, who told me that we still judge textiles today by how they were made in the past. Velvet's "intrinsic value" is tied to its structural complexity. Even with machines, velvet could only be made by specialist weavers until well into the 20th century. After the industrial revolution upended the cultural and economic value of textiles by making it possible to create more fabric more quickly, velvet retained those connotations of carefully woven luxury.
When a material becomes mass-produced, by definition, it loses value. Satin is a good point of comparison. Like velvet, satin refers to a complex weave, not a raw material. And like velvet, it was traditionally made with silk but today is usually woven with man-made materials. Satin was left behind in the last century, dismissed as inelegant and showy; satin sheets are a rare sight today. Velvet could have easily gone that way too, but instead it rebranded.
As Watt reminds me, it's only very recently that velvet shed its associations with heavy Victorian decoration and found a place in other styles. In the late 1960s and '70s, velvet became the fabric of fun. (Gene Wilder's purple velvet jacket in Willy Wonka and the Chocolate Factory comes to mind.) Thanks to wide availability and lower cost, a material that was once reserved for seldom-used rooms like parlors moved into livelier areas. Velvet worked well to furnish spaces like sunken living rooms, designed for lounging with guests instead of "receiving" them. The fabric lost some of its formality and became more inviting.
In recent years, velvet has been stretched over slimmer, modern shapes, making it attractive to a new generation. Tufted and scroll-armed velvet furniture is still readily available, but clean, squared-off couches and understated chairs upholstered in velvet have become more visible. Velvet, with its distinctly old-fashioned look, has made minimal shapes more approachable, and vice versa. Not everyone wants to sit on fiberglass chairs or spare, wool-blend sofas.
If modernism takes itself too seriously, contemporary velvet is an antidote. Today, the most alluring uses of velvet in public spaces have a certain playfulness. The Gallery at Sketch London is one of these places. Here, calculated garishness is part of the draw. The restaurant, designed by India Mahdavi, is open for dinner and afternoon tea. It features pink velvet booths and chairs with backs shaped like a row of Vienna sausages. Pink walls serve as a backdrop to David Shrigley drawings and "site-specific bone china," designed for the restaurant by the artist. Part art installation, part dining room, the space is "strikingly comprehensive" and very popular on social media.
That popularity is reminiscent of an older appeal: Watt, the textile curator, told me that velvet's unique way of reflecting light and absorbing color made it a desirable texture for artists to depict in paintings, beginning in the Renaissance and extending through the 19th century. But getting the texture of velvet right is hard — it's like painting glass. When an artist puts velvet in a painting, they're showing off. Think of the bodice in John Singer Sargent's "Madame X." Those same visual properties, reflection and saturation, explain why velvet has become so popular in interiors in a cultural moment that's flush with images. Like oversized plants, white walls, and highlighted cheekbones, velvet photographs well.
Laetitia Gorra, senior interior designer at the Wing, told me that color saturation is one of the reasons why velvet appears so often in the company's coworking spaces. It helps to add depth to large, open rooms and "condenses" space with its visual impact. As a makeup artist might put it, it has a high color payoff. Gorra likes velvet for its texture, too, which she describes as "warm" and "grounding." A woman with bare legs can feel comfortable on it, she says. That a brand whose identity is built on progressivism can use velvet so liberally in its product indicates how much our perception of the fabric has changed.
Velvet appears in all sorts of places at the Wing's locations — the seats in the "beauty room," the curtains in the lactation room, the chairs, couches, and footstools of the main workspace. Sometimes the pieces, many of which are custom, are sculptural. Other times they're accented with brass, fringe, or cane. It's an intentionally mixed bag.
Velvet's ability to play well with other styles and materials has made it attractive to interior designers, as well as those decorating their own homes. It's notable that as velvet's popularity has grown, the value of traditional luxury brands has continued to recede. Shoppers have become more aware of the quality of the things they buy and no longer assume that the most expensive thing is the best thing. Direct-to-consumer brands are built on this axiom. Instead, we choose for ourselves on the all-you-can-eat buffet of online shopping. We mix high and low. We buy what we like, what looks good, even (and sometimes especially) if it's cheap.
In his 1954 book The Tastemakers, Russell Lynes writes, "One of the reasons, I believe, why the Modern movement has lasted longer than many assaults on the bastion of American taste is quite simply that it appeals to a morality that is deeply imbedded in our history. It seems to be harking back to American puritanism, a morality which stressed the virtues of modesty, clean living, and disdain for what we call vulgar display. Like the Modern movement, puritanism was a revolt against an overelaborated aesthetic."
In becoming "modern," velvet has given us a way to achieve a semblance of modernity, and the implied moral betterness that comes with it, without having to sacrifice comfort.
Questions of design taste — what's vulgar, what's modest — are unavoidably flavored by class. You may think velvet is tacky, and you have several examples to point to: Hugh Hefner, tracksuits made of velour (a knit velvet cousin), the manufactured grandeur of the lobby of the Trump International Hotel in Washington, D.C., awash with blue velvet couches, chairs, and upholstered tables. You may prefer velvet used sparingly, placed next to a Lucite coffee table or a rattan magazine rack.
But in any of these scenarios, velvet works. It has a convenient way of fitting into a number of perspectives. In one setting, a velvet piece might signal status; in another, it conveys warmth. It all depends on the room. As public and private spaces have started to look more like each other, velvet has found a place in both.
Rachel del Valle is a writer living in New York.