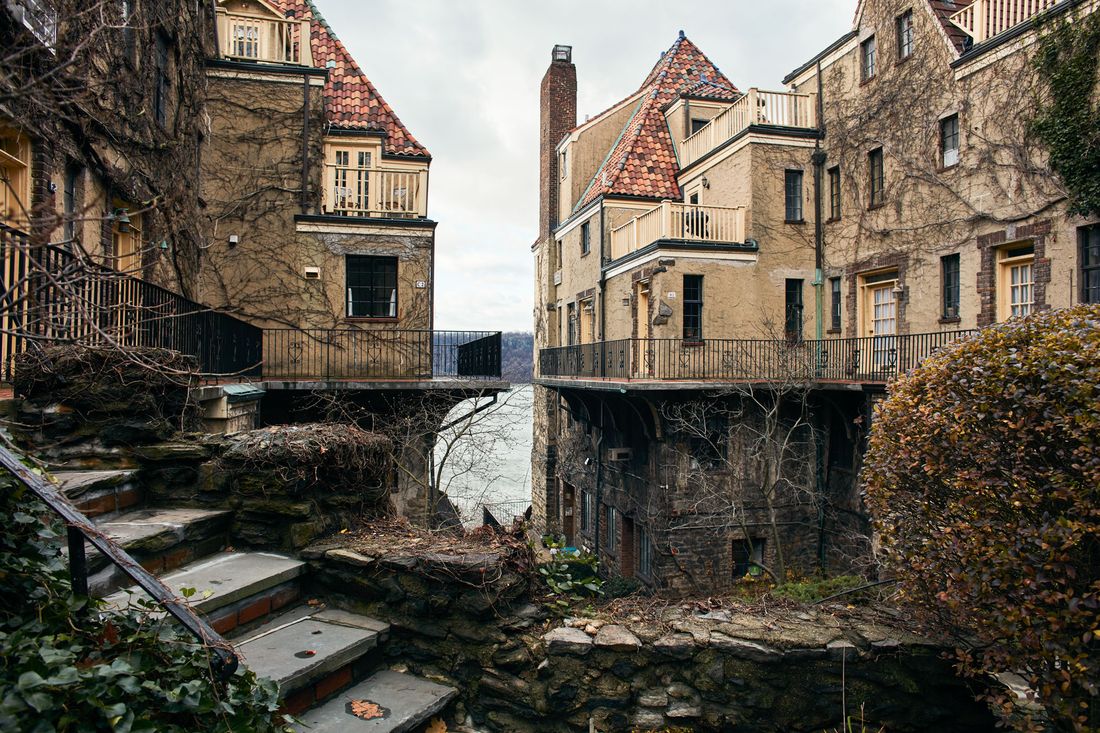 Advertised when it was built as "the perfect home of 17 of the luckiest families in the United States," the Villa Charlotte Brontë remains much as it was nearly a century ago: 17 units, no two alike, teetering over the Hudson.
Contents: History | The People Who Live There | Private Entrances | Views of the Hudson | The Parties | The Villa Next Door | How to Get an Apartment Here | Brontë Books on Display
It is so common for joggers, passersby, and tourists to stop and take pictures of the Villa Charlotte Brontë — to crowd around the front gate, to sneak in past the NO TRESPASSING sign — that the residents of the 17-unit co-op have become self-proclaimed expert shooers. It's hard to blame the intruders: Set jarringly beside a blocky 1980s development on a cliff's edge above the Hudson, the Villa is "like a set for a Disney movie," residents say, and "the Amalfi Coast." Both of which feel apt: The property is covered with winding hedge-lined paths, arched staircases, and a sunken courtyard. Triplex apartments with two decks sit seemingly in mid-air, accessible only by curlicue staircases. Says singer and psychotherapist Ivy Austin, who moved into the Villa last year, "It's only when the trains go by that we know we're in the Bronx."
The Villa (which, yes, was named after the novelist) was built in the early-20th century by John J. McKelvey, a local lawyer. Situated 9.5 miles north of midtown in relatively sleepy Spuyten Duyvil, adjacent to Riverdale and Kingsbridge, the neighborhood was then home to wealthy New Yorkers like James Douglas, president of Phelps, Dodge & Co., and William C. Muschenheim of the Hotel Astor. They liked its suburban feel; development of the neighborhood only began in the latter half of the 19th century. Plus it's an easy, roughly 25-minute trip — six stops on the Metro-North Hudson Line — to Grand Central. McKelvey asked the architect Robert W. Gardner to create something that looked exactly the opposite of the revivalist apartment buildings that had been popping up in Manhattan. In 1926, it was finished: eight buildings, separated into two sections by a central courtyard, with exterior walls made of stucco and multicolored-tile roofs. No two units were exactly the same — today, some have a terrace off the kitchen, others a view of the George Washington Bridge; one has a cathedral ceiling.
McKelvey advertised the Villa in the New York Times as a sort of permanent vacation, perfect for anyone whose "soul is hungry for the majesty of the river." Over the years, those residents have included the novelist Richard Ford, a costume designer for the Godfather, a character actor specializing in butler roles, and one real-estate agent turned waterfowl painter. And though there has since been more development in the area (a handful of high-rises, a Thai restaurant), the neighborhood remains quiet — combined with neighboring Kingsbridge, there are only 31,000-odd residents, 24 percent of whom are over the age of 65. Because of this, McKelvey's vision of the Villa as a city escape seems to have been largely upheld. If they're not (pre-pandemic, at least) commuting to their offices in midtown or visiting friends downtown, most of the residents seem to spend much of their time on the terrace watching the boats go by or looking out at the Palisades.
But with fewer than 20 units, it's extremely difficult to buy into. People rarely move out, and, when they do, there's a list of obsessive Villa Charlotte Brontë watchers who have passed by the place, or seen pictures of it, vying to get in. Some have put their names down on the management company's waiting list and check in regularly; others have reportedly knocked right on residents' doors, hoping to chat about their exit plans. And even if you do get a foot in the door, there's the finicky board, which can drag out the approval process for months or accidentally subject buyers to a physical "test," like holding their interview in a frigid apartment in the dead of winter. (According to longtime residents, this is tame compared to prior generations — Perry Brass says, "The board here was so notorious that there were Realtors who would not show their clients the VCB; they did not want to put their clients through what the board would put them through.")
And once you're in, living in a cliff-hanging river cottage comes with challenges. In some units, the plumbing is original and the electrical system antiquated. During the winter, the (yes, charming) casement windows let in chilly gusts. At least one apartment is only accessible by dozens of descending, then ascending, stairsteps, which, when slick with ice, make it difficult to, say, carry up a bag of groceries. The signage is confusing, so deliveries are regularly dropped off at the wrong apartment. And a garbage train passes by almost nightly, and loudly, because, per Adam Weinstein, "the gauge of the wheels is off a little bit." In 2011, Hurricane Irene washed away the villa's (very recently replaced) $400,000 walkway, and a handful of apartments were deemed unsafe, forcing five units' residents to live elsewhere for almost a year. The co-op had to collectively pay $1 million to construct retaining walls so the Department of Buildings could feel confident the whole thing wouldn't suddenly slip into the Hudson.
But for now, things seem somehow (if precariously) stable. After the storm and the cost of the retaining walls scared away a couple of shareholders, some highly social residents moved in and instituted afternoon cocktail hours plus some annual events. The maintenance fees were lowered, twice. The retaining walls are holding up. And the residents seem happy. "At one point, I was ready to leave because I couldn't stand some people. Now I've got great neighbors," says Bob Jacobs, who has lived in the building since 1993. "I'm telling you—Richard Rosen and Ivy? They crack me up at the sight of them. Hima and Eugene, who are doctors — no matter how tired they are, anyone who has a medical question for them, they'll answer. Ambre and Steve, so smart. Then Ambre, of course, has this new cohort in crime, Shirley. There's just a lot goofy shit that goes on in this place for the people who want to have fun with each other."
More Pieces of History
The Palisades Across the Way
"Sometimes I sit in my living room and look out over the Palisades and think, 'There's no sign of development; it may as well be 500 years ago,' " says Adam Weinstein. "Where else in New York City can that happen?"
Richard Ford's Old Pied-à-terre
For a while, residents of the Villa could call the novelist Richard Ford their neighbor — sort of. "He only spent about ten days a year there," neighbor Philip Segal said. "He lives in Maine, and so he decided he didn't want to spend all the maintenance money for ten days."
The Highly Coveted (Illegal) Parking Spot
"There's nowhere to park. We all use the fire hydrant right out front," says Marnie Wood. "We pull in there, run down and unload the groceries, and then start circling to see where you can find another spot."
The Bedrock
The Villa was built on one of the most ancient types of bedrock in New York City, Fordham gneiss. It's estimated to be up to 1.1 billion years old.
The Grounds
Much of the 1.27 acres is tended by Sam Turner, who has worked as the co-op's gardener for the past 27 years. "It's tough," he says. "There are wind tunnels that go through there, and they're pretty fierce. It's on the west side of a steep hill, and much of the garden is below street level, so you're kind of gardening inside a shady well that has wicked winds."
The Outdoor Lighting
"In 1999, the board decided to redo our outdoor lighting," says resident Perry Brass. "This guy, he lit the place and it looked like Alcatraz; it was so bright at night you couldn't even see the river." The board has since replaced the lights.
The Balconies
Several apartments have one. In the late 1990s, a cat burglar took advantage of this fact by coming up the train side of the complex and climbing into apartments.
The Boats on the River
Obsessive boat-watchers and residents R. D. Rosen and Ivy Austin recently spotted "a boat as long as a football field. We looked it up," Rosen says, "and found out it was one of the most expensive yachts in the world." Around September, they saw the Amphitrite yacht, whose past owners include Johnny Depp.
The Super's Unit
A0 is a super's apartment, which the co-op has from time to time rented.
Metro-North Tracks
They loop right around the side of the Villa. Once, according to resident Richard Sime, "the train came around so fast it derailed. I slept through the whole damn thing. But it lay tipped over for the good part of a week."
The People Who Live There
Inside five apartments.
Perry Brass, writer
Moved in 1993
When we moved in, I was 45 and my husband was 44 and we were the youngest people in the co-op. It was difficult for them to accept we were a gay couple who were open about it. If we had both had two horns and a tail, the rest of the co-op, with a few exceptions, could not have treated us any worse. I tried to get on the board, and every single person voted on it against me. I said to my husband if there was a six-foot hole in the floor at that moment, I'd have jumped in it.  Now, there's only one person who's left here from the old regime, and his mind-set is still back in that regime, but most of the newer people here, they're more open to change.
R.D. Rosen and Ivy Austin, writer and singer-psychotherapist
Moved in 2019
R.D.: Ivy imposed some stringent conditions on where we were to live when we decided to move —
Ivy: Fantasies! Not conditions.
R.D.: Right, fantasies! First of all, she required a waterview —
Ivy: No, that was a fantasy.
R.D.: Her fantasy required a water view. She had showed me this place a year before it came on the market, and one day she called me and said, "There's an apartment in the Villa." We went and forced ourselves on these people. It was six months before we moved in, because the board is protective. There are a lot of rules, like, "No smoking anywhere on the property." One of the first questions we were asked was whether we're the kind of people who are upset by structural problems or unforeseen events, and we knew where that was going, and we said, "No, no, whateveryou're gonna tell us is not gonna matter, so save your breath."
Richard Sime, poet
Moved in 2010
I'd been a Manhattanite for decades, since the '60s, and in 2008, I'd been living in this lovely building on Morningside Drive and 115th. But then I got my dog, Jocki, and I wanted some outdoor space. My broker brought me here at night. We had no idea where we were going; it was this Gothic atmosphere — through and under and down and up to where my front door is, and when we finally got in, it was rather dramatic. The light was already on in the living room, and a second broker very slowly lifted the blinds covering this bank of four huge windows facing out toward the river. Once I left, I said, "I can't remember how many rooms were in that apartment. I don't remember what we saw; my head was spinning." There are inconveniences, of course. You have to go down 32 stairsteps and up 34 just to get in the front door. I had a knee replacement a few years ago, and before that, I had to pull myself up them. And I mean, Lord forbid I'm out the door and remember my cell phone is on the third floor of my apartment. And, you know, I never had a housewarming. I was asking people, "Who wants to come visit me in the Bronx?" First of all, nobody in Manhattan wants to come to the Bronx. But then when I told them they had to go down 32 stairsteps and up 34, they said, "No, no, enjoy your new home."
Bob Jacobs, president of Health/ROI
Moved in 1993
So in the city in '93, there was a high crime rate and a possibility Kingsbridge was moving north and Yonkers was moving south. And I decided to invest in the largest investment ever made in my life — this apartment — and I was terrified. But I kept standing between the two buildings at the Villa Charlotte Brontë, looking at the Hudson River and the Palisades, and I just kept saying, "God created that, nobody can take that away, we're moving here." Before I moved in, the VCB was like Sparta: Decisions were made in no sort of logical, businesslike way — they were sort of made just by getting together and talking amongst themselves. It was the land of the bizarre; the place was broke. I mean, at one point, the plumbing, we didn't have proper sewage — so, in essence, were pooping into the Hudson River. The year I became treasurer, which was 1993, I found out pretty quickly that the lovely old woman who preceded me as treasurer did not want anybody to know how bad the financial condition was. I said, "Guys, do you know how little cash we have?" Contractors were banging on my door in the morning saying, "We want to get paid." We got things in order.
Marnie Wood, former Martha Graham dancer
Moved in 2007
After Hurricane Irene, several of the people in the front apartments had to find places to live. Since I'm a little further back in, I was allowed to stay in my apartment. Two friends, Perry and Hugh, lived closer to the water and were displaced — so they moved into my spare bedroom and spent 11 months with me until they let everybody back into their homes. Actually, we weren't quite good friends yet. But they needed help, and why say no? I don't mind living with other people, and they didn't mind, and of course, they were close enough to their apartment that they'd spend the night here, and eat their meals here, and then would spend many hours each day secretly going back to their own place — secretly, because it was still technically deemed unsafe. From my days touring with the Graham company, I got used to people being all around me when I ate, when I slept, when I woke up — so it didn't bother me at all, in other words, and I mean, we got to be great friends.
Philip Segal, corporate investigator, and Deborah Druick, artist
Moved in 2010
Shirley Gabel, professor of social work
Moved in 2015
Every Apartment Has Its Own Entrance …
Some of which are particularly hard to find: One is down a staircase and across from a cavernous grotto, and another sits at the end of a thin exterior walkway with a long drop to the railway tracks below.
… And View of the Hudson
"Even if I won the lottery and could afford to move into a penthouse on Park Avenue, the views wouldn't be as nice," says resident Philip Segal. "There's no better view than the Palisades at sunset or being that close to the ships as they lumber up and down."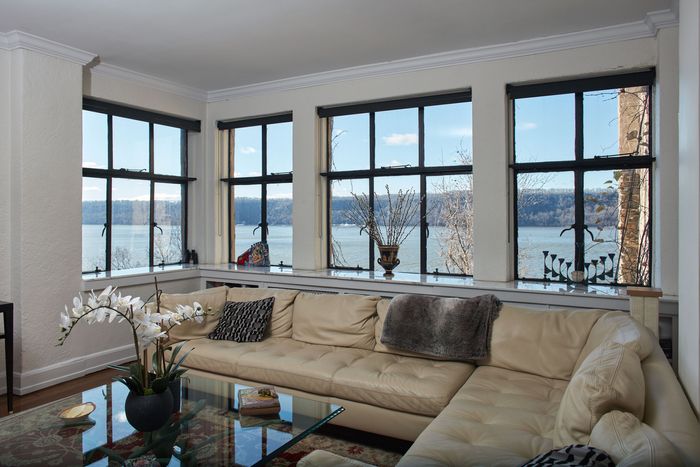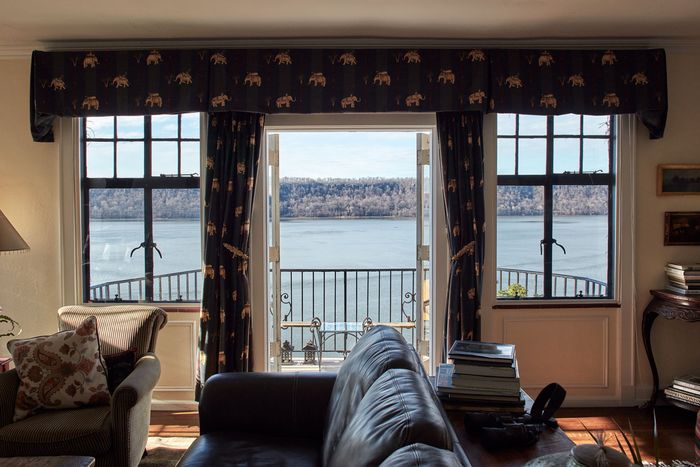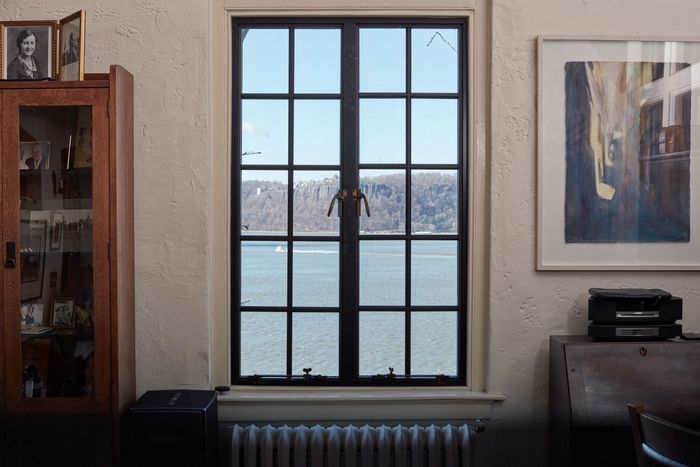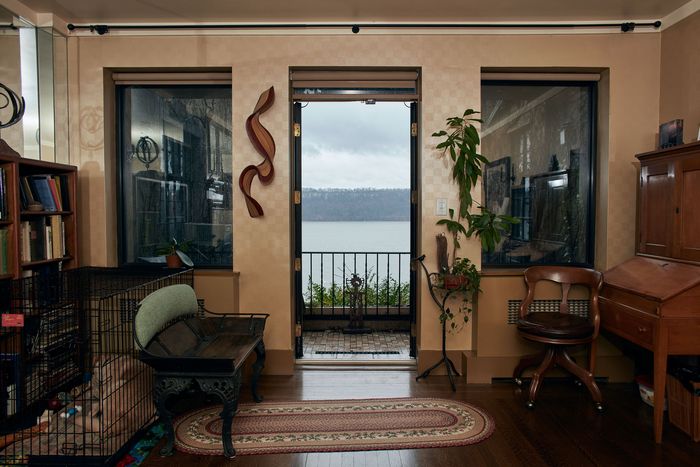 'The Party' Was a Long-standing Source of Dread
It used to be a required by the Villa Charlotte Brontë's bylaws that apartment sellers host a party for prospective shareholders, which the rest of the residents would attend — it functioned as a sort of vetting process. "When Hugh and I were told this, I was nervous to the point of nausea," says Perry Brass. "Then it happened and everyone was very nice, and I was told by one of the board members that no one has ever been rejected at the party, because the great fear is that when it's your turn to sell your apartment, a co-op member whose prospective buyer you rejected will reject your buyer." (The party bylaw was removed a decade ago.)
But Everyone Looks Forward to the Parties in the Grotto
"There's this area called the grotto. It's this cave situation," Shirley Gatenio Gabel says. "I said to Ambre, 'Wouldn't it be nice to have Thursday-night cocktails in the Grotto?' She was on it. From there, we organized a Halloween party in this space below all the apartments. We had a costume contest, and people performed," including Marnie Wood, an 84-year-old former Martha Graham Dance Company dancer, who dressed up as Elvis and did a little dance. Another time, resident Bob Jacobs held a feast in his apartment for his neighbors. "I picked up this bag of swordfish, enough to feed the Army," Jacobs says. "All the lunatics were there singing and eating." And four years ago, on the occasion of Charlotte Brontë's 200th birthday, "people dressed up like it was 1820," says Perry Brass. "A hoot."
The Sad Story of the Villa Rosa Bonheur Next Door
Early in 2020, Villa Rosa Bonheur, Villa Charlotte Brontë's "sister" building, was demolished. Built roughly two years before VCB (also as a cooperative), Villa Rosa Bonheur fell into private ownership after its 17-year-old association failed, according to the Times. Eventually, it came to be owned by the family of Beatlemania creator Robert Rabinowitz, who sold it off for just under $2.6 million in 2017 to Timber Equities through a subsidiary. While the new owner's work permits reassured the neighborhood that it wouldn't destroy the building — at most, some interior touch-ups and alterations to beef up the number of units from seven to 11 — it became clear by the following year that the complex's Spanish-style gabled roofs and stone-and-brick exterior walls were at risk. The community was furious, and an 11th-hour effort to secure the building's landmark-status (and prevent Timber Equities from razing the place) failed. Post-demolition, some Charlotte Brontë residents are holding out hope for a partial silver lining: that Timber Equities' new seven-story, 55-unit structure will come with a parking garage where they can store their cars.
How to Get Your Own Apartment Here
First, call Kristen Hackett, the vice-president and co-owner of Robert E. Hill, which manages the property and sells building units, and get your name on the list of people waiting to get into VCB. "And make sure we know you want to be contacted when something comes up," Hackett says. "Because it's rare. And keep checking back with us, because a lot of these people just disappear." Still, some apartments have been spotted in local sources. Adam Weinstein learned about his current triplex from an ad in the newsletter of the Ethical Culture Fieldston School (where his daughter went), and the last unit sold, C2, in 2019, was advertised in the Columbia alumni magazine. Before that, B1 came up for sale in 2015 — when the 2,000-square-foot duplex went for a fairly reasonable $857,000.
Four Brontë Books on Display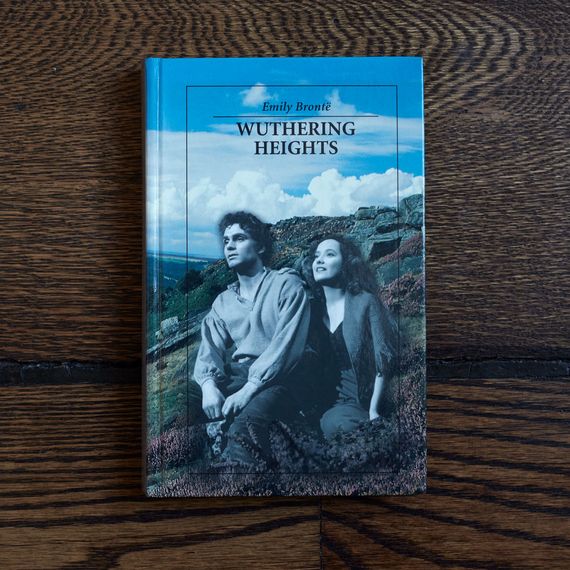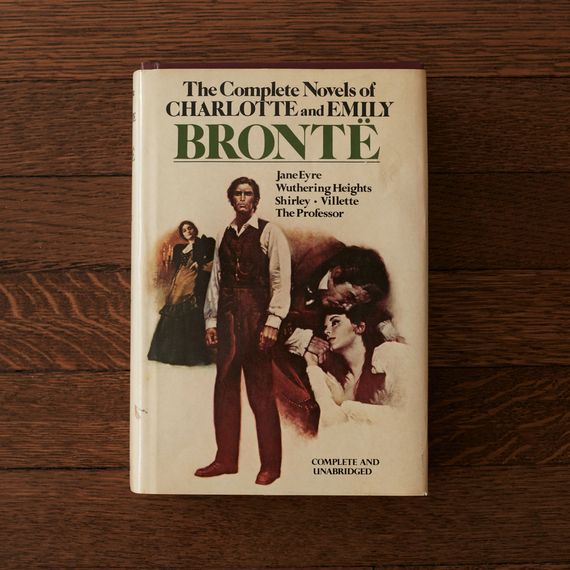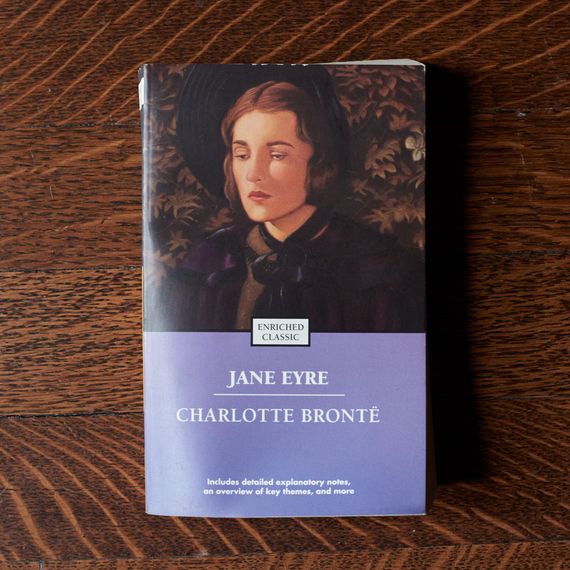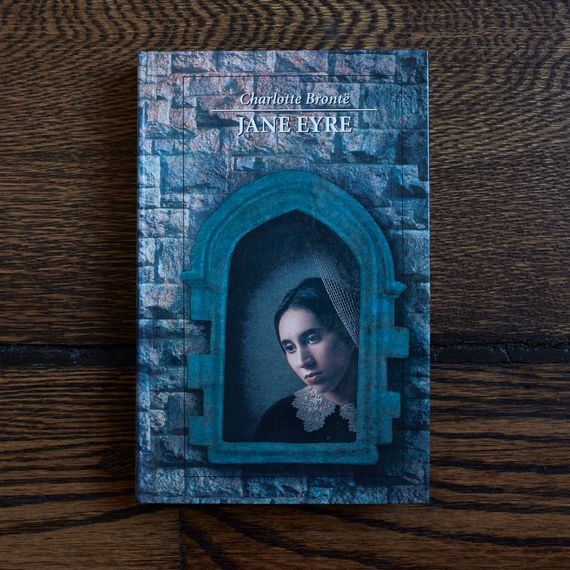 *This article appears in the December 21, 2020, issue of New York Magazine. Subscribe Now!