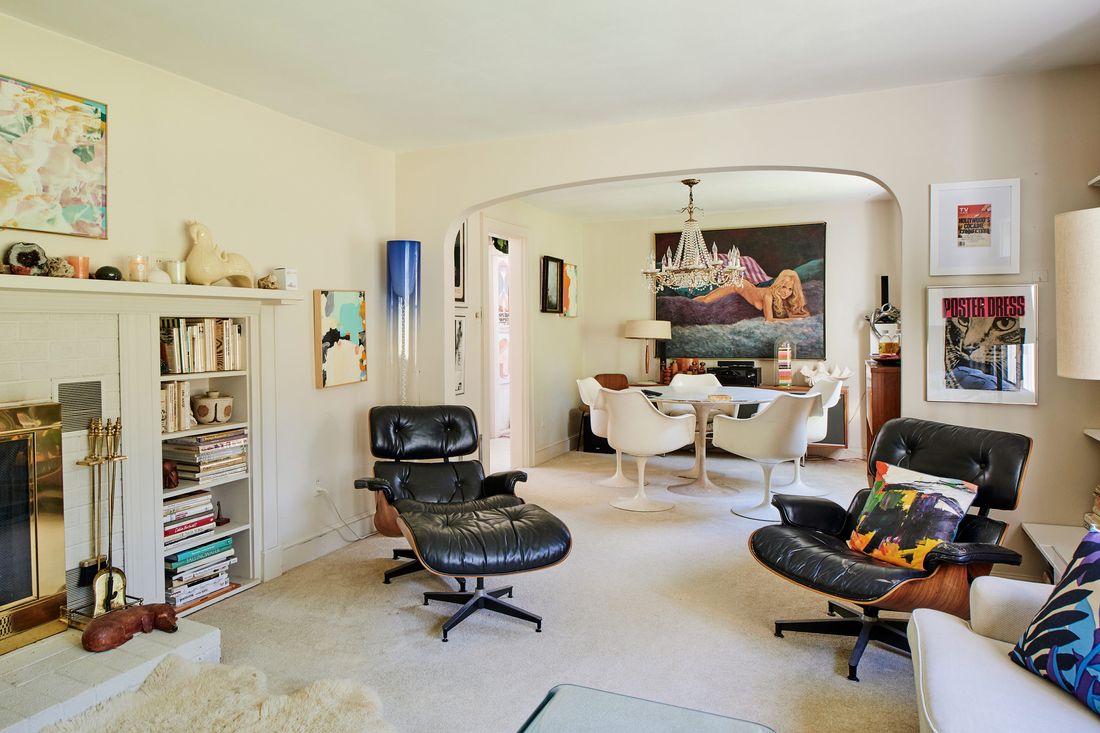 This story was originally published by Curbed before it joined New York Magazine. You can visit the Curbed archive at archive.curbed.com to read all stories published before October 2020.
Not every couple with a six-year-old child would look at a home with wall-to-wall white carpet, a hair salon, and an aesthetic ranging from midcentury modern to grandma's-house-circa-1980 and think, "It's perfect."
But John and Linda Meyers, the couple and creative force behind Wary Meyers, the soap and candle company, did. "We spotted the house online and drove up to see it," remembers Linda. "It was covered in snow, but one look inside the window and I knew it was the one."
That was three years ago, and the former New York City residents were coming to the home from Portland, Maine. Their burgeoning handmade soap-and-candle business — and their growing son, Fletcher — had them hungering for more space. The quest sent them here, to Cumberland, a small town (population: roughly 7,200) that's a little more than 10 miles north of Portland.
The house is a sprawling Ranch that was constructed in 1960 and underwent a remodel in the 1980s. The result is a look that's familiar to many Americans: It has the rangy, low profile of a midcentury modern ranch house, paired with the staples beloved in the late 1980s, including a white interior accented by brass, a trapezoidal window, and a kitchen addition with a soaring ceiling. "I can't tell you how many people visit and comment, 'My grandmother had a house just like this,'" Linda says. John knows the feeling firsthand: "My own grandmother lived in a house like this!" he says.
But where some would only see dated, this pair saw opportunity — and pool parties.
"We loved the wall-to-wall white carpet, it's so comfortable and cozy. The hair salon, which was once the only one in town and was called Judy's Place, was the perfect soap making studio," says Linda. "It also had a huge, in-ground swimming pool, which is rare because summers are short and the beach isn't far away. Our real estate agent called it a 'horrible' thing we'd want to fill in, but we were thrilled at the thought of having one. We use the pool every day in the summer and have a lot of parties around it."
When they moved in, they quickly established candle and soap operations in the former hair salon, and dedicated the sunlit basement to packaging and shipping. In the living space, they started installing a collection they had been building for years, long before they dreamed they'd be living in this house, let alone Cumberland.
The furniture and accessory assemblage they'd been gathering was — like the house itself — eclectic and spanning a number of decades. "We started buying things together 12 years ago, after a year of dating," says Linda. "We would go to these random places and find things, usually deals that were too good to miss." So, despite living in a small, urban apartment, they began assembling contents to fill a future house. This practice led to some unorthodox storage solutions, including the temporary (10 years) housing of a bright-orange, enameled cast-iron sink in their former hallway.
"We like a lot of different styles, and we don't want to go overboard on any one thing," says John. "We love midcentury modern, and in the dining room alone, we have an Eames chair, a Saarinen dining set, a Gerald Thurston lamp, and a Knoll sideboard. And that's maybe too much, so, to keep it from going too Mad Men, we need to replace that lamp with some Italian plastic thing from the '70s."
Linda agrees. "When you use things from just one time period, it looks too staged to us," she says. "John and I both came from households that were decorated with a lot of antiques, so perhaps this is our way of rebelling — although we've used a few antiques here and there."
Despite loving the home's period style, the couple performed what they call a light renovation. In addition to putting in new light fixtures and appliances, they completely redid the master bathroom in a black-and-white color scheme. "I found marble tiles and had the bathroom lined with those," Linda says. "We put in a soaking tub, a long black granite vanity, a wall-to-wall mirror, and a large Sciolari 'Ice Cube' light bar to go on the mirror."
The addition of colorful hardware and the installation of the orange sink gave the kitchen a shot of modern sensibility. "It's an all-white space, so we put in ceramic Eames-esque knobs on the upper cabinets, and we added pulls by Massimo Vignelli below. All of the handles are different color." John describes the effect as "Centre Pompidou," referring to the colorful exterior of the Parisian modern art museum.
The finishing touch is the long-stored orange sink, which Linda dubs "a joy of my life." Now, the kitchen is her favorite room in the house
The splashes of crayon color in the living space has directly influenced their work (currently, Linda makes the soap and John makes the candles). For instance, on their website, the couple describes their "Blue Lavender" bar as a "graphic soap with a Marimekko/Ellsworth Kelly aesthetic and a dreamy, soft lavender scent." Looking at their primary-hued graphic art, colorful hardware, and stacks of bright 1970s era dishes, and the correlation is hard to miss.
"Ever since we lived in New York City, I wanted a house with a fireplace, a pool, and a garbage disposal — which I list as the last item, but probably felt it was the most important thing," she says. "We were so fortunate to find a house that has all three, plus room for us to work at home, which saves money and a lot of commuting time. We were so lucky to find a house that had been untouched. We didn't have to spend a lot of time and money redoing what had been messed up, and we could move right in."