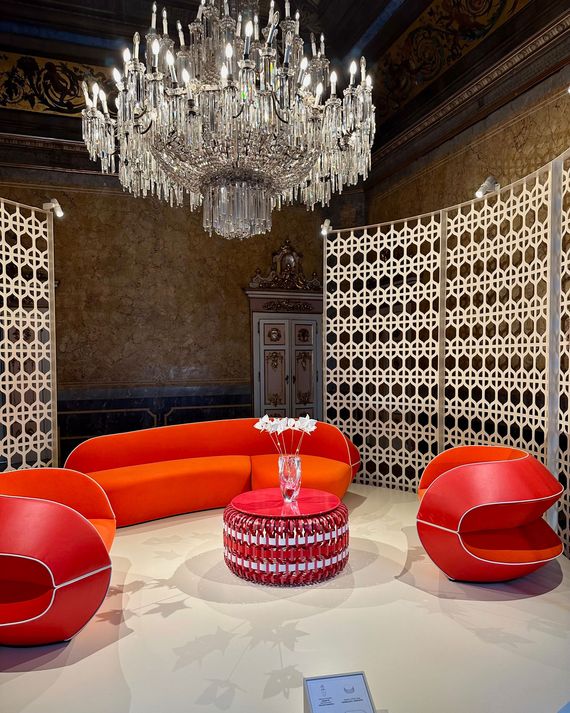 Louis Vuitton
presented its new collections within the gilded setting of Palazzo Serbelloni.
Photo: Wendy Goodman
So wonderful to be back in Milan. The weather was glorious (for the most part), the city was packed, and, as usual, the streets were perfectly impossible to navigate, but running late was the norm and somehow we all got where we were going with a smile.
Onwards to the fair! For me, the design-hunting adventure always begins with visiting installations in venues around the city, the most thrilling being Alcova, conceived by Valentina Ciuffi (founder of Studio Vedèt) and Joseph Grima (founder of Space Caviar) in 2018 as a platform for independent designers. The duo have always ferreted out historically significant locations in the city, including the buildings of a military hospital, a former bakery factory, and this year, the sprawling grounds of a former market and slaughterhouse, Macello di Porta Vittoria. The site is slated to be home to Milan's first carbon-negative social housing, the European Institute of Design campus, a center for global sustainability, and a series of public parks, led by the ARIA Project and Redo. But the expanse of land and the skeletons of the massive industrial buildings is haunting and beautiful, and I feel so fortunate to have seen it before it's redeveloped. It's where Lindsey Adelman presented her new one-of-a-kind works and designer Laura Niubo featured her new rug and artworks.
The arena of La Pelota in the Brera district has been the location for Hermès presentations for the last couple of years. Its installation using bars of rebar perfectly curated to just the right hues of rust within poured cement blocks was the perfect intersection of high-low to showcase the bold new rug collection and delectable cashmere blankets and tabletops. Luxury never pales at Hermès. Ambra Medda enlisted the auditorium of the school she attended when she was growing up in Milan to present a collaboration with AMO and the Josef & Anni Albers Foundation. AMO commissioned new works by master weaver Laura de Cesare, who was on-site weaving on a large loom during the show, which included the colorblocked stools of designer Marco Campardo.
Artemest presented pieces from its new collection with "L'Appartamento," enlisting six designers to decorate a room in a 1930s Milanese apartment. I especially loved Irish designer Roisin Lafferty's room with a cube and American Sudanese designer Rabah Saeid's bedroom. The Future Perfect's David Alhadeff led a tour for clients to enjoy the enigmatic charm of Dimore's installation "No Sense" in an old apartment building, too. It was one of the hottest tickets in town for the lucky ones who managed to get in.
The Triennale museum of art and design is celebrating its centenary with a fantastic exhibition of Italian-design highlights from the mid-1920s to the present with objects from its permanent collection and works on loan, curated by Marco Sammicheli. That show is worth a trip to Milan alone.
I also, no surprise, ate very well. Jim Druckman leads the charge in knowing every great restaurant in the city, and this time it was lunch at Langosteria Bistrot, if you love sushi of every exquisite variety. If you tasted the veal tonnato at the Four Seasons Hotel, you can never eat it anywhere else again (thank you to Alexis Contant). The Eames Institute held a dinner at Osteria del Binari in Tortona (hard to find, but worth the trawl), where listening to Llisa Demetrios, Ray and Charles Eames's granddaughter and chief curator of the Eames Institute, speak about her life with them was a revelation. Then there was an extraordinary night at Teatro alla Scala, the legendary opera house with a special performance in celebration of Salone thanks to Chris Abbate.
It's frustrating that it's impossible to cover the breadth of the fantastic events and design highlights this past week, but here's a smattering of the feast I experienced: