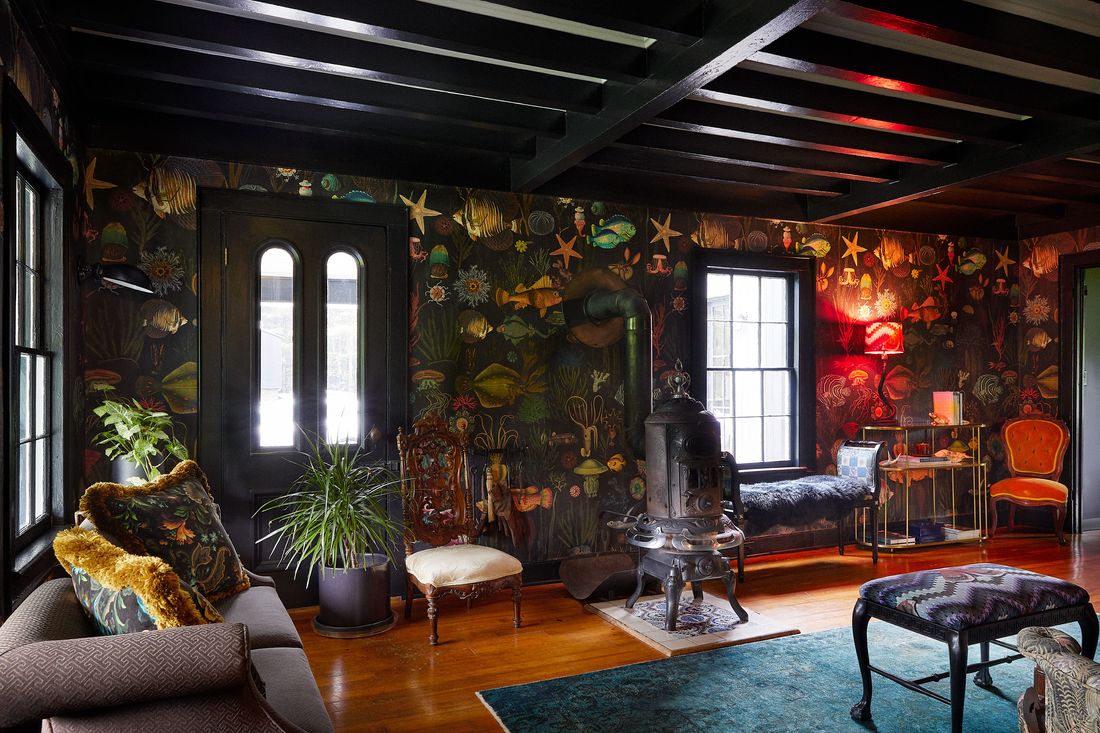 The living room is lined with dense nautical wallpaper bearing all manner of fish, anemones, and aquatic flora rendered in the style of German artist-zoologist Ernst Haeckel. Millions of years ago, the area where the Catskills now sprawl was submerged beneath a shallow sea.
Photo: William Abranowicz
In the introduction to the book Country Life, William Abranowicz remembers first visiting upstate New York when he was a child living in Bayonne, N.J. "My Aunt Rita and Uncle Harley lived on a farm near Lake George," he writes. "They raised hogs and grew vegetables. My memories are vague, but one image, captured in a black-and-white photograph, remains etched in my mind. My young father is leaning against a large hog lolling on the ground as I peer curiously. Behind him, my mother, holding my baby sister Susan, who pulls back in a blur. The smile on my twenty-nine-year-old father's face reveals utter contentment in those rural surroundings, something he couldn't find readily in urban New Jersey, studying at night to become an operating engineer while working two jobs to support a family of six living in a tiny apartment."
He and his wife, Andrea, started renting upstate in 2001 and today live in a mountainside house outside Margaretville, a village on the border a 700,000-acre swath of land, the Catskills Park, which must remain "forever wild" since it is the watershed for the city.
The book, which he wrote with the help of his son Zander Abranowicz, profiles other upstate homes and their residents, including the Saugerties home of Jessica Piazza and Tim Unich. "Their lovingly restored antique house sits on a rounded pedestal, carpeted all around by meadow encircled by forest," the book observes. "Well behind the house stands an exposed wall of the earth's crust — a vein of cracked bluestone — evidence of an old quarry that once contributed to the construction of Manhattan's sidewalks in the days before concrete."
It might just make you want to move upstate yourself. After all, as the book notes, "whether it's those brutal winters or the isolation enforced by such rugged topography, upstate living can take on a certain survivalist strain: chopping wood, prepping for blizzards, growing food. In the event of an apocalypse, you could do worse than find your way to Piazza and Unich's pastoral compound: just follow the red door through the trees."