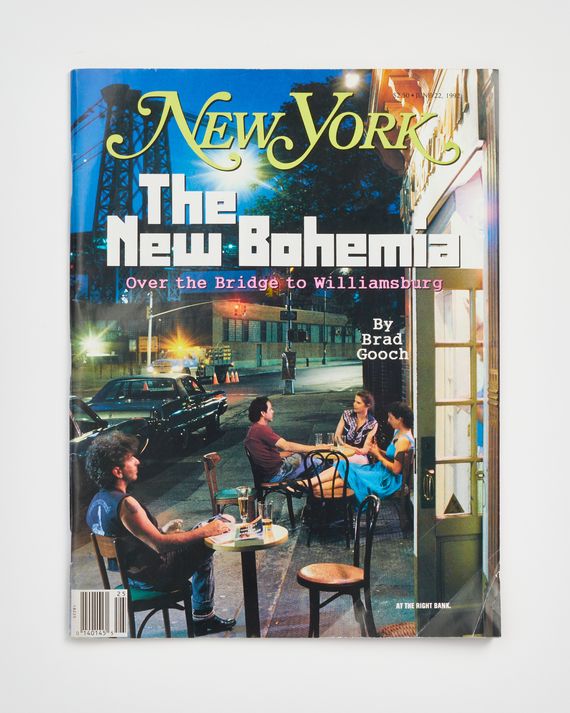 From the June 22, 1992, issue of New York Magazine. This article was featured in Reread: Real Estate Mania, a newsletter miniseries that resurfaces classic stories of ever-rising rents, the next hot neighborhood, and some truly nightmarish living situations from the
New York archives. Sign up here to read them all.
It's a late afternoon in March at Teddy's, a typical workingman's tavern in the Polish section of Williamsburg, Brooklyn. Beneath American flags crisscrossed over an intricately carved oak bar, a woman bartender keeps one eye on a soap opera playing on the overhead TV as she advises an Eastern European couple just in from Flor­ida about where to find a good apartment. Two swagger­ing young guys in stonewashed jeans stretch their legs across a couple of stools while singing along to Sinatra's "New York, New York" on the jukebox. A few gray-haired electricians argue in a corner.
Medea de Vyse, 30, a cross-dressing performance artist, is quietly sipping a Bloody Mary at a corner table in front of one of the bar's tall stained-glass windows. De Vyse is wearing a pill­box hat, an unbuttoned gray work shirt, a green Saint Patrick's Day blouse, black tights, a Navy pea coat, and dull lipstick. He fits right in. After all, he's constantly up and down the streets soliciting advertising for Waterfront Week, the newspaper he publishes for artists and businessmen alike. He's a member of the Northside Merchants Association and hopes to serve on Community Board 1.
In blows Mariano Airaldi, a 25-year-old Argentine who was recently one of the hosts at Keep Refrigerated, a Berlin-style underground club where the temperatures hovered around freezing. He's wearing a green sport jacket, no shirt, and a speckled scarf tied around his neck. His hair is disheveled, al­most burned-looking. A pair of translucent dice keeps falling from his pockets. They're props meant for the Game Room, his latest club — featuring roulette tables, chess, and board games every Saturday night in a funky cocktail lounge with mellow music on North 8th Street.
"You should've stayed," Airaldi tells de Vyse, referring to a dinner party he threw the week before. "People started dancing on the tables, and I got married to my girlfriend."
After Airaldi blows back out, an older man with janitors' keys dangling from his belt asks de Vyse for the phone number of "that guy who runs Refrigerator. I know a high-school kid who wants to have his graduation party there," he explains. "There'll be around 500 kids."
Later, through the window, de Vyse points out a couple strolling in the angular light that illuminates Berry Street. Along a row of tidy three-story red, brown, pink, and tan brick houses, the man and woman are toting a bicycle wheel and other detri­tus — no doubt taking it all home so they can weld it into a sculpture. With their Road Warrior jackboots and earrings in every pierceable orifice, they're what de Vyse dubs "Williamsburg cowboys."
"In the seventies, it was Soho," he says. "In the eighties, the East Village. In the nineties, it will be Williamsburg."
For the past 50 years, the shifting neighborhoods of lower Manhattan have always been home to a Bohemia of one sort or another. In the forties, Arshile Gorky and Phillip Pavia were drinking five-cent coffees at the Waldorf Cafeteria on Sixth Avenue off 8th Street. In the fifties, Jackson Pol­lock was tearing the door off the men's room in the Cedar Bar on University Place ("You couldn't see into it anyway," wrote the poet Frank O' Hara, "and besides there was then a sense of genius"). By the late sixties and early seventies, artists in work boots were moving into lofts in Soho, nailing up Sheetrock walls, installing their own plumbing, lay­ing their own bricks. Bohemia has always been 90 percent low­ rent and 10 percent dream.
In the art boom of the eighties, Keith Haring showed up in high-tops in People magazine, and Andy Warhol was constantly being photographed with Jean-Michel Basquiat. But things were soon thrown out of whack. The galleries that choked the East Village in the early eighties quickly began to disappear. Now there are only a handful that hold regular shows.
The hype and prosperity enjoyed by a few young painters carried a price tag. Many of their peers became refugees, forced by speculative rent in the East Village to move outside Manhattan. Thousands of these artists have settled in Brooklyn, many of them along the waterfront stretching from Greenpoint to Red Hook. Of these, an estimated 2,000 are clustered in Wil­liamsburg, a working-class neighborhood of approximately 115,000.
The Williamsburg of today resembles the Lower East Side of yesterday. Once a fashionable resort with gilded hotels catering to sportsmen like Commodore Vanderbilt, Jim Fisk, and Wil­liam C. Whitney, Williamsburg was transformed almost over­night in 1903, when the steel suspension bridge was built. It became an immigrant district for Jews fleeing the ghettos of lower Manhattan. (The New York Tribune of the time dubbed the Williamsburg Bridge "The Jew's Highway.") These Jews lat­er motored off to the lush suburbs of Long Island, replaced on Williamsburg's south side between Grand Street and Division Avenue by Puerto Rican immigrants in the fifties. The area's gray concrete walls are now colorized with R.I.P. murals and bright graffiti. White-and-turquoise Kool Man ice­ cream trucks crawl along the streets in the summer, broadcasting "Send in the Clowns."
Many Hasidim who fled Eastern Europe during World War II live south of Division, toward Flushing Avenue. Poles have moved down from neighboring Greenpoint to the north side of Williamsburg, from North 15th Street to Grand Street, their ranks swelling in the past year with compatriots — fresh off the boat — who chat in butcher shops hung with long strings of yellow sau­sage. East of the Brooklyn-Queens Expressway is a purely Italian resi­dential neighborhood. ("My most burning project is to bring a decent cappuccino west of the BQE," says de Vyse.) What's more, according to an executive at the Williamsburgh Savings Bank (the h fell from the town's name after its consolidation with the City of Brooklyn in 1855), Asians are also moving into the area in significant numbers: "Chinatown has reached its saturation point, and they're setting up businesses and moving over here," he says.
Artists are interlopers in all of these neighborhoods — especially the Polish north side and the Hispanic south side. Robert Flam and his wife, Lori Ledis, were considered pioneers when they moved into the neighbor­hood in 1982. In 1987, they set up LedisFlam, Williamsburg's first art gallery, which was relocated to Soho in 1990. "When you went down to the L train, there were all these blue­-haired old ladies," recalls Ledis. "That was it. It was surreal. The first night after we moved in, the doorbell rang and a little old Italian woman and her daughter brought us home­made pizzas to welcome us to the neighborhood. The woman across the street had lived on the block for 55 years. About two years later, things changed. I remember Robert coming back from the train and saying, 'I'm noticing all these used overcoats. The used overcoats are moving in.'"
The overcoats have multiplied. One local painter marvels at the jump in just the past two years: "It's like an army. They march off the train in their thrift-store clothing carrying their art-supply bags and stretchers on their way to the health­-food store." So far, the invasion has been a peace­ful and subtle one. It takes a trained eye to pick out Earwax, the record boutique wedged be­tween a pet-food store and a brown-shingle house on Bedford Avenue, where club D.J.'s from the neighborhood go to find unusual spins. Or to spot the "Art Salad" listed on the menu of Kasia's Polish restaurant. Notices for screenings of Kenneth An­ger movies or Herbert Huncke poetry readings are confined to lampposts or to one of two walls — at the health-food store or the Green Room, an alternative performance space on Wythe Street, next to Slick's motor­cycle-repair shop. Parties are announced by a logo — a black fly, for example — stamped cryptically on the sidewalk with only a date. Messages about hastily planned art events can be left on Subwire, a phone tape that changes monthly.
One Williamsburg poet calls his new home "the land that time forgot." Its low nine­teenth-century brick houses with their steep stone stair­cases and rickety shutters rare­ly rise higher than four stories. Shades are pulled down in an­cient pharmacies, and parking is never a problem along the deserted side streets that unravel toward the river. There's al­ways more Kodachrome sky than the eye can hold. Williams­burg even has its share of literary ghosts. Henry Miller spent his boyhood at 662 Driggs Avenue and, in Black Spring, recalled the street's tin factory "with a vividness as if it were etched in acid." Grand Street was the address of the heroine of Betty Smith's best-selling 1943 novel A Tree Grows in Brooklyn.
The artists prefer the obscurity, and so far they've been successful at keeping their secret. Although a pop song in heavy rotation on Berlin radio immortalizes riding the L train to Williamsburg, most Manhattanites — so used to turning the spotlight on any twitch in the downtown art scene — are oblivious. "We feel pro­tected by the river and the recession," says Jeff Gompertz, 35, Mariano Airaldi's former partner at Keep Refrigerated.
"It's like a working-class hick town," says Collier Schorr, 28, who moved to Williamsburg from the East Village three years ago. Now she has a two-bedroom $450-a-month apartment and a $250-a-month studio next door where she makes the "house traps" — hybrids of dollhouses and rabbit traps — that she shows at 303 Gallery in Manhattan. Schorr prefers Williamsburg's slow track to the hip-hop pace of the East Village ten years ago.
"Lots of us were in the East Village just before New York Magazine was there," she says. "Just before the papers started writing about the Pyramid Club. We watched the Pyramid Club get awful. And we watched 80 galleries turn to no galleries. This neighborhood is more for grown-ups." In her building — owned by an Italian family — live two artists who've shown in the prestigious Whitney Biennial: Jessica Stockholder and Jason Simon.
Ten blocks away, on South 2nd Street, D.W. Singleton, 29, finds that Williamsburg is beginning to seep into his paintings — large, abstract canvases that barely fit through his door. "The last series I did were my Williamsburg paintings," he says. "There were no skyscrapers in them. Over here, I make paintings that have the skyscrapers out the window. I feel a dialogue with Manhattan. I think that's one of the qualities of Williamsburg." Adds Singleton — who found the eighties "bumpy, very bumpy" as he moved through Washington Heights, Hell's Kitchen, the West Village, Columbus Avenue, and the East Village — "Manhattan sometimes looks like Oz from over here. Which we know it's not."
Dave Wirtz, 28, lives on North 6th Street in Williamsburg's meatpacking district. From his loft, he looks out at seagulls hovering above a woman oper­ating a forklift. Across the street, Coyote studios at­tracts skinny rock-and-roll musicians in sunglasses and black leather pants who are in and out of its recording studios all day and night. Wirtz is holding out for a fifties-style bohemian scene in Williamsburg: "I've had visions of Ginsberg sitting around in a black turtleneck and goatee. People reading Howl at one of the parties here would not be totally out of place." Wirtz built a darkroom in his loft to develop his uncropped shots of the nearby waterfront, which reminds him of the places where he used to play while growing up in central Connecticut. The photographer moved to Williamsburg two years ago because he likes "its barren, overrun, industrial qualities."
The waterfront is Williamsburg's spookiest area. Rusty abandoned cars stick up from the East River, and warehouse windows stare blindly off into the distance. The rhinestone skyline of Manhattan looks eerie rather than pretty at the end of so many long, disheveled wharves. But economically, politically, and artistically, this two-and-a-half-mile stretch — still zoned for heavy industrial use — is Williamsburg's hot button.
Many of the factories that crowded the waterfront in its heyday — from after the Civil War until the 1970s­ — have been dismantled, though a number of working plants keep the Industrial Age alive. A view of the pow­der-blue Domino Sugar factory on the East River can be had by passengers on the J or M train traveling over the Williamsburg Bridge. Metalwork, furniture, and knit­ting factories are all still operating in the area, and the smell of anise from the spice factory on Berry Street fills the air on windy days. Radiac, a low-level radioactive­ and hazardous-waste storage site, remains mired in con­troversy a block from P.S. 84.
Community Board 1's Waterfront Committee is considering developing the area. The proposals have met with screeches. "They want to gentrify the area with condos, which would lead to a domino effect, changing the neighborhood," says John Mensing, a member of the Community Board. "The artists want the waterfront to remain zoned industrial. They know that their rents would triple with development."
"I'm fourth-generation in this neighborhood," counters Marsilia Boyle, the chairwoman of the Waterfront Committee and an executive of the LeFrak real-estate corporation. "I don't need someone who moved in five years ago to tell me about gentrification. I think that's a false issue. No one has proposed building condos or rent­als — we're not at that point yet. In John Mensing's mind, a nice neat building is immediately equated with a condo."
The "Williamsburg style," if there is one, comes from the water­front. Indeed, a sort of Blade Runner Industrial Gothic is evident throughout the neighborhood — from the kicker boots of the clerk at Earwax to the stage set of a recent production of Kafka's The Penal Colony at Open Window Theatre, a play­house started by a group of former dramatic-arts students on the cramped second floor of a house belonging to a 90-year-old poet-painter. "It was sort of a junky machine aesthetic," says David Brody of the play's torture rack, which he made from metallic rubble gathered along the waterfront.
Appropriately, Williamsburg's art scene crept into the public eye during a series of waterfront parties in the summers of 1990 and 1991. The first of these Cat's Head parties ("I don't care what you call it," said one of the hosts. "You can call it Cat's Head for all I care") was organized by a core of eight volunteers who were secretive, hoping to avoid the fate of all those late lamented Manhattan hot spots.
It was held in the former Old Dutch Mustard factory on Met­ropolitan Avenue on Bastille Day 1990. Two hundred and fifty people were expected for the installations by six artists and music by a few local bands — Reverb Mofos, King Missile, Red Restaurant, Original Formula. Instead, 750 showed up, and the beer evaporated. The next Cat's Head was held in an abandoned warehouse the size of two football fields. Streamers of scrap metal were hung from the ceiling, and guests used sticks and batons to play nonstop music for nine hours. In June 1991, at the third party — renamed Fly Trap after two of the Cat's Head organizers moved to Berlin — more than 2,000 paid $6 a head to watch five bands on two stages and see Fluxus-style works by 100 artists: Infrared sensors went off when they detected a human body; water guns were aimed at electric fences; a "plastic fog" was made from 1,000 square feet of clear plastic strips. Limousines and private cars arriving from Manhattan created a blinding glare of headlights on Kent Avenue.
Ever since Fly Trap, there's been a buzz about Williamsburg. "I hear they have these speakeasy parties that are totally word-of-mouth because they don't want anyone from Manhattan to come," said one young writer at a recent Soho cocktail party. "I heard they rent back rooms in working factory build­ings, and that their beds are just a few feet from these big boom­ing machines," his girlfriend added.
The heir apparent to the Cat's Head and Fly Trap mystique these days is Mariano Airaldi. "I'm not an artist. I'm an entertainer," he brags, his hands always in motion, his eyes fiercely happy, his clothes clownish and oversize. After moving to New York in 1988, Airaldi started a performance space called Ex-Funeral Home on 12th Street between Avenue A and First Avenue in Manhattan. Last winter, he and Gompertz orchestrated the debut of Keep Refrigerated on North 6th Street. The makeshift illegal club featured tiny space heaters, pyramids of smashed TV sets, washes of blue light, Disney cartoons projected on the wall, and tapes playing everything from Moroccan chants to techno-industrial noise. Denizens brought their own paint and paid $3 a head for the privilege of splattering the walls of the basement. The Fire Department finally stepped in when the partners threw an Argentine barbecue — complete with live chickens, sides of beef hanging from the ceiling, and an open fire on the third floor. (Although Keep Refrigerated is now officially closed, Airaldi plans to transform it into a sort of nighttime indoor flea market and open it under the umbrella of his new organization, Lalalandia.)
More loungelike and mellower is Arcadia, a cabaret open some Saturdays in the studios of rock musician Billy Basinski and artist James Elaine. The vast third-floor loft — converted from an old Dr. Brown's celery-soda factory — has arched Romanesque ceilings, steel pillars, flea-market thrones, pulled drapes, and flickering candelabra; it was the setting of a New Year's Eve Surrealist Ball. Guests came dressed as Salvador and Gala Dali; some wore original hats fashioned out of asparagus stalks, dried flowers, or computer chips.
Lately, the Ship's Mast (along with the Right Bank) has become an unlikely hip spot, the place to go for jazz concerts, performance artists, and poetry readings. The Deer Hunter­–style wood-paneled pub — where hockey games play interminably on a big color set hooked up to a rooftop satellite dish­ — seems straight out of Pennsylvania. Owners John and Nora Gallagher have welcomed artists since they opened the bar in 1981. They even provide lasagna, meatballs, and knishes on week­ends. "It cheapens the place to charge for food or admission," says John Gallagher, the middle-aged former lead singer for a defunct Queens band, Moving Violation. "I don't think people born and bred in the area feel very comfortable around the art­ists, so they stay away," he says ironically.
David McDennott and Peter McGough keep a studio on Wil­liamsburg's Broadway — in a landmark 1868 Kings County Sav­ings Bank that's far removed from the bonhomie of the Ship's Mast. Like many other artists who work in the area — Ashley Bick­erton for one — they have a reverse commute, continuing to live on the Lower East Side. Starched-collar artists who paint in the pre-Raphaelite style and sport Victorian garb, they feel more comfortable with Williamsburg's nineteenth-century heritage. (The symbol of that bygone era, the Peter Luger steak house, with its polished oak tables and waiters in white aprons, sizzles across the street from McDermott and McGough's studio.)
The two eighties art stars walk their spaniels to work across the Williamsburg Bridge, stable a dappled stallion in Prospect Park (he can occasionally be seen grazing on hay on their front portico), and maintain their bank's period with gaslit chandeliers and candlestick phones. In 1990, in their third-floor ballroom, they held a costume party fastidiously modeled after Louis Comfort Tiffany's Egyptian Fête of 1913. Jacqueline Schnabel came as Cleopatra, Kenny Scharf as Polyphemus, M fashion editor Robert Bryan as Tutankhamen. According to McDermott, "That party was prob­ably the most exciting thing that has happened in Williamsburg in 50 years, from an artistic point of view."
Understandably, some of their more rumpled neighbors resent McDermott and McGough. "They're total Manhattanites," complains one artist. "They just moved out here to exploit the low rents, but they're not really connected to the community."
Others enjoy watching them stroll the streets in their white Edwardian suits and straw boaters. "It's funny to watch the reactions on people's faces out here when they see them walking around," says Collier Schorr, the "house trap" artist. "I want to tell them, 'It's a concept. They're not insane.'"
It's a breezy Friday night in March, and there's an opening at Herron Test-Site — Wil­liamsburg's big new commercial gallery. Scuffing across the gray concrete floor of this con­verted Chinese auto-repair shop on North 1st are hundreds of Brooklyn artists — a woman in red rubber pants and a matching blouse, lots of men with goatees in green Army parkas, a few small children. Many nod seriously at the sculptures by Mary Traynor fashioned from rubber tubes, lawn chairs, aluminum sieves, and bicycle parts.
"It's about gender," says one artist, studying two puppets made of tubing that can be manipulated by pulling wires from either end. "It's all interactive," concludes his friend, using a buzzword that crops up in a lot of Williamsburg artspeak.
A small cluster of men and women joke about changes in the neighborhood: "You can get the Times now." "Except on Fridays, when all the artists snap it up for the art reviews." "When I moved here, you couldn't get yogurt or whole-wheat bread. Just pork." "I used to be able to go buy milk in my dowdiest dress. I called it my Williamsburg outfit. Now you can get caught with your pants down, because you run into leather boys or club kids."
At the back of the gallery, aluminum washtubs are filled with dark-green bottles of Grolsch beer. A buffet table is stacked with mozzarella-and-tomato sandwiches on thick bread. Entwined in video wires, Dina Emerson weaves through the crowd singing an abstract piece that sounds like a Muslim call to prayer. A buzz-cut young man in a long cashmere coal causes a stir by leaning drunkenly into one of the gallery's modular white walls, which swivel 360 degrees (a feature that's useful for showing the giant sculptures and installations that the gallery favors).
Moving through the crowd is an obviously pleased Annie Her­ron, 36, who has short-cropped black hair and stop-sign-red lipstick, and who wears a checked woolen suit. "There were probably, like, a thousand people here," she says at an excited clip. "Manhattan doesn't know what large numbers of artists are here. There has never been a concentration of artists like this. Ever."
Like many of the people she shows, Herron felt she had been burned by the Lower East Side.  In the mid-eighties, she had been the director of the Semaphore East gallery there, which represented Mark Kostabi, among other artists. "The Semphore was a hot gallery," Herron says now, "and everyone was eager to know who I had seen and what I had to say. Then things changed — I'd see the same people, and their eyes would just sort of glaze over." After  breaking up with her artist boyfriend, Herron moved from Soho to Williamsburg four and a half years ago with their son, now 6.
Her new gallery makes her a light bulb in the neighborhood, one that many would like to see dimmed. "There are people here who boycott her shows," says one artist. "That's what they moved here to get away from." Others, like art writer Paul Tay­lor, are altogether dubious about a Williamsburg renaissance. "I don't think the art world is really about the bohemian life any­ more," he says. "You don't have to live in the shadow of the city the way you did up until the seventies. The art world now is wide open. It's made of international centers."
But when Annie Herron speaks about Williamsburg, she sings. "I think that what's coming out of Williamsburg is going to be the last thing that comes out of New York as the art capital of the world," she says, proudly pointing out a bit of neon calligraphy lit up in her window that matches the lettering on the Sing Keung Car Repair, Inc., sign next door. "I think the work is very much of this era. Because of the concentration of artists out here, it will become known as being from this area."
Herron, who produces videotapes for her artists' shows in­stead of catalogues, is insistent about one thing: The nineties­ — at least as far as the art world goes — haven't even started.
A few weeks later, on another Friday night, there's the usual ghost-town feeling on Grand Street, one of Williamsburg's empty boulevards. But there is one sign of life: a blur of electric-blue light emanating from a store window in the middle of the block. Inside, Mariano Airaldi is playing host at a test run of a restaurant he's calling Comfort Zone. The narrow space is packed. Nineteen people sit cross-legged around a glowing purple table with an upside-down lamp as its centerpiece. There's Kit Blake, editor of the local magazine Worm; Williamsburg artist Donna Martin; and Ken Butler, a hybrid-instrument-maker and troubadour who moved to Williamsburg from Portland, Oregon.
"I found 750 square feet with a great view of the twin towers and the river for $425," Butler explains over the din. "On week­ends now, the place can be more interesting than Manhattan. I don't feel I'm missing anything by being here."
The confusion is compounded when the guests find them­selves crowded shoulder-to-shoulder in the kitchen, where ribs of beef are piled next to a huge vat of boiling water. Airaldi keeps leaping over the table to push cassettes into plastic tape players glued to the walls. Shirts start to come off. A woman with a strange accent rushes around pleading, "The liquor store is closing at midnight. Five dollars for wine."
At the far end of the table, next to the kitchen, there's a fanci­fully draped stage. Once Comfort Zone takes off, that's where the cook will stand every night, next to his spotlit dishes. There will be goat, rabbit, frogs' legs, five different fish courses. Col­ored liquids will be offered in test tubes.
"The guy makes something out of junk," says singer Dina Emerson, who's there, too. To her, it's not just any old junk: "It's more like twenties Berlin junk. It's got that lush, stylized, visceral, cabaret quality."
The highlight of the meal isn't the gluey shrimp. It's Airaldi's fiery speech introducing the chef. "It's ex­perimental cooking," he says, grin­ning. "In the restaurant, the chef is the most impor­tant person, his per­formance. So we put him onstage. There are micro­phones so the sound of cooking starts getting mixed with opera. There's a vid­eo camera focusing straight on his cut­ting. It's a feast kind of thing."
Clap, clap, clap. Airaldi slams the tapes back on. Ev­eryone starts talking and laughing again in a maelstrom of white noise.