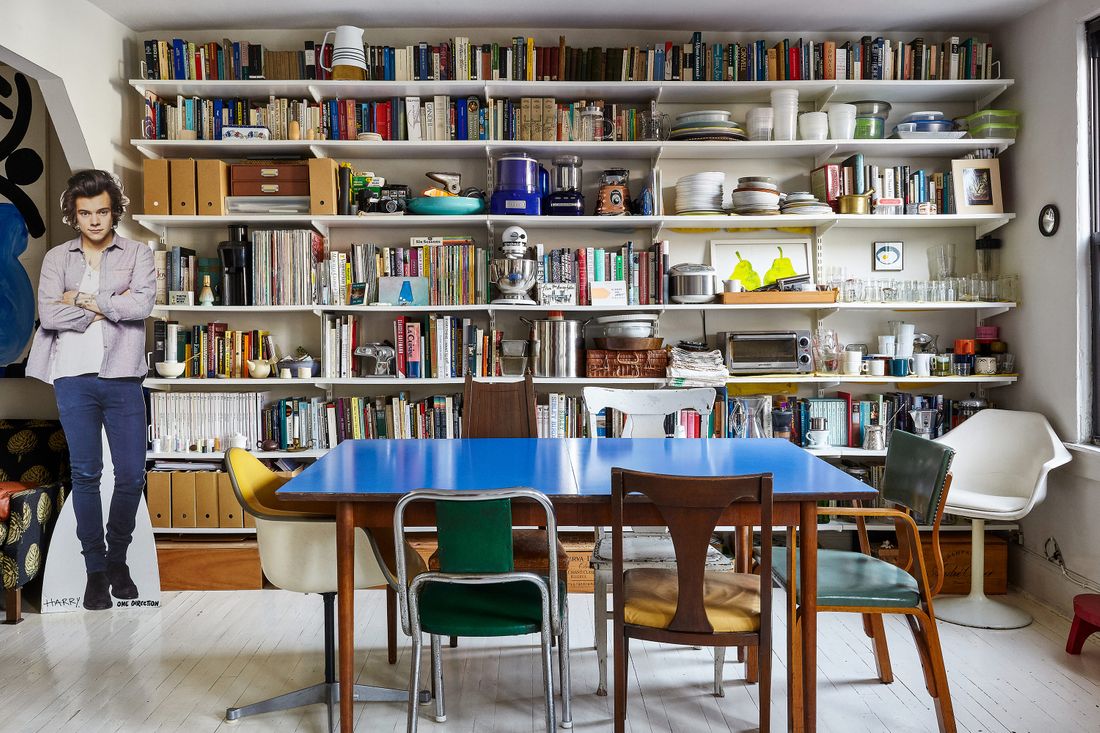 This story was originally published by Curbed before it joined New York Magazine. You can visit the Curbed archive at archive.curbed.com to read all stories published before October 2020.
When it comes to New York City apartments, die-hard commitment isn't always on the table: Roommates move in and out, new partners arrive, babies are born, or animals are taken in — not to mention the vagaries of changing salaries, new transportation needs, and gentrification. There can also be pressure to steadily seek out the next big thing: more square footage, a washer-dryer in unit, more light.
So when Nozlee Samadzadeh and Jarrett Moran moved into their 400-square-foot studio in Brooklyn's Williamsburg neighborhood in 2010, they weren't quite planning to stay for the next eight years plus. It just happened.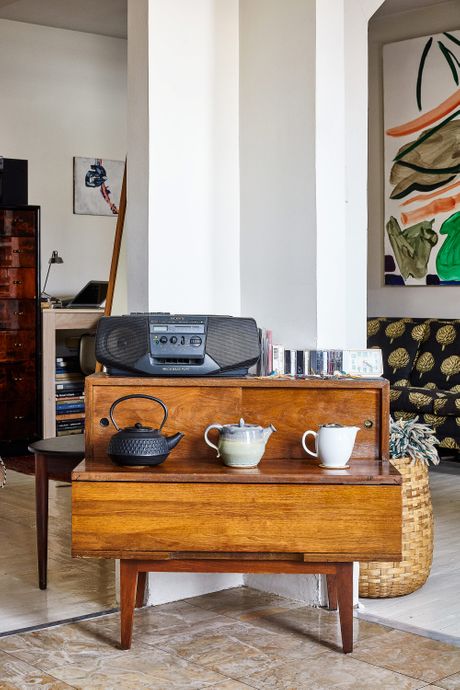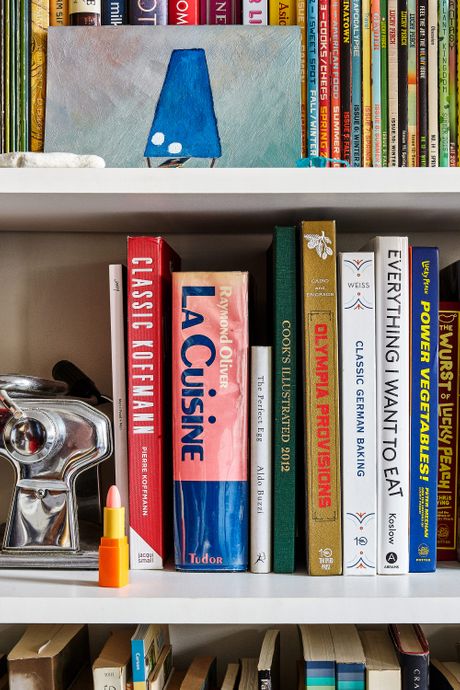 "It's possible that we never [even] imagined being here for longer than a year," Samadzadeh says, noting the post-college mindset of having to move every nine months. "[But] it's been a funny source of stability through all of our respective career changes."
In 2010, the apartment-search websites relied upon so heavily today either didn't exist or hadn't yet reached the mainstream, so finding a home in New York when you were new to the city was done either via Craigslist or with the help of a broker. Samadzadeh and Moran, who were subletting with friends in Bushwick, decided all at once to make two big leaps: find a more permanent home in New York, and move in together.
The couple decided to tag along with their roommates on an apartment hunt and it wasn't until after they had been shown several cramped, dark apartments that, off-handedly, the broker took them to what would become their home.
"Suddenly coming upon this open-feeling space that actually had nice light was the thing that felt good," Moran says.
"It was this weird studio with shiny brown floors, a blue toilet, and no walls anywhere," Samadzadeh adds. "Jarrett and I slept on it and were like, 'what if we just take that place?'" Moran mentions, too, that everything felt so up in the air at the time that it didn't feel like much of a commitment. Neither expected permanence to come from such a quick choice, but Samadzadeh says that the apartment has "grown around us," and that they "have grown around [it] in the subsequent years."
This is most apparent in the changes they've made to the space each year. After renewing their lease in 2011, they decided to inquire with their landlord about taking on a renovation project: sanding down those shiny brown floors and painting them white.
"It took so long, we had no idea what we were doing," Samadzadeh says, laughing. "We sanded by hand because we didn't know that there are palm sanders." They spent six weeks moving their furniture into different quadrants of the apartment while sanding and painting the floors that were exposed.
"We were sleeping in the kitchen for a really long time," Moran adds. "We really winged it."
It was a bonding moment, and changed the couple's relationship to the space — not to mention the way the apartment looked. The project also begat an annual tradition of upgrades in the fall.
A few years later, they added wall-to-wall shelving — the Elfa system from the Container Store — behind the dining table. It makes room not just for books, but also kitchen supplies, dishes, glassware, photographs, and other objects. Storing almost everything along that wall helps retain space for large dinners, cocktails, and dance parties.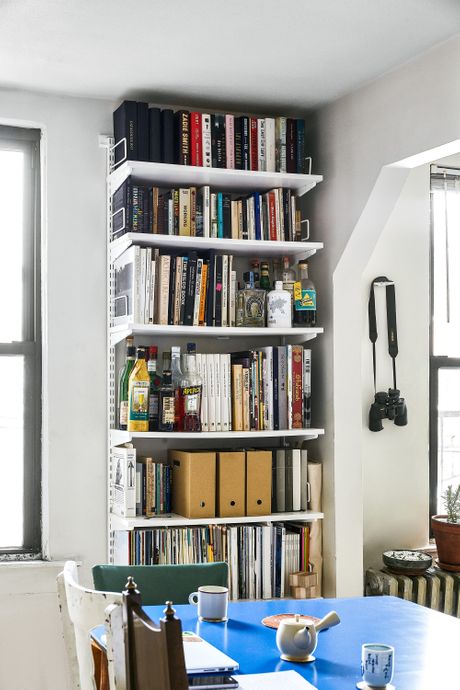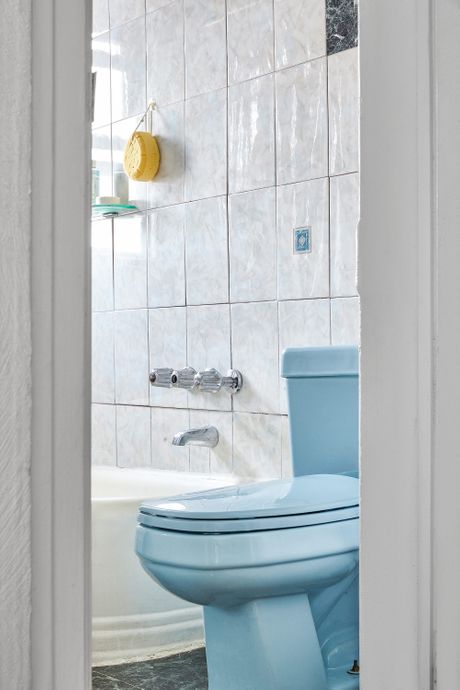 "From there, we realized we could add more shelving, which in turn added more space to store things in a studio," says Samadzadeh. It also allowed for the addition of a sofa the following fall, which they found on Craigslist and then re-upholstered in an artichoke-print fabric from a (since shuttered) Tribeca upholstery store.
Making the sofa theirs by changing its upholstery got the couple thinking more about how to customize furnishings to perfectly complement the space. "Since it was such a weird space, off-the-rack [objects were] difficult." They commissioned a 70-inch shared desk made from white oak to fill a gap between their dresser and the wall, and also to give both of them space to write, sew, and work.
In addition to fitting furnishings into the space like puzzle pieces, there is also the concern in a studio of being in the same room with a partner all the time. "We joke that it took us two or three years to get used to that," says Samadzadeh. "So why would we waste this skill that we've developed?"
The central support column that demarcates the apartment's quadrants, Moran says, does a lot of work to create a sense of being in different rooms. "It makes it possible for us to be doing things in the apartment and [also not] be within eyeshot at each other," he says.
The size of the apartment does mean that, while they might be able to find ways to obscure themselves, most of the time that's not possible with large furniture. Because she can see all of the furniture in the apartment at all times, "it made me think about what other styles of things I even like and what it would mean to mix those things," says Samadzadeh. In general, the couple has acquired most things slowly, waiting for happy accidents in second-hand stores.
To both Samadzadeh and Moran, the ability to impose their own intention on the apartment's blank slate and its flat-out weirdness keeps them rooted and happy. But, even so, would they ever consider leaving?
"I think that [it] would be really difficult to find another place [like it], and as of now, there's no reason for us to leave," Samadzadeh says. "So why risk it? [We committed] the hell out of it, and are maybe going to be here forever."