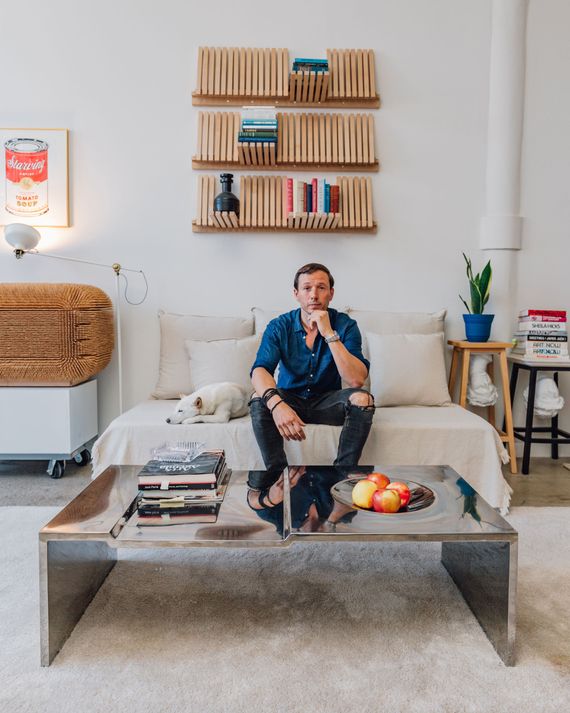 Sebastian Errazuriz with his dog Anita sits beneath the Piano Shelf he designed. "It allows you to lower only the slats you wish to use," he says. "This piece was the first of my kinetic series and dates back to 1997."
Photo: DeSean McClinton-Holland
Soon after you walk into Sebastian Errazuriz's loft, you see vintage gilded mirrors covered in a flow chart of very big questions. One begins with "The Mind," followed by the observation, "We exist in a story that the brain tells itself" — and branches out from there.
"I'm using the mirrors to write different theories of consciousness," Errazuriz explains. "The hard problem of consciousness is the most fascinating problem we have yet to understand and what better than to explore these on timeless reflective surfaces."
Errazuriz has called New York City home since 2006, when he arrived from his native Chile to pursue his master's degree in art from New York University. His life here, and his practice as an artist and designer, grew and grew until he found himself with studio spaces in Industry City, in Brooklyn, and Mott Haven, in the Bronx. Then, in 2017, while working on an installation for the VIP lounge for Art Basel Hong Kong, he had an epiphany: "There was nothing new, it was the same things I would see in other art fairs; it was almost as if the artists had become luxury brands," he says.
Faced with this, he decided to pare down, giving up the big studios, realizing that technology had become the engine for change in the design world, and deciding to dedicate himself to working on computer-making 3-D models which could be fabricated elsewhere. "If I didn't get in there to become part of this, everything I make will become obsolete," he recalls thinking. To that end, he has created a series of NFT diamonds and has already sold six.
He does all that from his home, a 1,700-square-foot Williamsburg loft with 14-foot-high ceilings. "I just wanted an apartment," he says, "but I can't do the small apartment with multiple rooms." The search took time. "You know that New York thing where you spend 30 days seeing crap and then the 31st day you suddenly find a little jewel."
He lives, along with his dog Anita, surrounded by many of his designs. Nothing is exactly as it seems. The simple-looking 2014 Wave Cabinet in the corner opens into many different configurations. Two large chandeliers, meant for his Bird Chandeliers series, are still awaiting birds. A handsome mahogany bar, part of his 2020 Reflection Collection, opens to reveal a faceted crystal interior.
Errazuriz's designs are inspired by nature, antiquities, reflection, and kinetic furniture. He has also invested time in and has raised funds for public-art projects both in Chile and New York, often with a political point. As much as he is fascinated with technology, his work is infused with romance and memories from his childhood in Santiago, where he'd visit his grandmother's home, where magical things would happen. "Originally, I used taxidermy birds in memory of my grandmother's chandelier in Chile, where on some nights I would see neighborhood birds fly in and perch on its arms," he says. One of his signature pieces, Metamorphosis from 2009, depicts a floating shelf of branches that evokes his childhood playing with his brothers when they would hide their toys in the leafy vines of ivy that grew on the side of the family home.
"If I get to be lucky, and be 90 years old, I'd love to have a plane hangar, a giant storage filled with every single object you could think of, but it would all be reimagined, reimagined but not redesigned," Errazuriz says. "You could get everyone to think, we don't have to accept life as it is. We could make life the way we want."