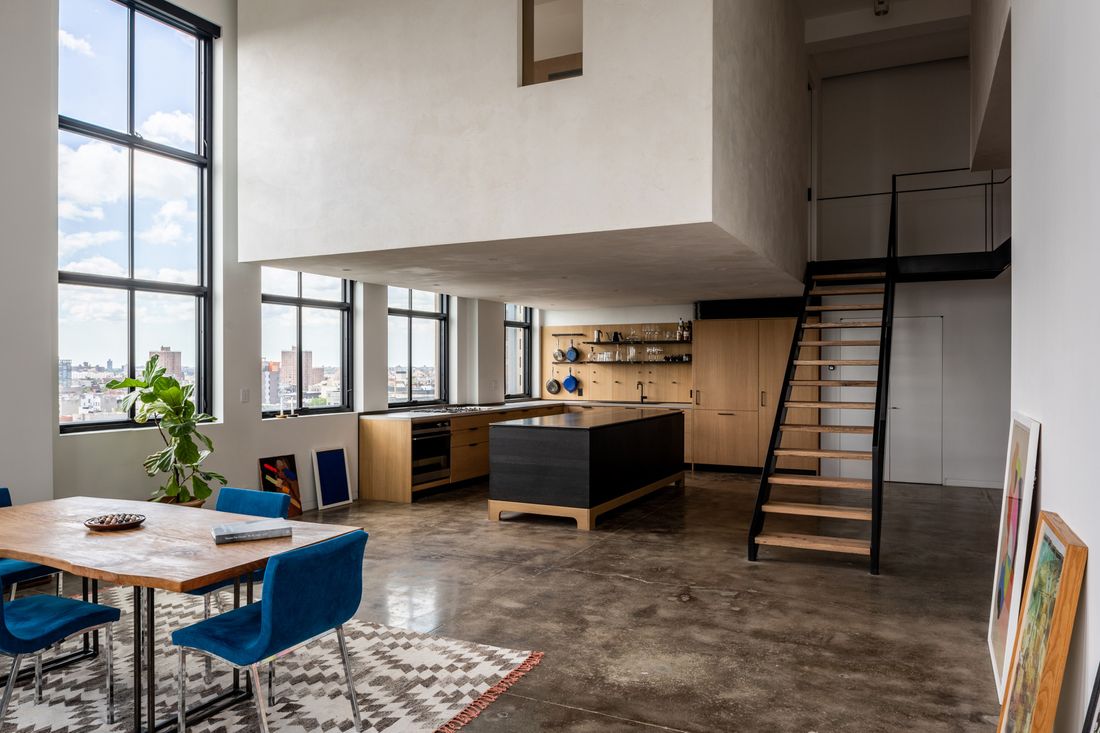 Finished loft with suspended bedrooms, the primary suspended over the kitchen.
Photo: Alan Tansy
Matt Spangler was living in a one-bedroom in Soho in 2017 and working as CMO of Compass Realty and wanted a new project: he loved to renovate. He also thought it might be nice to move somewhere a bit further away from his office. He wasn't sure he wanted to go all the way to Brooklyn, however, until he walked through this space on the top floor of the former Esquire Shoe Polish factory in Williamsburg, with 18- and 25-foot ceilings, massive windows, and unimpeded views.
The kitchen, entry, and stairway to the mezzanine were at the time hidden behind a wall thanks to a previous renovation. Spangler decided to buy the place and gut it, so he hired architect Keith Burns, who started making models of different interior configurations that would open the space and allow for the kitchen to come out in the open. The dramatic solution to freeing up floor space was made possible, Burns says, "by steel, lots of steel." A new main bedroom was suspended from the roof over the kitchen and a guest bedroom on the other side of the stair.
"A new open staircase and set of landings was constructed to connect the bedrooms while leaving some portions of the 25-foot volume empty so that it can be experienced by visitors as well to allow light from a single clerestory window to illuminate the stair and entry below it," Burns explains. Meanwhile, "a simple palette was developed. The existing shell was white-boxed, and the concrete floor refinished, while the bedroom boxes are covered in white plaster with the interiors clad in wood and natural stone in the bedrooms and bathrooms respectively. The same wood was used to further delineate the spaces on the main floor with built-ins that correspond to the volumes above."
The views and the architecture are dramatic and perfect for entertaining. "I do a dinner series with a chef friend of mine," says Spangler.  "I have done four so far."