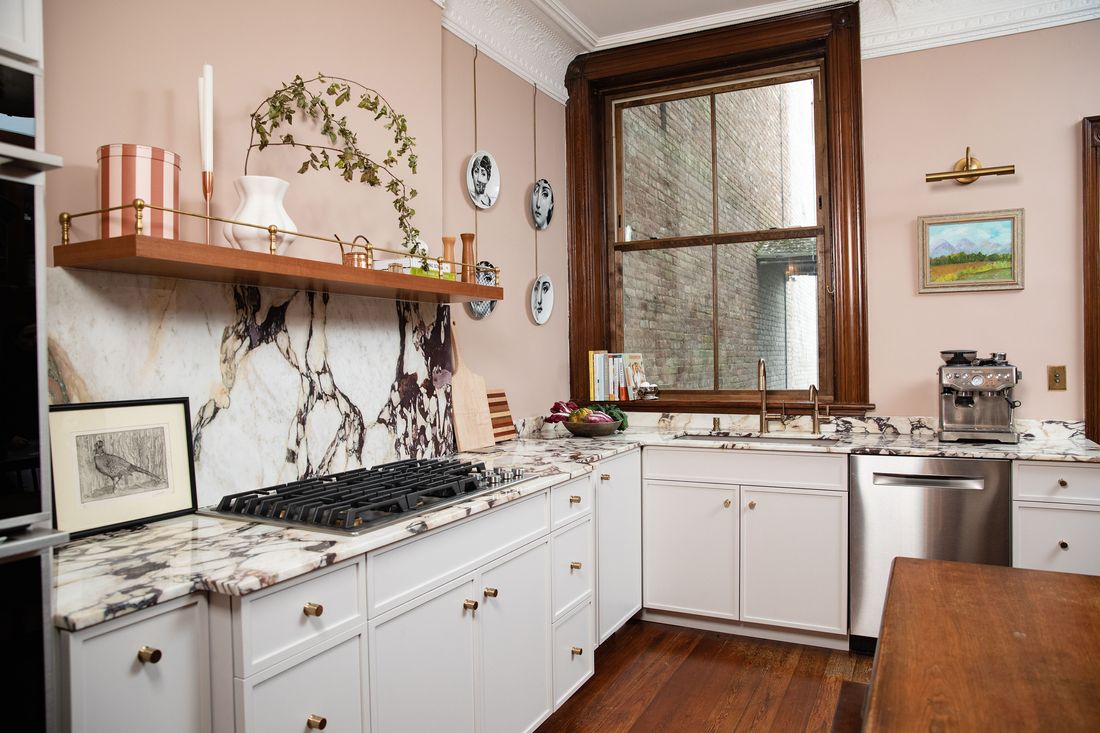 The Kitchen:
Their new eat-in kitchen is now on the first floor between the living room and den, where marble counters and backsplash complement soft pink walls and Fornasetti plates.
Photo: Helena Palazzi/Yellowhouse Production
"It definitely took some convincing to get this place," remembers Nicole Fisher of this 1882 brick rowhouse in Hudson, which she and her very reluctant husband, Lee, bought last year. "In the '50s it was a YMCA," and later, the ground floor had been turned into a retail space; the kitchen when they bought the building was on the third floor. "For someone like my husband, it was very hard to see past those kinds of things, but I knew it was going to be beautiful once we were able to strip down the excess."
Many city people experimented with full-time country life during the pandemic, only to find it not quite for them. At first, Fisher, her husband, and son Sebastian retreated to their farmhouse in Chatham, NY. But Fisher felt the rural isolation and wanted more of a community, with restaurants and places to walk. This place, in Hudson, seemed like a step back toward, if not city, then town life.
Fisher started working with Lady Gaga's stylist, Nicola Formichetti, while enrolled in a graduate program at Parsons. But she left fashion for interior design after redoing her parents' house in New Rochelle. "It was very similar to this house," she notes. "Beautiful bones, needed a fresh eye and a lot of work." That project led to a job at One King's Lane, where Fisher worked on celebrity makeovers with Lucy Liu and Bobbi Brown, which in turn led to doing work on  Brown's hotel in Montclair, New Jersey, The George.
And this left Fisher prepared for the Hudson house, which "lost many interesting things that we found during construction," she says of past renovations, which had hidden the working pocket doors, beautiful millwork, tin ceilings, and an original Thomas Crapper toilet.
And now that it's done, her husband is a believer. "It was the Brooklyn lifestyle we always wanted," Fisher says, "without the crowded streets and the inflated prices, all in my dream brownstone."