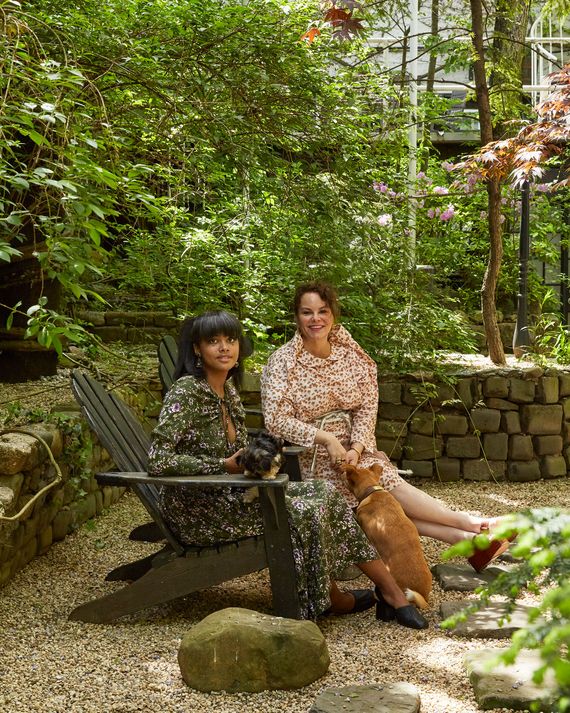 Artist and designer Yolande Milan Batteau with her daughter, Leilani.
Photo: Annie Schlechter
You'd never know, walking by the 19th-century factory building in Brooklyn's Clinton Hill, that there is a lush and shady oasis, alive and secluded, just behind its walls. The leafy compound is planted with dogwood, Japanese maples, azaleas, rhododendrons, and ferns, but it's the decades-old twisted, climbing, implacable wisteria that defines this communal Eden that Yolande Milan Batteau, an artist and designer, shares with two other families. Batteau first rented a basement space — which she calls her "cave" — on the property as her studio in 2004. That was just the beginning of her real-estate takeover. Over the next several years, she annexed the entire wisteria-covered triplex across the garden. Today, she and her 17-year-old daughter, Leilani, and their two dogs, Kitsune and Misaki, live in a bucolic confluence of studio and residential space.
"We always have at least two bird's nests going," says Batteau. "There are some doves with fledglings now." She worries that the squirrels and the crows might get them. "There is this life cycle that goes on here, where doves will mate, and they'll build a nest, and then they'll have fledglings, and sometimes they make it and sometimes they don't. It's just this crazy natural thing."
Batteau found the studio on Craigslist. The artist Tom Clancy had bought the former shoe factory in the 1980s, when the courtyard where the garden is now was waist-high in detritus. Clancy and his family spent decades cleaning it out; they planted trees and built walls using old cobblestones, then decided to rent it out.
"I showed up, and there were 20 people here at 9 a.m. to see that space," Batteau recalls. "There was probably somebody more qualified than me, and I looked into Clancy's eyes and said, 'You can't rent this to anybody but me. I am made for this place.' "
It's one of those places you might've dreamed about during lockdown — the ultimate quarantine pod for three families. "We made ourselves a victory garden that has vegetables and herbs to show the little girls and Leilani that two or three square yards is enough to feed a family," Batteau says. "But then I've put in sort of esoteric things like hellebores and black grasses," which thrive in the shade. In the past, "we've all planted strawberries and blueberries, and then when the fruit comes, we all literally just walk out in the morning and eat the fruit off the bushes on the side."
Once past the front door of Batteau's space, you're situated on the landing, where you can see the garden level of the living room and kitchen downstairs. Upstairs, the second floor is a gallery space. The third floor holds the bedrooms. In the back of the garden is the cave, which she uses as the design studio for her art and architecture business, Callidus Guild. (She also has a 7,000-square-foot facility in Williamsburg where she produces artisanal wallpaper.)
Batteau's grandfather taught at Harvard and was friends with Isaac Asimov, and her grandmother was a Puerto Rican immigrant who had six children and created the first translation department for the federal courts. "My father, David Hurst Batteau, is a musician, and Clive Davis did his first record; Frank Sinatra paid for his first demo." Batteau studied at the San Francisco Art Institute, spent a semester at the Sorbonne, and traveled East Africa by herself for a year and a half before deciding to settle down in New York. She got her start in 2000 when Peter Marino Architect hired her to design wall coverings for Chanel flagship stores. "You are really working with the best. It is the most difficult studio in the world to work with," Batteau says of Marino's firm. "He has complete confidence in his own taste, so I could be this young painter and he was willing to have me do all the Chanel stores."
She knows she's lucky. "The city has given me as close to the life of my dreams as possible."
*A version of this article appears in the June 8, 2020, issue of New York Magazine. Subscribe Now!