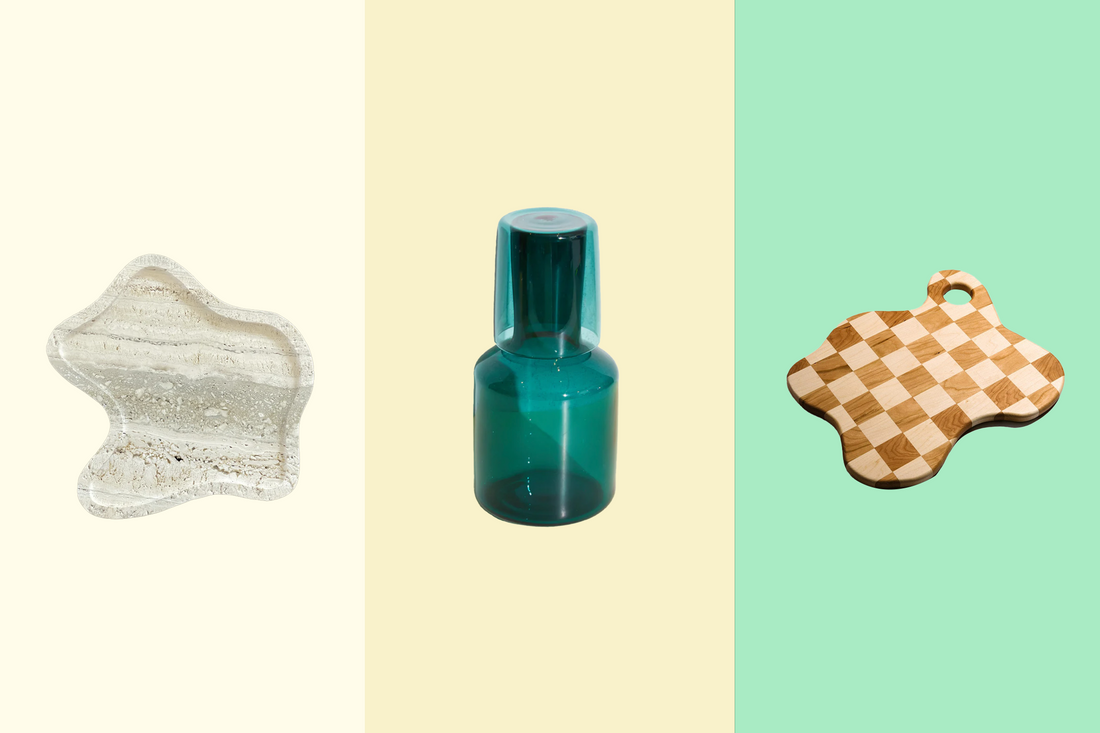 Photo-Illustration: Mia Coleman
Here's a hot take: For a room that's supposedly the heart of a home, the kitchen is the hardest one to make your own. Unless it's fabricated to your exact specifications and aesthetic from the start, you're left with bringing in small details that hopefully add up to create something that remotely feels like you — a collection of cookbooks here, a fruit basket there. All this to say: For design enthusiasts, the struggle is real. But not all hope is lost. There are plenty of items out there that combine visual appeal with functionality, so you can have your beautifully-designed kitchen and use it, too. From a state-of-the-art espresso machine to a ceramic olive oil vessel that's almost too pretty to use, our gift guide is full of pieces that will warm the heart (and kitchen space) of anyone with a discerning eye.
On-Trend Cutting Board
We all have a dirty little kitchen secret and it's those dingy plastic cutting boards we've had since college (don't deny it!). This wavy checkered cutting board is the antithesis of dirty and dingy — and the stylish upgrade your gift recipient didn't know they needed, but will immediately wonder how they lived without. It's unique, functional, and so pretty, it deserves to be displayed front and center on that open shelf.
Luxury Espresso Machine
If you're going to pull out all the stops for a holiday gift, you can't get any more luxurious than an espresso machine. Indulge everyone from the coffee connoisseur to the work-from-homer to the new homeowner with this gift that keeps on giving. For the purist who enjoys having more control over the coffee-making experience, the manual De'Longhi La Specialista Arte Espresso Machine allows for you to handcraft your drink to barista-level perfection. For those who enjoy coffee but want accessibility and convenience above all else, the automatic De'Longhi Magnifica Evo Espresso Machine With Automatic Milk Frother lets you enjoy crafted beverages at the push of a button. Both feature a refined design and relatively small footprint, and either option will spoil your recipient to the point that no other gift will compare.
Covetable Spice Bowl
You can't spend time on home decor TikTok or Instagram without hearing of Athena Calderone. The NYC-based interior designer recently released a line with Crate & Barrel full of pieces any decor enthusiast would fawn over. Our pick? This travertine bowl trio perfect for housing finishing salts beside the stove or on the dining table.
Elevated Apron
We're not saying your apron can determine your worth as a Serious Home Cook, but we're not not saying that either. Treat your loved one to this canvas option, and they'll never need another apron again. The (fully detachable) leather straps and patch pocket are such a luxurious touch and they'll only get better with time as the texture patinas. An apron is a must-have for any cook or griller, but one as beautifully designed as this one is a real nice-to-have.
Organic Catch-All
Every countertop needs a catch-all to corral various odds and ends, from olive oil bottles next to the stove to dish soap and brushes next to the sink. With its organic shape and varying stone pattern, this tray is a visually arresting option to keeping their surface area clutter-free.
Must-Have Glassware
Not all coffee mugs are created equal, and sometimes it takes upgrading your glassware to learn the difference — and the fact that one-size-fits-all is not a concept that should extend to drinkware. This collection comes with three distinct pairs — espresso glasses, cappuccino glasses, and latte macchiato glasses — all made of double-walled thermal glass (it retains heat for longer!) to take any morning coffee ritual to the next level. Goodbye, scorched fingers (or condensation, if you take your drinks iced).
Playful Napkins
If you think about kitchen design, cold, hard materials feature heavily — the room needs to be functional and durable, after all. That's why we jump at any opportunity to bring in softer textures whether in the form of linens (dish towels, tablecloths, napkins, etc.) or rugs (yes, we're team rugs in the kitchen) to add some much-needed contrast. This set of linen napkins makes for such a charming stocking stuffer, with the fun color combos and wavy trim, and will elevate any dinner party — or meal for one.
Thoughtful Carafe
Who knew getting in your 64 ounces of water could be such an aesthetically-pleasing experience? Anyone who struggles with water intake will appreciate this carafe and glass set. It's thoughtfully-designed and doubles as decor whether placed on your countertop, desk, or nightstand.
Sculptural Cruet
Listen, nobody needs a ceramic vessel to decant their olive oil, but do we all want one? Yes, yes we do. This sculptural cruet is stunning — and smartly designed, too, since the wide lip catches every stray drop (seriously, nothing is more annoying than touching an oily bottle). You could even gift it alongside a bottle of premium olive oil if you want to be fabulously extra.
This advertising content was produced in collaboration between Vox Creative and our sponsor, without involvement from Vox Media editorial staff.